Somers and Mahopac Wrestling Family Honors Dennis DiSanto
Wrestling Coach Calls it Quits After 37 Years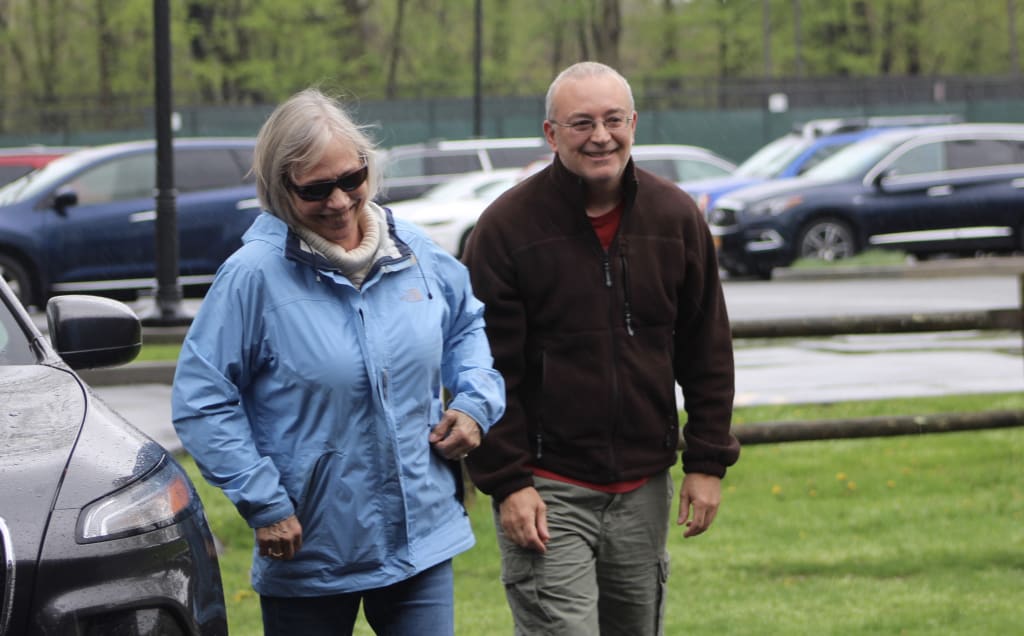 After 37 years as Wrestling Coach at Somers and Mahopac High School, Dennis DiSanto has taken his final fall. So family, friends, and former wrestlers gathered at Reis Park to raise his hand one final time. Also retiring as Guidance Counselor at Mahopac, DiSanto was surprised by the party and reluctantly took the mic. "I'm all speeched out," Disanto said in referring to all the addresses he's recently made. But the emotion that DiSanto was overcome by was what really forced the microphone from his hand.
"The fact that you're all here means so much to me," said the 1974 Somers Graduate.
Wrestling Family Matters
All the victories and section championships certainly played a part in drawing a crowd of about one hundred. But the accumulated accolades were not the gold standard, and DiSanto was first to admit it. "It's the relationships you develop with the kids," DiSanto said.
Chris Gross could speak directly to that. "I entered into a family when I joined the wrestling team," said the 2008 Grad and current videographer for Somers Wrestling.
Describing DiSanto as a second father, Gross never felt that DiSanto made a show of his disapproval. "After a loss to rival, the next practice was always the same," said Gross. "We knew we lost so the entire team would go extra hard."
Teach Your Wrestlers Well
Vic DiSanto and his brothers had a different expectation if the team didn't measure up in the early 70s. But the take away still applies. "I think wrestling teaches kids to emotionally and physically push boundaries," said the 1973 Somers Grad.
It also helps when the coach's skills aren't confined to the mat. "He's an educator. A lot of the skills you learn as a teacher, apply to coaching," said John Urgola who wrestled for Somers, and spent 40 years teaching at North Salem.
So learning the art form that is wrestling does best in hands of someone like DiSanto. "You're teaching respect, self-reliance and a dedication to a craft that now shows itself in all the successes that Dennis has had a hand in," said Urgola who was JV Wrestling coach at Somers from 1978-1982.
Brothers and Sisters
Still, none of that was guaranteed when Dennis and his brother Ronnie took the reigns in 1982. They also had a lot to live up to. "Coach Gnida built a dynasty in the 1970s," said Ronnie DiSanto.
The pressure was clearly evident. But the 1977 Section One Champ was excited to continue the tradition, and he's proud to have helped deliver. "We consistently put up sectional champs," said Ronnie DiSanto.
The Sunday afternoon dais and the contribution of the DiSanto's family wasn't done, though. Lisa (DiSanto) Chanowski was always on hand to keep score and stats, and had the same rules applied today, maybe she'd be one getting the party. "I knew how to wrestle," she joked assuredly.
No similar boast came from her sister Jo-Ann Ranalli. But she didn't need to know the finer aspects of a short dump to understand the key to her brother's success. "Dennis' compassion really made an impact and he cared about each and every wrestler," said Ranalli.
Coach Always Keeps his Cool
A characteristic much easier to spot with DiSanto's coaching style. "I approach things different than other coaches. I try to be understanding and relate on a personal level," said DiSanto who finished third in the sectionals.
Making sure his kids know that wrestling isn't the most important thing helps, and the overall downplay means a lot to another DiSanto who knows. "Staying calm around such an intense sport where kids get really nervous, helps a wrestler focus," said current Somers Coach Ronnie DiSanto.
So as his uncle readies his fishing rod, Ronnie take pride in bringing home the haul for all the members of the DiSanto family. "Watching my uncle all these years and how much wrestling means to him, it's special to continue the tradition," he concluded.
Originally For the Somers Record and Mahopac News
Please Like My Facebook Page. It would be greatly appreciated.