Royal Challengers Bangalore VS Delhi Capitals
Scroll down to know more!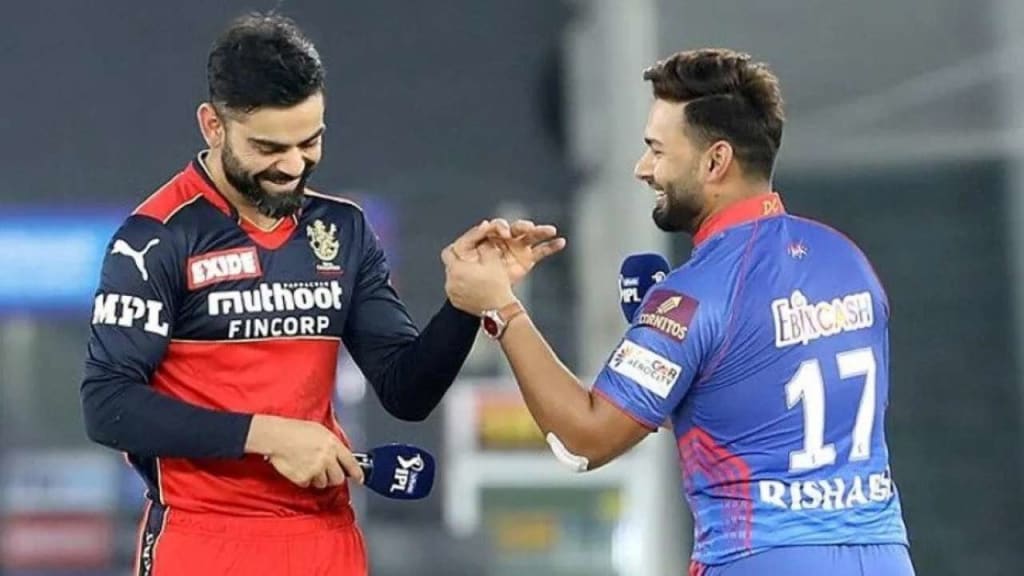 Virat Kohli with Rishabh Pant
Virat Kohli's glorious celebration after winning the match will make your day | Watch the video!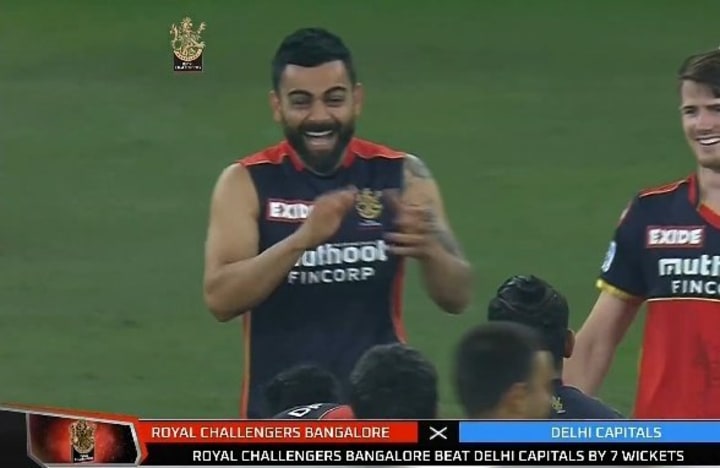 Srikar Bharat and Glenn Maxwell played unbeaten knocks of 78 and 51 respectively as Royal Challengers Bangalore (RCB) defeated Delhi Capitals by seven wickets in their Indian Premier League (IPL) 2021 encounter here at the Dubai International Stadium on Friday. Delhi Capitals finished at the top spot in the points table and now the side will square off against Chennai Super Kings (CSK) in Qualifier 1 on Sunday. On the other hand, RCB finished at the third spot and Virat Kohli's team will face Kolkata Knight Riders (KKR) in the Eliminator on Monday.
Chasing 165, RCB got off to the worst start possible as Devdutt Padikkal (0) was sent back to the pavilion in the very first over by Anrich Nortje. The Proteas pacer did not stop there as in his next over, he got the big fish Virat Kohli (4) and RCB was reduced to 6/2.
AB de Villiers and Srikar Bharat then got together at the crease and the duo retrieved the innings for RCB. Both batters put on 49 runs for the third wicket, but as soon as the innings started coming on track, Kohli's side lost the wicket of de Villiers (26), still needing 110 runs to win from 63 balls.
In the 14th over, Glenn Maxwell was dropped two times -- once by Shreyas Iyer and once by Ravichandran Ashwin and as a result, RCB remained in the hunt to chase down 165. In the end, Bharat and Maxwell maintained their composure to guide RCB to a win. On the last ball, RCB needed five for a win, and Bharat ended up hitting the ball for a six.
Earlier, Prithvi Shaw and Shikhar Dhawan played knocks of 48 and 43 as Delhi Capitals posted a total of 164/5 against Royal Challengers Bangalore (RCB). Apart from Dhawan and Shaw, Shimron Hetmyer also got among the runs as he played a knock of 29. For RCB, Mohammed Siraj returned with two wickets.
Sent into bat, Delhi Capitals got off to a brilliant start as openers Dhawan and Shaw put on 55 runs inside the first six overs. Both batters continued till the 10-over mark and as a result, Delhi was sitting nicely at 88/0. However, the very first ball of the 11th over brought about Dhawan's (43) dismissal as he was sent back to the pavilion by Purple Cap holder Harshal Patel.
Soon after, Prithvi Shaw (48) and Rishabh Pant (10) were dismissed by Yuzvendra Chahal and Daniel Christian leaving Delhi Capitals at 108/3 in the 13th over. In the end, Shimron Hetmyer played a quickfire cameo of 29 runs to propel Delhi's total past the 160-run mark.
Watch Virat Kohli's reaction after the victory :
JP Duminy to defy South Africa's tournament troubles in new role!
You may have figured twelve fiascos would have been sufficient to make JP Duminy mull over playing with the possibility of an unfortunate thirteenth. The six versions of the T20 World Cups, three Champions Trophies and three World Cups he played in completely finished gravely for South Africa. Yet, he will be back in the changing area for the fast approaching T20 World Cup, this time as a "essential advisor".
What did that mean? "It's attempting to add esteem any place I can," Duminy said in a sound record CSA delivered on Friday. "It's not really focusing on a specific office or ability." Instead, Duminy said, he would utilize his playing experience to "contribute with... understanding and monitoring things that might unfurl". Commonality made a difference: "I have played against a considerable lot of these cricketers and played with them, and I have associations with the players and staff that are in the blend."
Duminy played the remainder of his 326 counterparts for South Africa at the 2019 World Cup, and hadn't normal to be back in bridle unexpectedly early. "I was gathering my pack and I understood I expected to return into the carport and take out my South African coat and tie. It occurred to me that I didn't figure I would haul that out of the pantry two years in the wake of resigning. That was an enthusiastic second."
At 37, Duminy is toward the beginning of his excursion as a first class mentor, a task he said had been presented to him. "It's not something I pursued; it discovered me. My job as Lions [batting] mentor [since June], I was approached to come into the climate. Indeed, even in this job, I have been approached to come in."
It appears he will invest a ton of his energy guaranteeing South Africa's human elements are as they ought to be: "How might you leave someone in a superior spot? Individuals need to feel esteemed and like they have a place. Having had 15 years of [international] playing experience, I genuinely get that. It doesn't make any difference what your identity is, regardless of whether you have played 100 games or one game, there's consistently an intrinsic need to feel like you have a place with an option that could be greater than yourself.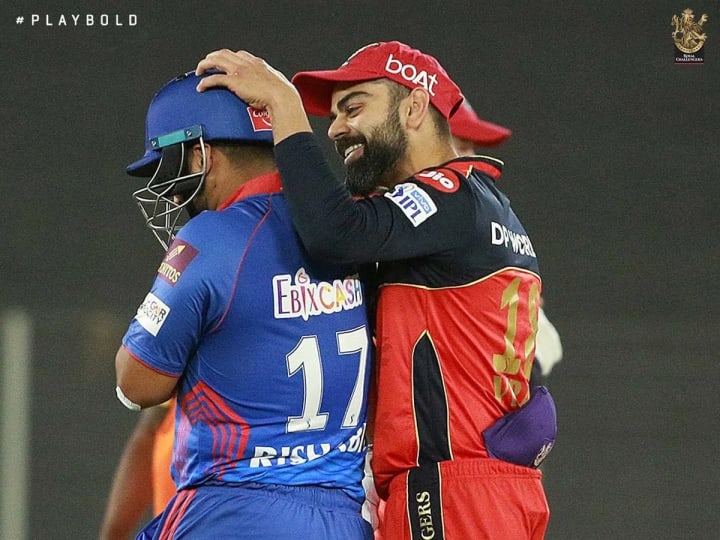 That is the thing that the Proteas are about. It's a portrayal of 60-million individuals and there's extraordinary obligation in that. Simply talking individuals through that and getting what that obligation resembles. To give your best each day can be testing, especially when we are in bubble life and things are limited."
He will likewise assist with characterizing jobs: "That is the thing that players need. They need to ensure that when they go out and face pressure minutes there is lucidity. We need to ensure we furnish them with enough data for them to discover the appropriate responses. In case we are in a situation to pose the right inquiries, we can aggregately track down the right replies."
That would roll out an improvement. South Africa have been to 22 ICC competitions and won just one, the International Cup - the trailblazer of the Champions Trophy - in Bangladesh in November 1998. They've had 17 knockout games and won in only five. Yet, they've won 63 of 101 cooperative effort matches. In this way they are not exactly half as fruitful when losing isn't a choice contrasted with when it is. It's an incrimination of the presentation under tension of a would in general go side to competitions at or close to the highest point of the rankings. Duminy himself played in six abrupt demise games, of which his group lost five.
Presently South Africa are behind England, India, Pakistan and New Zealand in the T20I rankings. However, in view of the non-IPL players' camp in Durban, Duminy felt his charges could turn a corner in the UAE and Oman in the coming weeks.
"I'm extremely hopeful with regards to what I've seen in the course of the most recent few days; I love what I am seeing," he said. "I'm adoring the discussions that are going on and the clearness, yet additionally there is this conviction inside one another which is incredible to see. What's more, in numerous ways, additionally infectious.
"You feel like folks know what they need to do and they accept they can go as far as possible. That is the thing that you need to see going into a World Cup. I've been to a World Cup and we had those encounters and we haven't moved past the line. Yet, if at any point there is a possibility, we simply need a little impression and an expectation and who can say for sure."
The South Africans are on a vertical incline after a disturbing decrease. They have won four and lost one of their last six series across the organizations, including three T20I rubbers. Prior to that, beginning with the 2019 World Cup, they had won just two of 14 series. Each of their new victories have gone under Mark Boucher, who was selected mentor in December 2019 and would appear to have turned his group around subsequent to directing eight misfortunes in his initial 11 rubbers in control.