Rethinking Hitter's Counts, Continued
More on Pitch Usage and Hitter Tendencies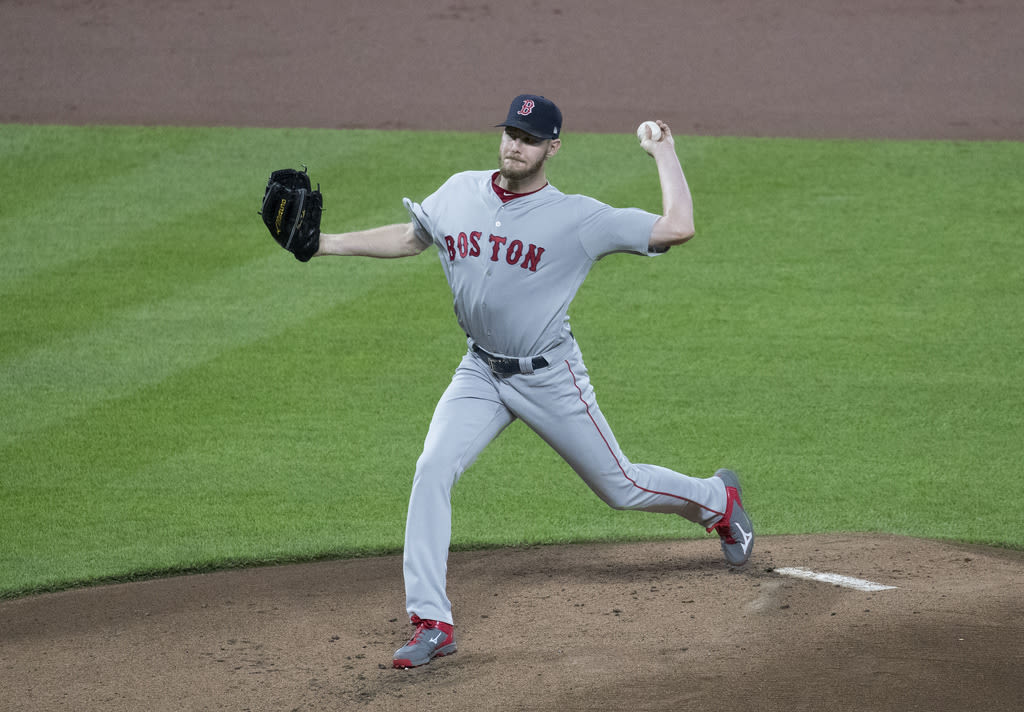 Chris Sale throws his offspeed pitches in any count. (Photo: Keith Allison, flickr)
Last time around, I wrote about the general tendency of pitchers to throw more and more fastballs as they fell down in the count despite the fact that they can throw offspeed pitches for strikes nearly as often as they do fastballs. It's a case where pitchers often see better results throwing their offspeed pitches but there was a lot I couldn't address through xwOBA, Exit Velo, and pitch usage alone.
The main thing I thought would be useful was pitch movement. If fastball velocity and offspeed velocity appeared to have no effect, surely movement would have something to do with producing results, right? To try and answer this I pulled pitch movement numbers for all of the pitchers and got the differences in movement between their fastball and offspeed pitches.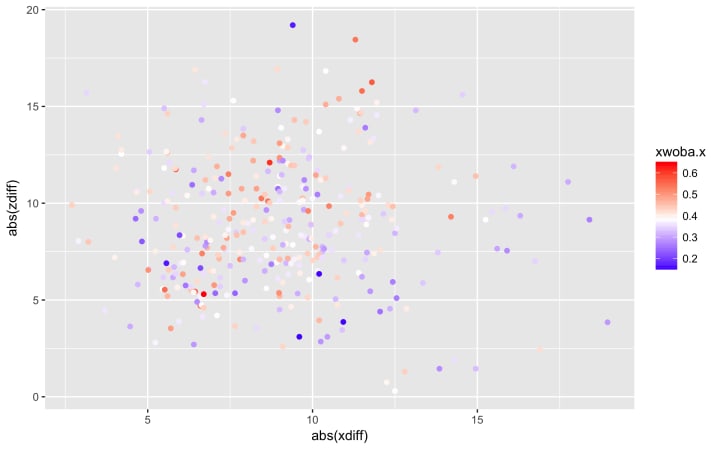 There isn't much you can see from this relationship. We can see that pitchers with a lot of horizontal movement and little vertical difference seem to do well at getting weak contact here but that's something we already knew.
After splitting pitchers in groups between above and below average xwOBA, the differences in the average xdiff and zdiff were less than an inch and slightly more than an inch apart. Certainly nothing to find there.
Next, I looked to whether or not large velocity differences between fastball and offspeed pitches had any impact on whether or not pitchers saw better results on their offspeed pitches when behind in the count.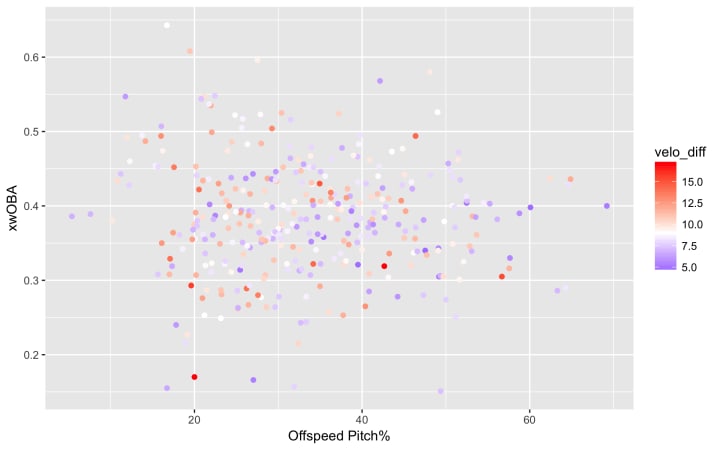 There was nothing to glean from this. The correlation between xwOBA on offspeed pitches behind in the count and the velo diff (r = 0.006) was nonexistent.
One thing I have neglected so far is pitch location. Oftentimes, it's hard enough for hitters to adjust and hit a pitch they weren't expecting so I could be looking too closely at stuff. I had mentioned in my previous post that the exit velocities for offspeed pitches in these counts were lower than fastballs (roughly 2 MPH slower). To get a sense as to how pitchers have done this, it's important to take a look as to where they've located these pitches. I started by sorting for batted-balls hit 85 mph or less in hitter's counts.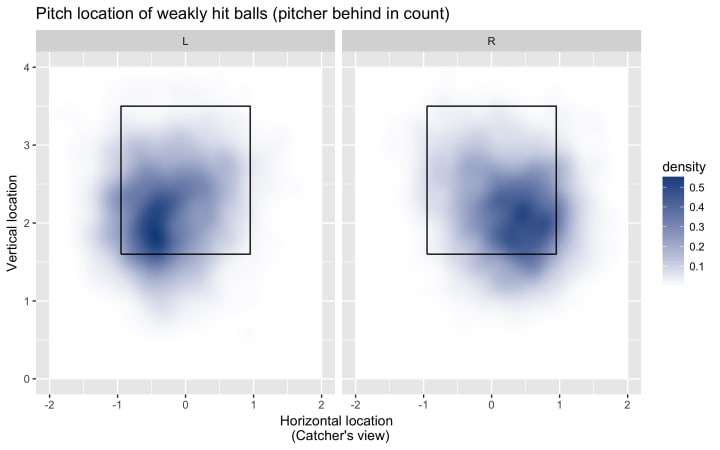 It's important to note that both of the concentrated groupings are located in the zone. Most importantly, but not so surprisingly, the majority of these pitches come on the lower, outside part of the plate. However, to generate weak contact, you'd expect pitchers to be more fine in their location. This is still pretty dependent on fitting pitches on the lower third, but it's getting weak contact on pitches in the zone.
We can see where pitchers get their weak contact but it's probably more important to see where hitters are willing to swing in these counts.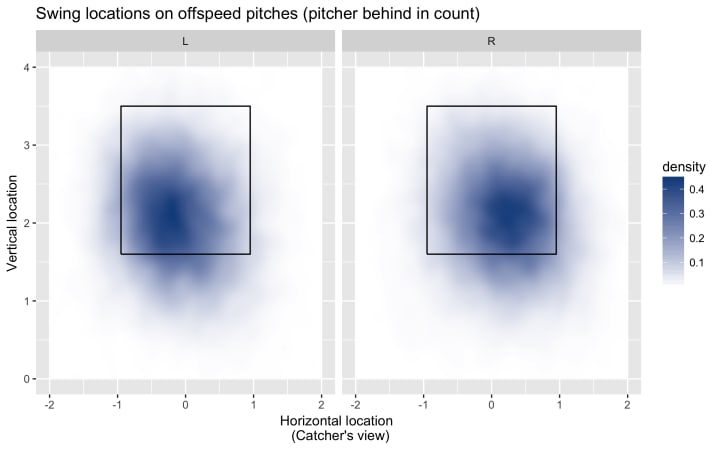 Not surprisingly, hitters are reaching for a lot of these pitches. They're plain and simply swinging at a lot of pitches that'll generate weak contact. If there's anything to see from either of the previous two graphs, it's that hitter's will reach and vertical location matters.
However in all of this it's important to understand which pitches are getting crushed. So let's take a look at offspeed pitches in hitter's counts that were hit with an exit velocity of 95 mph or higher at a launch angle of 15 degrees or higher.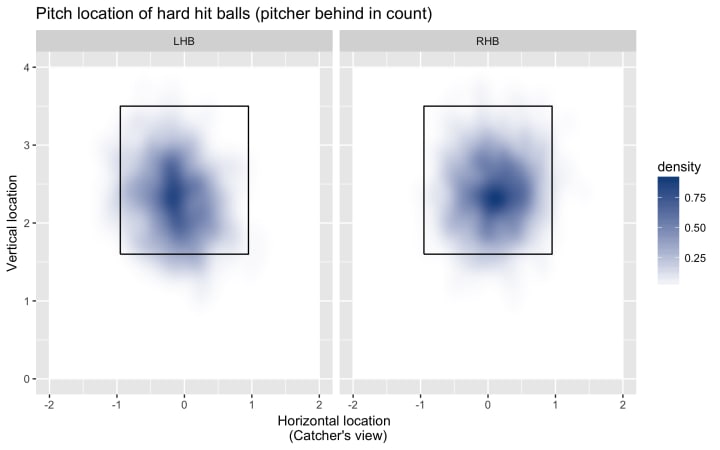 We can see some more that vertical location matters as these pitches are sitting middle-middle. However, these zones are fairly close to the weakly hit zones. Regardless, we can see that offspeed pitches in hitter's counts that aren't middle-middle generate great results.
Of course, a lot is still not definite without being able to factor in the effects of pitch sequencing. And it'd be useful to have information on how closely hitter's stand to the plate and their total plate coverage. However, we can see that pitchers can generate weak contact on offspeed pitches in the zone regardless of movement or velocity. We also know that hitters are more than willing to reach for these pitches when thrown either away or in the lower third of the zone. This approach of throwing offspeed pitches in hitter's counts is something pitchers should continue to do to exploit and grab a leg up on hitters.
(all data from the 2017 MLB season)
Reader insights
Be the first to share your insights about this piece.
Add your insights