Read Full Story
Scroll down to read 👇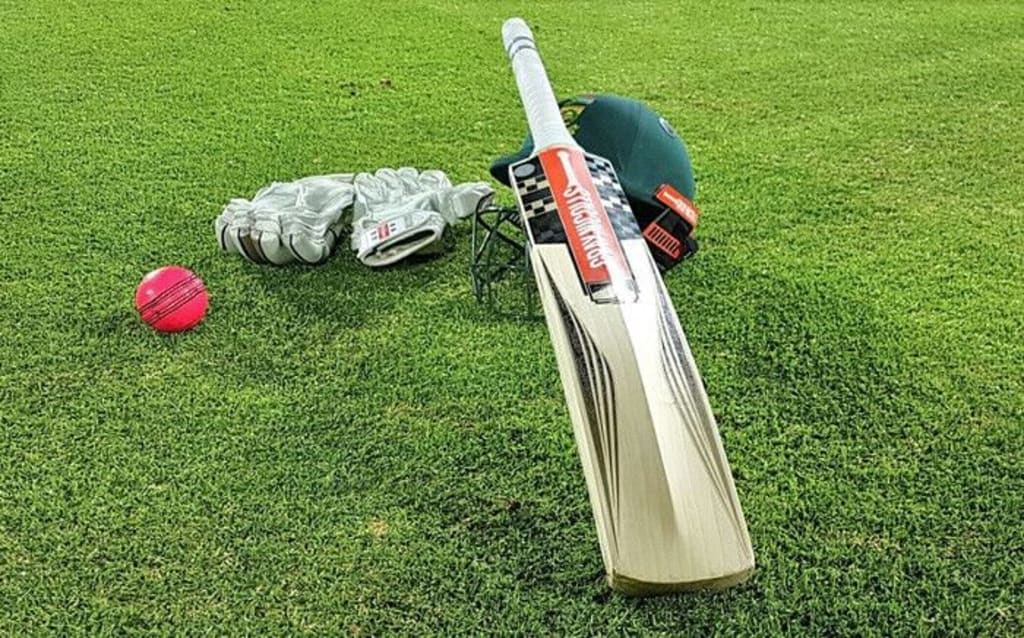 Source: Google.com
Lots of issues for CSK ahead of the IPL 2021! Main overseas players might miss some parts of IPL!
Scroll down to read!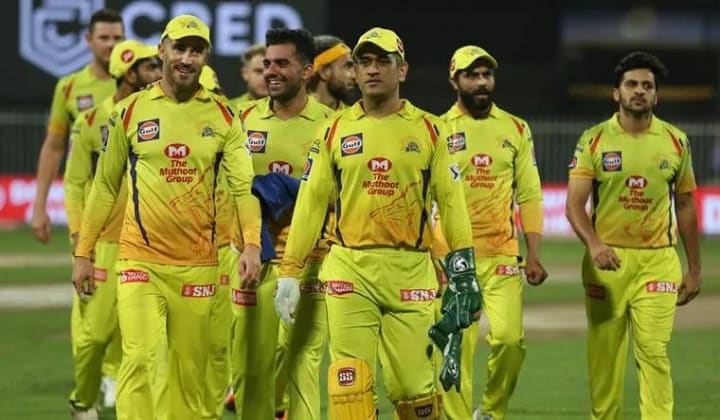 IPL is set to begin on 19th Sept, 2021 but there have been alot of issues for CSK ahead of IPL.
1. Faf Du Plessis INJURED
Massive Blow For CSK As Faf du Plessis Gets Injured Ahead Of UAE Leg
In what can be a huge setback for the Chennai Super Kings (CSK) ahead of the second half of the 14th edition of the Indian Premier League (IPL 2021), their experienced opener Faf Du Plessis of South Africa suffered an injury ahead of his team St Lucia Kings' encounter against the Barbados Royals in the ongoing Caribbean Premier League (CPL 2021).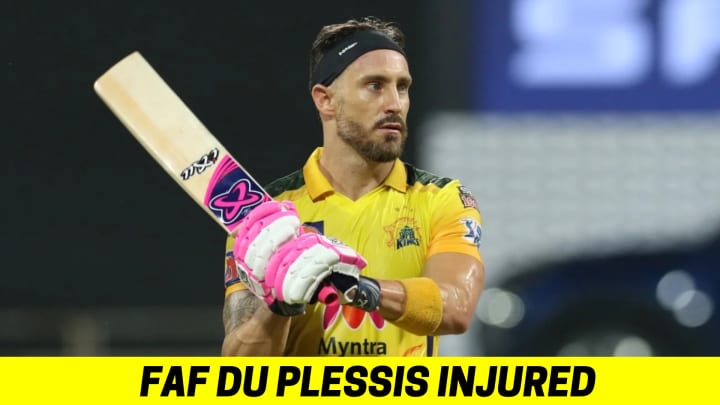 Chennai Super Kings have already reached UAE to set up their training camp ahead of the IPL 2021 resumption which will be played in venues like Dubai, Abu Dhabi, and Sharjah and their remaining players involved in the CPL 2021 were to join them after the end of the tournament, which included Faf du Plessis.
The former South African captain, who retired from Tests earlier this year, has been with the Chennai Super Kings from the start, apart from a short stint for Rising Pune Supergiant, when the CSK team was suspended from the Indian Premier League.
However, there will be a question mark over his participation in the second half of the IPL 2021, after it was revealed that he suffered a groin injury before the 28th match of the CPL 2021 between St Lucia Kings and Barbados Royals. Stand-in captain of the Kings, Andre Fletcher revealed at the toss that Faf will miss this match and possibly others as well after a groin injury had occurred. He is in terrific form for the Kings, having scored a brilliant unbeaten century in a match previously.
2. Dwayne Bravo INJURED
Bravo suffers groin injury, Kings end Patriots' unbeaten run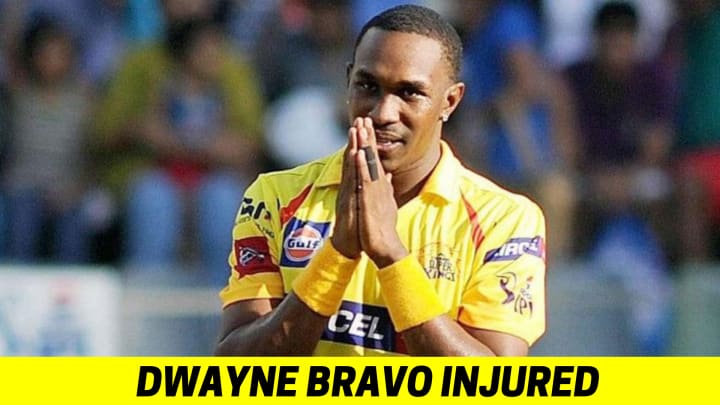 Bravo returned to the field in his last CPL match but suprisingly didn't bowl so it is expected that he hasn't recovered from his injury.
3. Sam Curran & Moeen Ali MIGHT MISS PLAYOFFS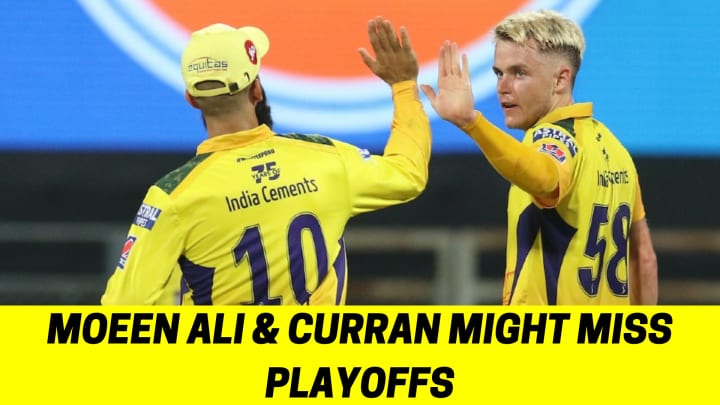 IPL franchises are in a big fix as England players picked for the T20 WorldCup might miss the playoffs of IPL 2021. According to reports, England team management wants their T20 World Cup-bound full squad to be available for the two-match T20I series against Pakistan.
This means Eoin Morgan, Moeen Ali, Sam Billings, Sam Curran, Chris Jordan, Liam Livingstone, Adil Rashid, Jason Roy, Chris Woakes, Tom Curran – neither of these players will be available to their franchsies if they reach PLAY-OFFS.
England Squad for T20 World Cup: Eoin Morgan (c), Moeen Ali, Jonathan Bairstow, Sam Billings, Jos Buttler, Sam Curran, Chris Jordan, Liam Livingstone, Dawid Malan, Tymal Mills, Adil Rashid, Jason Roy, David Willey, Chris Woakes, Mark Wood: Reserves: Tom Curran, Liam Dawson, James Vince
Next Story :
Yuzvendra Chahal's wife Dhanashree comes up with a cryptic post after spinner's omission from Team India
The Indian ace-spinner has not been included in the 15-men squad for the T20 World Cup.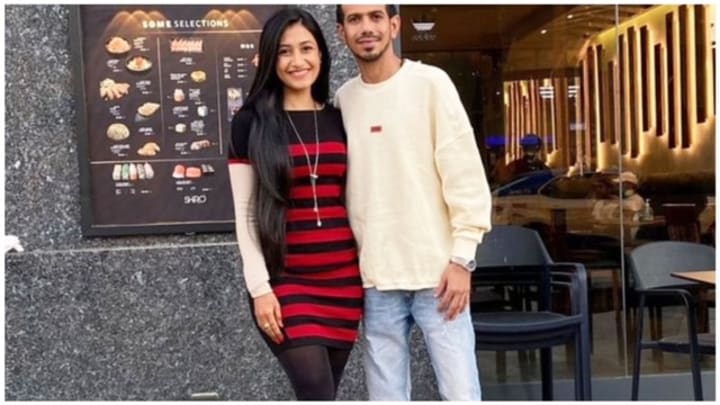 ICC Men's T20 World Cup is all set to start from 17th October in UAE. Gradually, all the teams are announcing their squad for the big tournament and BCCI did the same on the 08th of September. The 15-man squad selected by BCCI is very interesting as it has quite a few new names. Surprisingly, Indian ace-spinner Yuzvendra Chahal has not been included in the team that was announced. Post this, Yuzvendra Chahal's wife Dhanashree posted a cryptic message.
Team India is currently locking horns with England and has done exceptionally well in the 4 matches that have been played. Their comeback after the loss in the third Test has been the talk of the town. The team will play the last match of the series from September 10, after which they will all gear up for the second leg of the Indian Premier League which is going to take place in UAE from 19th September.
Yuzvendra Chahal's wife posts a cryptic message
The remainder of the IPL will play a big role in the preparation of the upcoming T20 World Cup for the Indian players. However, the announcement of the 15-man squad has raised quite a few eyebrows due to the exclusion of Yuzvendra Chahal. Chahal has been a regular in India's T20 team and has done fairly well, and his exclusion from the team has taken a lot of fans by surprise. Yuzvendra Chahal's wife also posted a cryptic message on her Instagram story post the announcement.
Her post read: "Maa Kehti hai Ki yet waqt bhi guzar jaana hai, Sar utha ke Jiyo kyunki, Hunar aur ache karm hamesha saath dete hai. Toh ji baat aisi hai ki Yeh waqt bhi guzar jaana hai. God is always great."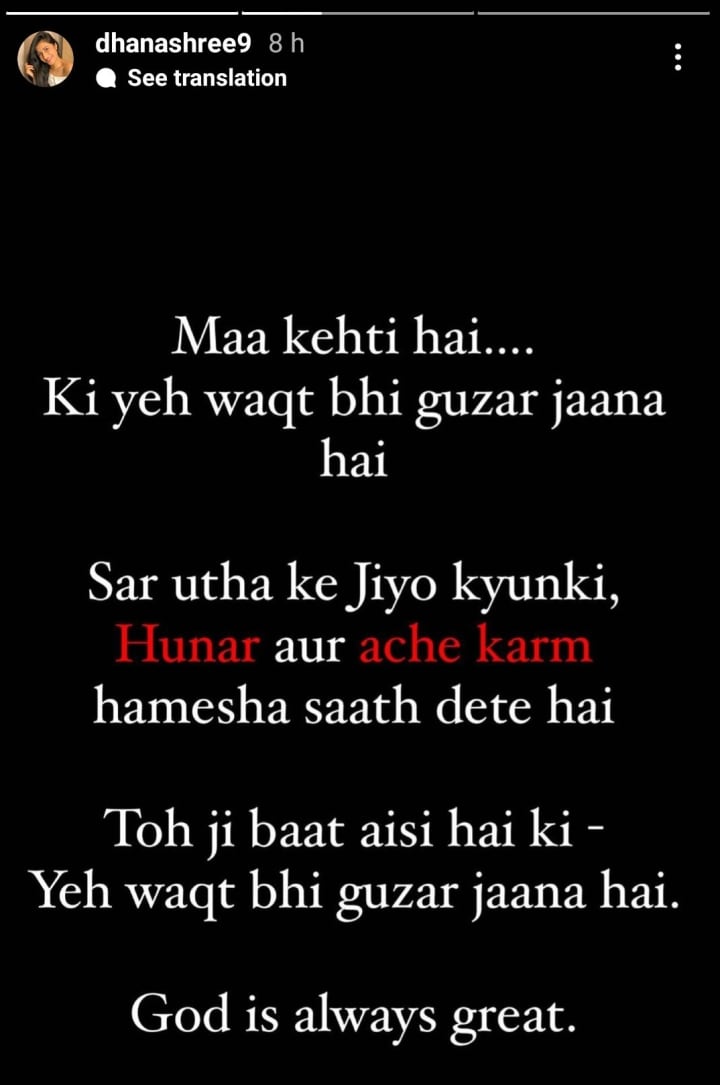 Next Story :
Watch | Video | Video of Virat Kohli picking up a bottle while Joe Root 'ignores' it goes viral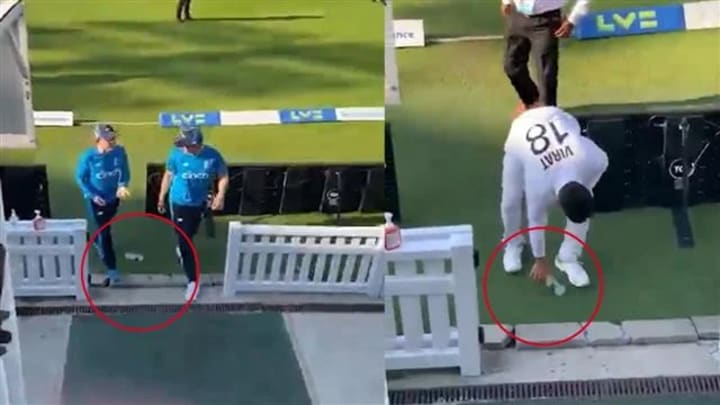 India scripted a memorable 157-run victory over England in the fourth Test and took a 2-1 lead in the five-match series, on Monday.
From Jasprit Bumrah and Ravindra Jadeja's match-winning bowling performances to Rohit Sharma's invaluable century, there was a lot to celebrate for the Indian fans.
Now a video of Indian skipper Virat Kohli is doing the rounds of social media wherein he can be seen picking up a water bottle while returning to the dressing room.
The same video then shows England captain Joe Root seemingly "ignoring" the bottle and walking past it.
As pointed out by many on the Internet, it's unclear if the bottle was actually placed near the boundary ropes for players' consumption or just loitering around there, but the fact that Root did not pick it up was made evident by the person who uploaded the video superimposed with text that read: "spot the difference".
The same video was later reshared on Twitter by a user who mashed up Kohli's bit from the clip with "Swachh Bharat Abhiyan" song.
"I don't find a major difference, both were kind, joe root responded to a fan even after losing a match (and usually you aren't in a good mood after losing one) and showed kindness there, kohli showed kindness toward the earth picking up that bottle, which he could've left," a user commented on YouTube.
Next Story : Shikhar Dhawan Divorces her wife Ayesha Dhawan
In a huge development, India opener Shikhar Dhawan has divorced his wife Aesha Mukerji. This news has come as a shock for the cricket fans as Dhawan and Aesha were one of the most adorable couples and complemented each other perfectly over the years.
Taking to Instagram, Aesha on Monday (September 6) confirmed about the divorce in a lengthy post, stating: "I THOUGHT DIVORCE WAS A DIRTY WORD UNTIL I BECAME A 2 TIME DIVORCEE."
"Funny how words can have such powerful meanings and associations. I experienced this first hand as a divorcee. The first time I went through a divorce I was soooooooo [email protected] scared. I felt like I had failed and I was doing something so wrong at that time.
India opener Shikhar Dhawan divorces wife Aesha Mukerji
"I felt as if I had let everyone down and even felt selfish. I felt that I was letting my parents down, I felt that I was letting my children down and even to some extent I felt as if I was letting God down. Divorce was such a dirty word.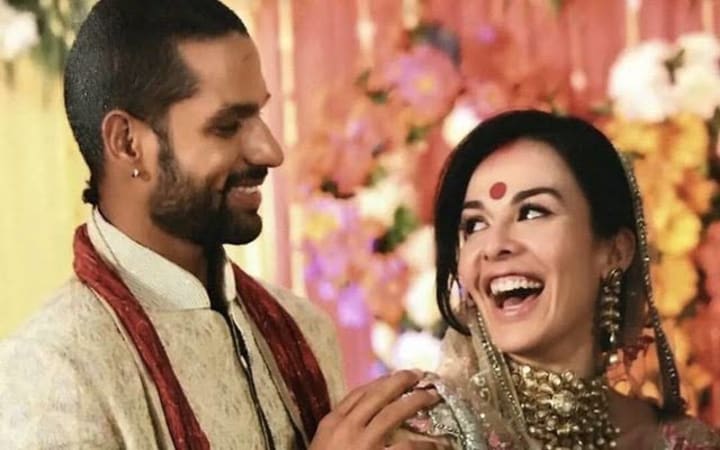 "So now imagine, I have to go through it a second time. Woooahhhhhh. That is terrifying. Being divorced once before already, felt like I had more at stake the second time round. I had more to prove. So when my second marriage broke down it was really scary. All the feelings I felt when I went through it the first time came flooding in. Fear, failure and disappointment x 100. What does this mean for me? How does this define me and my relationship to marriage?," she further added.
Check out Ayesha's Post
New story!
IND VS ENG: Virat Kohli punches dressing room wall in frustration as he falls short of half-century by just 6 runs
IND VS ENG 4TH TEST: Indian batsman and captain Virat Kohli played good innings of 44 runs in 2nd innings of 4th test. He fell short of 6 runs for getting a much-needed half-century to boost his form and confidence.
The skipper is out of form recently but also lacks confidence as he is getting out quickly in the test series vs England. It seems the England bowlers have planned something and it's working perfectly for them.
Even though India managed to move ahead by 230 runs at the lunch interval on the fourth day, a bigger score from their captain could have really gone a long way in helping the team strengthen its grip in the game. Kohli had added 59 runs with Jadeja for the fourth wicket before the partnership was broken by Chris Woakes, who trapped the India all-rounder out LBW. Jadeja took the DRS but to no avail.
With his innings of 44, Kohli has taken his tally to 218 runs from seven innings at an average of 31.14. Although he started the series with a first-ball duck in the first Test in Nottingham, the India captain regained some form to score a couple of fifties to go with two 40-plus scores. However, a century still continues to elude him.
Watch the video:
Virat Kohli got out on Moeen Ali's ball. Moeen Ali has taken Virat Kohli's wicket 10 times in International matches. This is the highest for bowler at the moment. Virat Kohli was not happy with his short once again which lead to his dismissal in the 4th match 2nd innings. He once again tried to drive the ball leading to an edge of his bat. Virat was furious in the dressing room after getting out.
He has seen punching the dressing room wall. Virat Kohli was hoping to put an end to his long-standing century drought when the talismanic batsman walked out to bat for the second time in the ongoing 4th Test match between India and hosts England at The Oval on Sunday. Kohli, who notched up his second-successive Test fifty for India in the 1st innings of the 4th Test remained in sublime touch against England throughout the high-octane contest at The Oval.
At a time when Kohli was looking to convert his impressive start into something more meaningful, the Indian skipper and run-machine was stopped in his tracks by spinner Moeen Ali. The England all-rounder who used to be Kohli's teammate at Royal Challengers Bangalore (RCB) bagged the all-important wicket of the Indian skipper in the 111th over of India's 2nd innings.
Kohli was not a happy man as the charismatic skipper of the Indian team was seen punching the wall in frustration after entering the dressing room. A video of the same incident has surfaced on the internet. Kohli's animated reactions often become a major topic of discussion across all social media platforms. The Indian skipper was livid with himself after giving away his wicket at a crucial juncture.
One of the greatest batsmen in the history of the gentlemen's game, Kohli is surprisingly embracing a lean patch in the action-packed England series. Kohli's inability to match his own high standards has sparked a debate in the Indian cricket spectrum. The Indian skipper has only extended his century drought in the five-match Test series between Team India and hosts England. The batting icon has two half-centuries to his name in 7 innings against the Three Lions. The Team India captain has only amassed 218 runs from the first four Test matches of the five-game series.
Virat Kohli was visibly angry after the India captain missed out on an opportunity to score big on Day 4 of the Oval Test against England on Sunday. Kohli had played beautifully for 44, with seven fours, and looked on course to notching up a third consecutive half-century in the series, before he nicked Moeen Ali to Craig Overton at first slip.