Let the Twins Be a Warning to Other Front Offices
And the A's and Padres a Helpful Reminder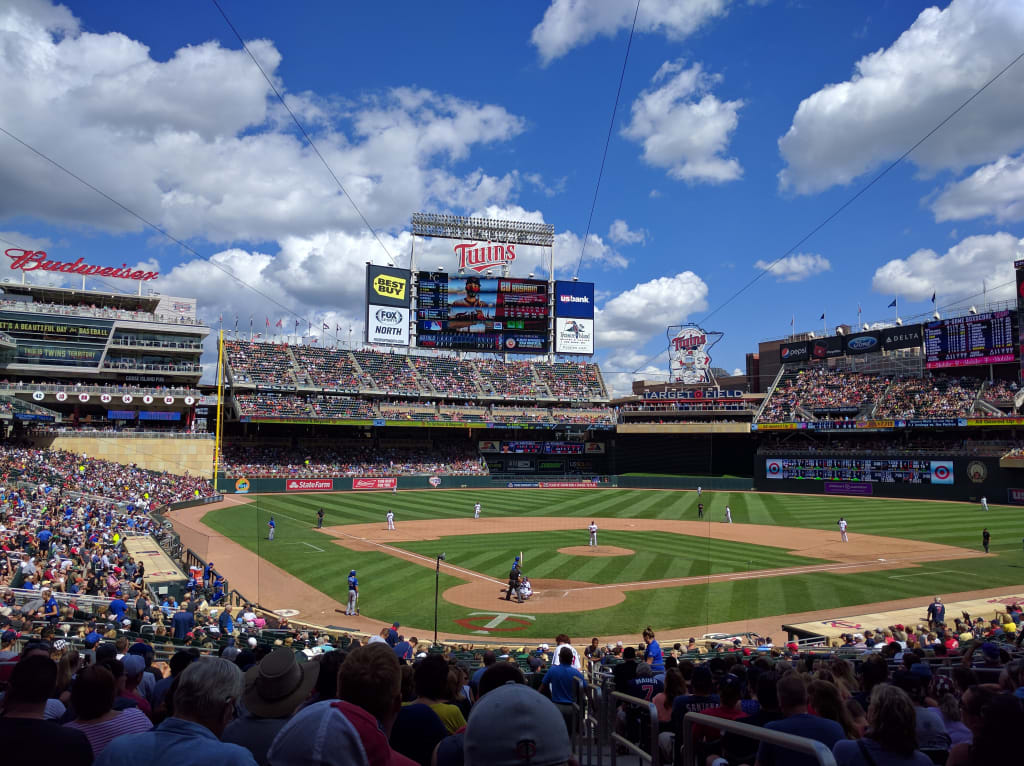 (Wikimedia Commons)
The 2017 Minnesota Twins are going to the playoffs.
The same Twins team that started to give up at the deadline, moving Jaime Garcia to the Yankees just five days after he was acquired. But they pulled through and came out on top of the mediocrity that was the AL Wild Card.
They got in. That's all any team is trying to do. Get in and hope you can get lucky enough to make it to the end. Lean on someone who gets hot at the right time and your chances at hoisting a trophy seem pretty good.
But it should be noted that this is a Twins team that was projected to win 74 games before the season started. Even as of today, their base runs record has them as a .500 team. And yet here they are, a wild card team at 83 wins. Yes, they can still end up being an 86-win team but this Twins team is one of the weakest wild card teams in recent memory.
But this is the wonder in watching a team continually do better than we think they should. For teams, it surely must be a tantalizing prospect that you can make it to the playoffs with a team that is projected to be near .500.
It's a dangerous gray area to live in however.
The Twins are more of an exception due to the fact that they have so many of their young core locked up for a longer stretch of time, but sending off a guy like Brian Dozier would do incredibly well to bring back prospects needed to rejuvenate a farm system and build for a sustainable winner. Build around Miguel Sano, Jose Berrios, and Byron Buxton. Give those guys significant pieces a few years down the road while you still have them.
It should not be mistaken that the Twins were sellers at the trade deadline this year. They understood where they were as an organization despite the fact that they were not out of the playoff picture. They were lucky enough to get hot at the right time and have played themselves into the best possible position. It should not be confused either that the Twins almost certainly did not plan to be in any such position as they are in right now.
For the rest of the AL teams that had been projected to be around .500 and hope to pick up a few extra wins along the way, do not look to the Twins as a successful example.
Sitting in that .500 range can do much more harm than you think. As a recent example, the A's post-2014 had started a semi-rebuild. Beane and the front office had sold off some of the pieces but at the same time retooled to put together an average team that they hoped would be lucky. While the A's had gotten rid of Josh Donaldson, Brandon Moss, and Jeff Samardzija, they took on players like Ben Zobrist, Marcus Semien, Brett Lawrie, Billy Butler, and so on. It clearly did not work out and had set the A's back a few years from what was the start of a true rebuild.
The Padres attempt to make a push in 2015 by adding Matt Kemp, Justin Upton, Craig Kimbrel, and James Shields, roughly an 82 to 83 win team, ended up blowing up in their face and crippling the farm system.
The Padres or A's situations are not similar to what is going on in Minnesota this year but should serve as reminders as to the consequences that come about when you sacrifice to build what you believe will be an 80-win team.
More recently, the Orioles refusal to tear down a team that was projected for roughly 80 wins in the hopes that they would make it to the playoffs has now left them in one of the most unenviable positions in baseball. They were in a more reasonable spot before the season but their slight hope of coming out on top of the AL Wild Card after the deadline have left them in a hole.
Parity is very much alive in baseball and will surely continue. The Twins have done something amazing with a less than stellar team and have a shot to win the World Series. It should not be lost on teams how they got here though and that the Twins front office themselves did not think this could happen. Pushing to build a .500 team in the hopes of getting lucky is still just about the riskiest thing a team can do, and that surely is not how the Twins got to where they are.
Reader insights
Be the first to share your insights about this piece.
Add your insights