LeBron James Made a Promise, Now What?
A Look at What I PROMISE School has to Offer
The long-awaited I PROMISE School, founded by LeBron James's the LeBron James Family Foundation, finally opened its doors this week. His goal? To help students that were once in his shoes.
"When people ask me 'Why a school?', that's part of the reason why," said James on his reason for founding a school in his hometown. "Because I know exactly what these 240 kids are going through," he added.
LeBron James grew up in a single-parent household as his mother struggled to pay the bills. When faced with the possibility of moving from Ohio to New York, a youth football coach Frank Walker allowed him to live at his house as he attended school in Akron.
James learned in this period of his life how to play basketball and grew to be rather successful at a young age. Fast forward to the 2017-2018 NBA season, this All-Star averaged 27.5 points per game and reached seven straight NBA finals.
Off the court, James made a name for himself in the philanthropical world. The I PROMISE School is broken into two parts: the I PROMISE Elementary and I PROMISE Secondary Schools. The initiative has each enrolled student make the following promise:
"I PROMISETO GO TO SCHOOL.TO DO ALL OF MY HOMEWORK.TO LISTEN TO MY TEACHERS.BECAUSE THEY WILL HELP ME LEARN.TO ASK QUESTIONS AND FIND ANSWERS.TO NEVER GIVE UP, NO MATTER WHAT.TO ALWAYS TRY MY BEST.TO BE HELPFUL AND RESPECTFUL TO OTHERS.TO LIVE A HEALTHY LIFE BYEATING RIGHT AND BEING ACTIVE.TO MAKE GOOD CHOICES FOR MYSELF.TO HAVE FUN.AND ABOVE ALL ELSE -TO FINISH SCHOOL!"
According to I PROMISE's website, Akron Public Schools found that students begin to fall behind as early as the third grade. This is where James' initiative steps in. The schools provide support for these identified students through "resources, mentorship, and encouragement they need to stay on track to graduation."
Moreover, the LJFF created the LeBron Advisory Board to assist the Akron Public School District in matching students with I PROMISE programs best for them. Outside the classroom, the board also takes a broader approach to look at how their programs work within communities.
I PROMISE not only assists at-risk youth, but it aims to assist parents of these students as well. The school provides job placement assistance and offers an on-site food bank for families. School hours are also longer at this school, from 8 AM to 5 PM, so students can receive extra academic support while their parents are working.
LeBron James didn't just stop with parents and students. Since the I PROMISE School is technically a part of the Akron Public School District, it cannot charge tuition for students and must work together with the local teachers' union. The Los Angeles Times reported that this school goes even as far as providing "psychological services" to its teachers, including career development and personal training.
The opening of this school caught the eyes of many prominent public figures, including former First Lady Michelle Obama. She tweeted in congratulations of the grand opening.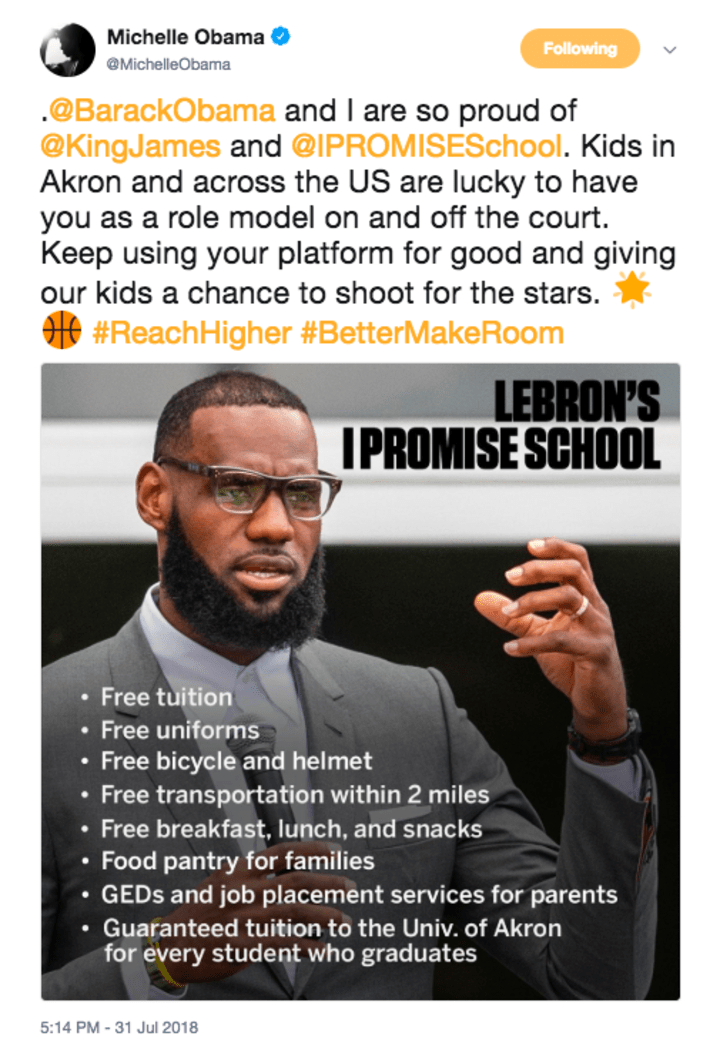 It's unclear whether this grand opening was his way into politics, however, James told CNN's Don Lemon that he would keep an open mind to running for office if the opportunity arose.
Earlier 2018, James agreed to a four-year deal with the Los Angeles Lakers for a hefty $153.3 million. Whatever comes next for LeBron James, it is clear he plans to stay in the public's eye.
"By me being able to put something together, I want people to know that these kids should still have the same opportunity as everyone else. And, that's what is most important," said James.