Ken Giles Is Losing It
Can the Houston reliever get his groove back?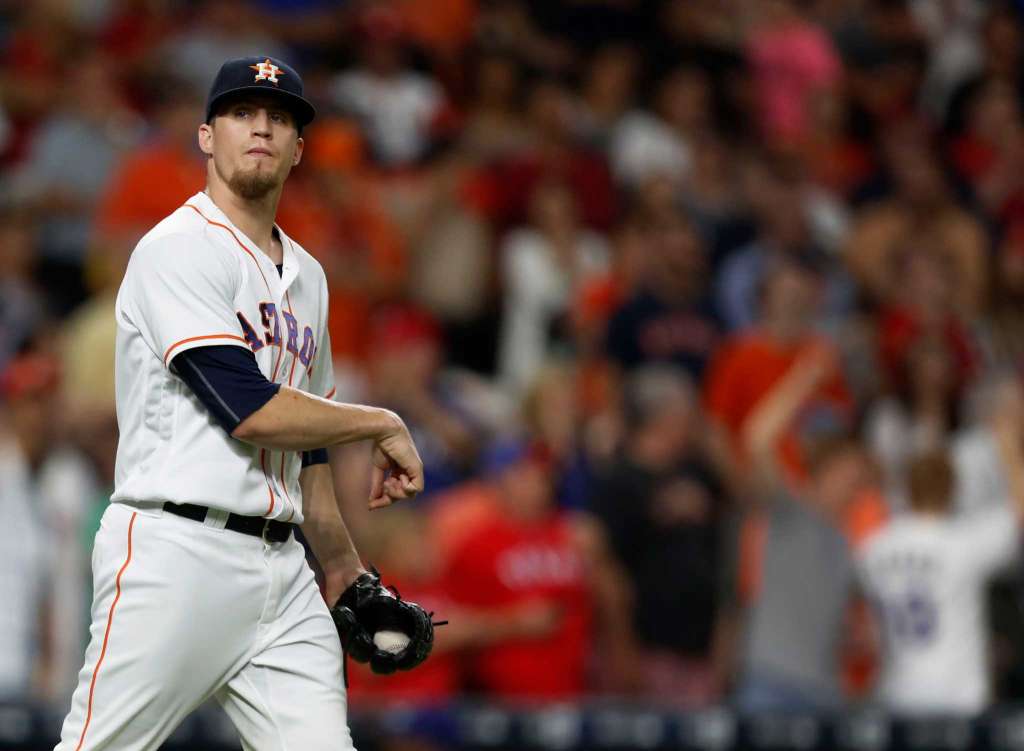 (Karen Warren, chron.com)
If you're an Astros fan, odds are Ken Giles nearly put you into a coma or gave you a heart attack during Game 2 on Wednesday night. Regardless, everything worked out for Houston in the end, and the Astros came out on top of one of the greatest World Series games ever.
Giles' meltdown can not be ignored. Throughout this postseason, he's had only one scoreless outing, with each of his appearances coming off two or more days of rest. He seemed to lose the trust of A.J. Hinch in the ALCS, and his performance in Game 2 of the World Series certainly did not help his cause.
After going through the heart of the Dodgers' lineup in the ninth, Giles managed to give up a home run to Yasiel Puig and a game-tying single off the bat of Kiké Hernandez in the tenth.
Quite frankly, it did not look like Giles had his best fastball. The Puig homer was on a 97 MPH heater, and the Hernandez single was on a 96 MPH heater on the outer edge of the plate. Certainly not bad pitches, but there is more to it with a pitcher like Giles.
When you watch Giles throw in the clip above, it doesn't seem like that's a fastball that can overpower hitters, right? You see it and think it's something more of a 93 or 94 MPH fastball, not the 97 showing up on the screen. It just doesn't have that POP. Well, that's true to an extent.
Giles doesn't get good extension on his fastball, and his effective velocity is a few ticks below what comes up on the gun. It's one of the largest gaps in the game (1.64 MPH, 25th amongst all pitchers), so if Giles isn't working with 100 mph stuff, his fastball becomes a little more pedestrian (by MLB standards of course) on any given night. Let's take a look at how Giles' fastball has looked in each appearance this year.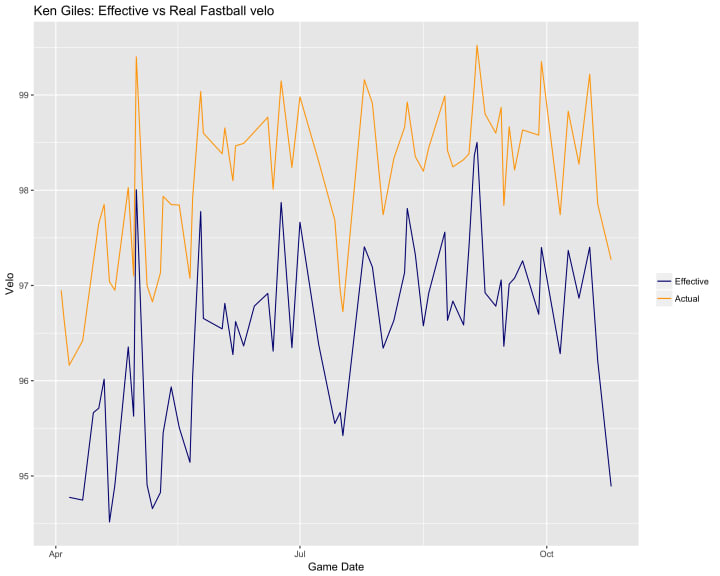 There it is at the end. Giles' effective velocity was 2.4 MPH slower than his actual velocity at 94.9 MPH, the third biggest difference for any Giles appearance this year. The pitch that Puig sent into the seats had a perceived velocity of 94.5 MPH, and the Hernandez single that tied the game had a perceived velocity of 94.6 MPH.
I mentioned earlier that Giles has been working with more than two days rest for each of his appearances, and Wednesday night was coming off four days of rest. I'd say there's a good chance there is some kind of injury Giles is hiding, but I can't say for certain. But, his release point has been consistently dropping throughout the year.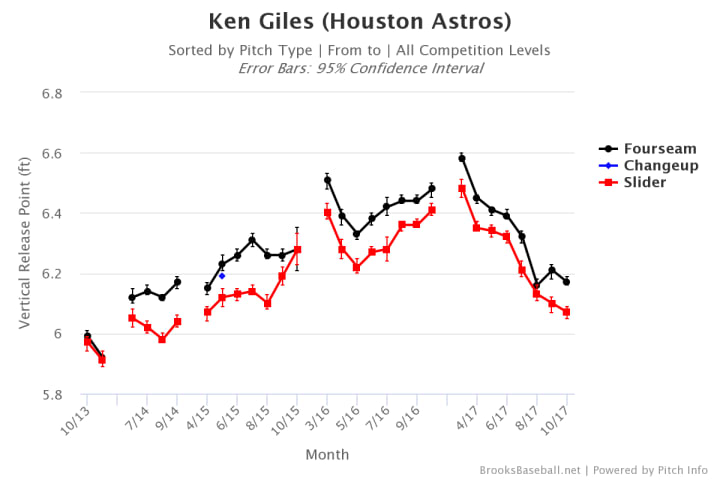 Giles has been throwing a lot of fastballs, but he's a two-pitch guy with a slider that is far more effective than his fastball. He typically splits the pitches close to 50/50, with some months where he's thrown more sliders than fastballs. However, toward the end of the year and into the playoffs, Giles started leaning on the fastball more and more.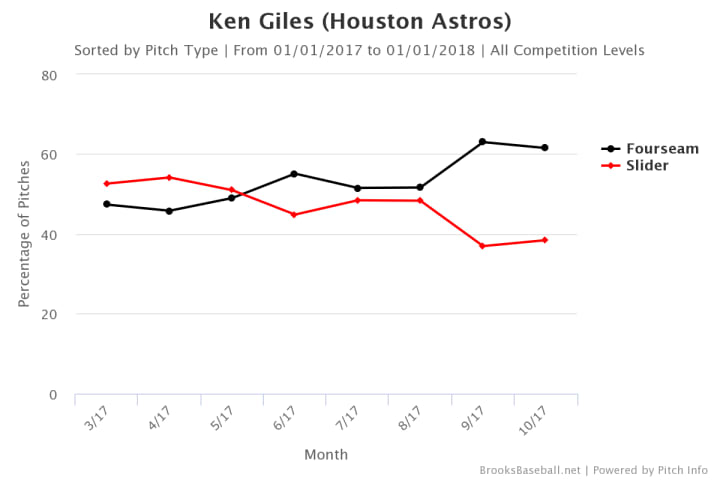 Giles was able to use his slider to record all of hits outs in Game 2, including all three of his punch outs in his one and two-thirds innings. A lot of what has to do with pitch usage for relievers is feel, and he could have very well lost some of that touch for the slider and is relying on a weaker pitch. There's a good chance he's just wearing down this year or concealing an injury. Whatever the case may actually be, there's good reason for A.J. Hinch to go to another reliever with the game on the line. If Giles is hoping to get back on track, at the least, he should consider throwing more sliders out of the zone to go back to a pitch mix that was working for him earlier, even if he doesn't have the feel for the slider. That fastball is not all that it seems.
Reader insights
Be the first to share your insights about this piece.
Add your insights