Justin Turner: Postseason Great
The Dodgers' third baseman has already cemented himself among the greats.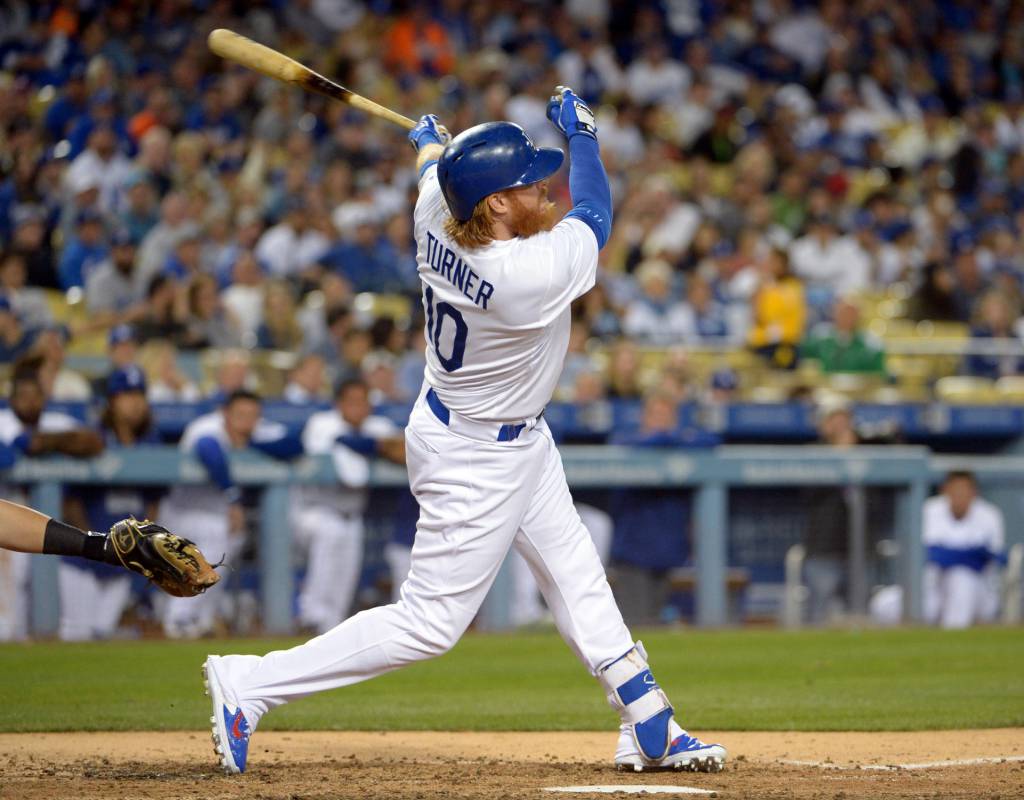 Kirby Lee- USA TODAY Sports
The Dodgers are going to the World Series for the first time since 1988.
It's remarkable how potent their offense has been, or rather how good Justin Turner has been in the absence of Corey Seager in the NLCS. Yasiel Puig has frankly been just as good, and Kiké Hernandez put on a show for the ages, but Turner is continuing a stretch of postseason dominance that is rare.
Through seven games this postseason with 32 PAs, Turner is running a .387/.500/.677 slash line with three HRs and 12 RBIs. It's incredible to be this good in one postseason, but it's something else to have this much success over his whole postseason career.
Over his 106 PAs in the postseason, Turner has put up a .368/.481/.632 line. For career postseason totals, Turner has the eighth-highest OBP. But, if you take into account how much more playing time he has in the playoffs and look at players with 100 or more PAs in the playoffs, Turner has the second-highest OBP behind Lou Gehrig and third-highest OPS behind Babe Ruth and Lou Gehrig.
Turner has already cemented himself into legendary status after his walk-off home run in Game Three, and I doubt his postseason performance this year is just another case of "clutch guy being clutch." It should be noted, though, that Turner ran a 188 wRC+ in high leverage situations this year.
But, this is all more than a guy who just ran into a few once October came around. Towards the end of the year, Turner was demolishing baseballs and hitting balls in the air — a pretty solid combo for any hitter to follow.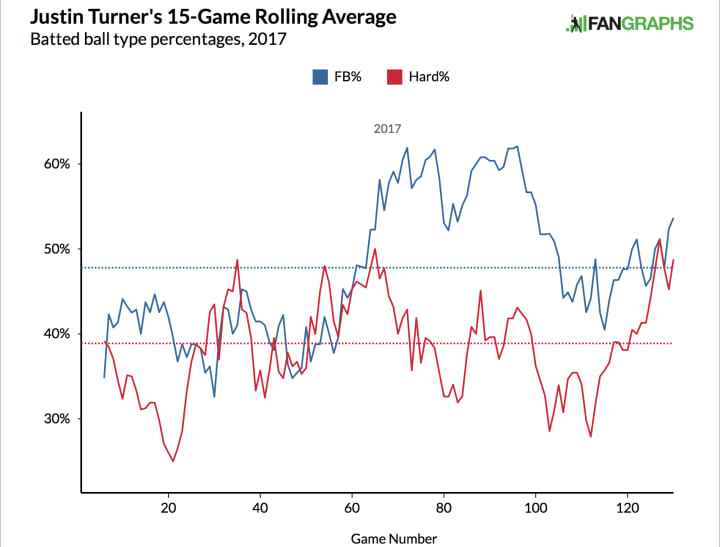 To give more evidence as to how this all worked out, let's look at how hard and how high Turner was hitting these fly balls. Below are some rolling averages of every ten fly balls by Turner this year.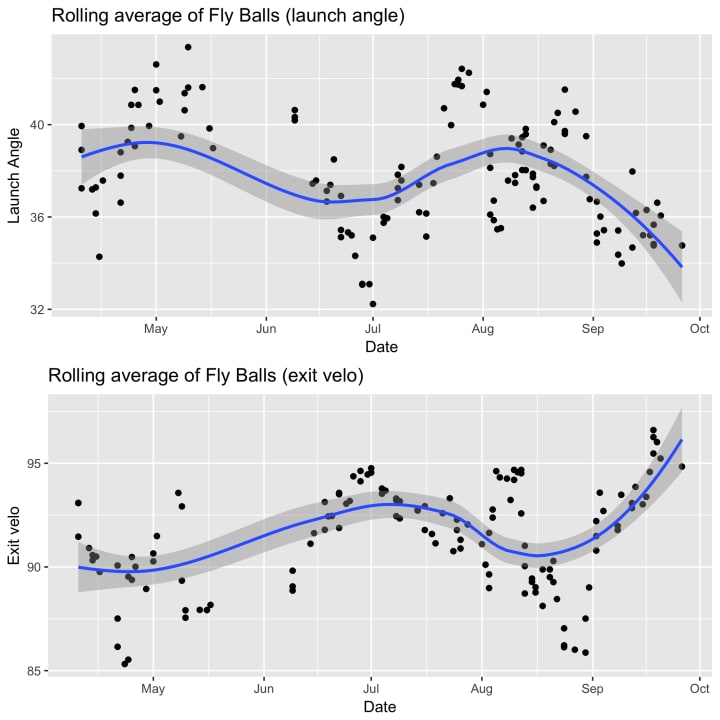 Many of you know Turner as being someone who hits a lot of fly balls. Looking at the previous graph, you can see that he sure was hitting a lot, toning down the fly ball percentage towards the end of the year. Well, it appears in those stretches, he was really getting under the ball and producing incredibly high launch angles that go past the point of being productive. Fly balls are great, but at 40 degrees and higher, you really struggle to make it worthwhile (unless you're aiming for a catwalk in Tampa).
While the exit velocity and launch angle were out of flux throughout August, it all came together in September with a launch angle back into a more ideal 33-36 degree range and an incredibly high exit velocity peaking over 95 MPH!
Turner found his swing again, and the improvement from August to September certainly showed. His 106 wRC+ in August was the lowest out of any month in the season, but he followed it with a 145 wRC+ in September.
Turner has made himself into a postseason monster. This year's postseason performance isn't the result of pure luck in what still appears to be a small sample size. He adjusted, got his swing back, and is now writing his own history as one of the greatest producers in postseason history. I hope he won't go down as just beingthe guy who hit the walk-off home run in Game Three of the NLCS. I hope people will remember Justin Turner for being one of the greatest postseason hitters we've ever seen.
Reader insights
Be the first to share your insights about this piece.
Add your insights