Judging Tom Brady
Career Status of an All-Time Great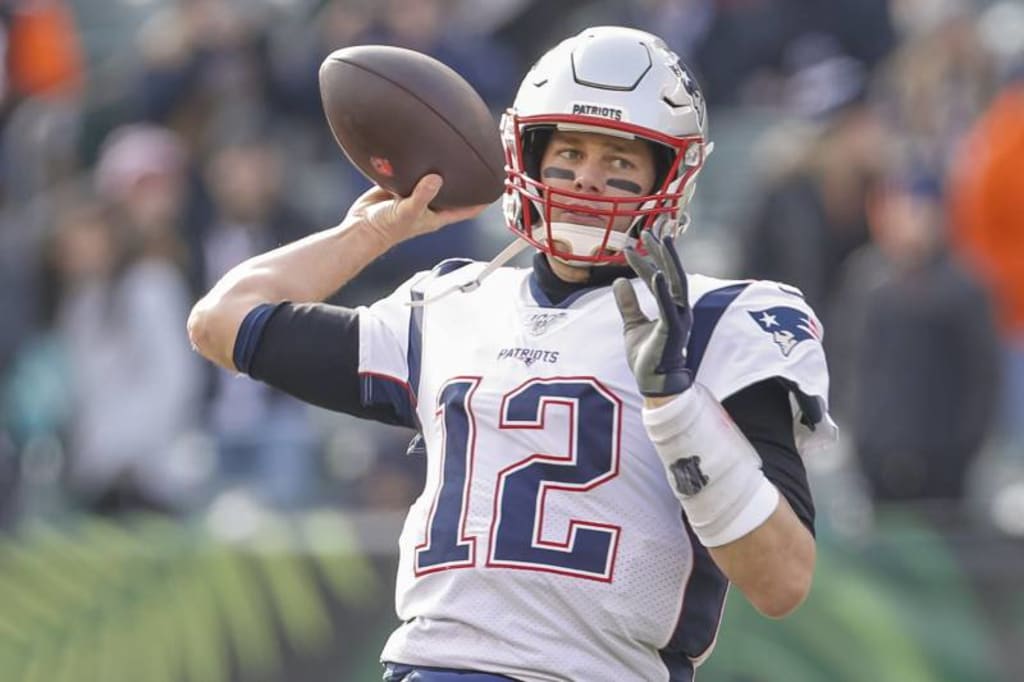 Photo Credit: Michael Hickey/Getty Images
The Trending Topic in the National Football League is the Status of Tom Brady's Career. Some say that "TB12" is in decline. His Quarterback Rating has steadily declined over the last three Seasons. And let's not forget the forgettable Super Bowl last Season as the Patriots struggled to score against the Los Angeles Rams.
Others say Tom Brady's Play is just fine. The actual problem is his teammates on Offense are not performing at an adequate Level, which makes Brady look like he's getting old. If you give TB12 better Wide Receivers, a competent Tight End, and sure up the Offensive Line ..he can still deliver the football with the same Velocity and Accuracy as always. They claim the Patriots have done a poor job with surrounding Brady with decent Talent, at least.
Which side are you on?
It's still tough for me to judge where Tom Brady is because he doesn't have the same Offensive weapons as last year. If his teammates were the same as last year and his Play dramatically declined, then I could say ..okay he needs to Retire.
..but his Squad this year was awful. Even Edelman's play declined. No Gronk, not even Hogan. Gordon was Cut. AB was Released. The O-Line was bad. The WRs had trouble getting Separation most of the Season along with trouble actually catching the ball. I don't put Brady ahead of Joe Montana as the Best All-Time QB, but I respect what he's done in the Game.
Bottom line, Coach Bill wants to move on from TB12 and didn't do him any favors with constructing a good roster. I have heard that New England did not want to pay Wide Receiver, Chris Hogan, the amount of money he wanted. They Released him. Yet, Brady could have used an outside Receiving threat this Season, which was practically non-existent.
I have also heard they didn't want to pay Antonio Brown the $9-$10 million he wanted, which factored into the decision to Release him, as well. This is nothing new for the Organization. When Wes Welker wanted a hefty Contract from the Patriots, I believe Tom Brady took a pay cut to free up Salary Cap space in order for the Patriots to fit Welker's new Contract into the Team's Budget. Well, New England didn't Sign Welker, anyway, because they were unwilling to pay him such a high Salary, regardless.
Wes Welker ended up Signing with Peyton Manning and the Denver Broncos. Yes, Denver gave Welker the hefty Contract that New England wasn't willing to pay him. Didn't Randy Moss eventually request a large Contract from New England? And what happened? Moss was sent packing to ...the Oakland Raiders? Right? Several Players were sent packing when it came time for New England to Sign them huge Contracts. Part of the Patriot Way is to pay Players as little as possible for the maximum benefit of their Team. I say, to the maximum benefit of the Owner, Robert Kraft, which is why I don't respect him as much as most people seem to. The moeny sin't going anywhere else, but I digress.
Tom Brady should not be surprised when New England frowns at giving him a hefty Contract heading into the 2020 Season this Fall. I also believe Coach Bill will 'finally' be able to move on from Tom Brady. Meaning, Brady will play for a different Team this upcoming Season for the first time in his Career.
Back to the main question. Does Tom Brady still 'have it?' In my opinion, yes. You can push back by saying, "Eric, Tom Brady is a statue in the Pocket. He isn't mobile at all." My response: Has he ever been a mobile QB? Honestly, going into the 2007 Season's Super Bowl against the Giants, when the Team was 18-0, Tom Brady and Randy Moss broke Records together. Was TB12 a mobile Quarterback, then? No. Sometimes, he'd fall to the ground before the Defense had a chance to hit him during a Sack. And that was thirteen years ago! While he's tough as nails, he has never liked taking hits and shows his discontent more than the average QB.
Fast forward over a decade, nothing has changed besides the fact that he's older. He still likes to run a quick tempo Offense to tire out the Pass Rush. He still likes to throw Screens, Slants to quickly get the ball out of his hands. He's always needed a decent Offensive Line because, while he can move well within the Pocket (ala Dan Marino), he's not Russell Wilson or Deshawn Watson.
I figure Coach Bill is looking at more mobile QBs sprouting up around the League and thinks: "I have to get rid of TB12 to catch up with the way the NFL is trending. I could do so much more with the Offense." And can we blame Coach as we marvel at what in the world Lamar Jackson is doing for the Baltimore Ravens? It's 2020. Changing of the Guard is inevitable.
I must conclude, again, Tom Brady is not Done. However, he should be Done in New England. Is there anything worse than Working some place where your Boss (aka the Coach) doesn't want you there? I also believe Coach Bill sabotaged the Offensive Side of the Team. Since this Coach is also the General Manager (who wants to get rid of the QB despite his Popularity with Fans) he needs Tom Brady to be seen as playing poorly. If Brady is playing great, it makes it nye impossible to sell to the Patriot Fan Base that it's time for Brady to go. Go anywhere besides here.
Which translates into trotting out a depleted Offensive Squad and telling Brady to do what he usually does in terms of Production. It isn't fair. It isn't right. And as much as it annoys me when people put Brady ahead of Joe Montana, I have to call it like I see it.
Now, what's next for Tom Brady? How well will he play on another Team?
Well, it depends on where he goes. Whether he actually plays in New England next Season or he plays for the Chargers, the Offensive Line needs to be Solid. The Team needs to cater to Brady's Strengths, which means Play with Tempo. Play Smart. Give him Receivers and Tight Ends he can depend on. Yet, I don't know if another Team (who would actually add him to their Roster) can offer Brady these things. I mean, the Chiefs aren't interested in Signing Tom Brady, for obvious reasons. A bad Team will be more willing to add a 42-year-old QB to Start for them.
Over the years, all these other teams in the NFL typically have more 'Talent' than the Patriots, but they don't use that superior Talent better than New England uses their 'inferior' Talent. Would adding Tom Brady to a Squad that underperforms (like San Diego) make a huge difference even though they have better Talent on their Roster?
He's not going to find a better Coach than the one in New England. However, if New England believes they can continue to essentially be 'cheap' with acquiring Talent and still continue the Dynasty, they have a rude awakening ahead. Not every QB can elevate the Team around them. Plus, the other Teams in the NFL are beginning to catch up, more specifically in the AFC.
The AFC East is the weakest Division in the NFL and has been for over a decade, which contributed to the Patriots' Success. If Coach Bill loses sight of this, it's going to cost him. If the Bills, Dolphins, and Jets can, at least, make New England nervous about winning this Division, that's another issue that hurts New England's ambition of continuing this Run.
Quite a bit of the Patriots' success is an indictment on the other Teams. The other Teams are underperforming so terribly, New England has been given more Success than they may have gotten otherwise. The other Teams haven't made the Patriots pay for their tendency for letting good Players walk out the door without Consequence.
If the other Teams, with more Talent, play Smart by using that Talent well, Coach Bill will find himself in Territory he hasn't been in since Cleveland. People also point out his Coaching start at the Patriots wasn't going well until Drew Bledsoe got hurt and Brady finally replaced him.
If Brady and Coach Bill finally go their separate ways, I don't think that either will win the Super Bowl without the other. Why? Brady is going to an inferior Team compared to the one he's typically on in terms of the Organization's Culture. They don't run the Chargers with the same Level of Discipline that Coach Bill runs New England's Squad.
And Coach Bill won't be able to trot Budget-friendly Talent on the Field and see his new QB get the most out of that Squad. They'll both be in worse shape all the while trying to prove they can win a Super Bowl without the other.
The Ravens. The Chiefs. The Bills. The Colts. The Texans. Perhaps, even a few more Dark Horse teams are on the rise. Will the Tom Brady-less Patriots get passed them? And what if they do? The 49ers. The Seahawks. The Saints. The Vikings. Dare I say, the Cowboys ...Washington? Along with typical Dark Horse teams in the NFC, as well, are on the rise. They'll have to face these Teams in the Super Bowl. No easy pickings.
Of course, I may be wrong, but the Dynasty will be over (again) when Brady leaves New England. I say again because I don't see it as a consistent stretch of Patriot Dominance. They have two bookends of Success. New England won the Super in 2002, 2004, and 2005. Then, there was a ten-year drought until they won the Super Bowl in 2015, 2017, and 2019. Which gave Brady and Coach Bill six Titles together, but I don't look at it as a twenty-year Dynasty.
I leave by saying: Thank you, Tom Brady, for ..well, as a 49ers' fan, we needed someone to root against. You showed up in the Playoffs so much we're sick of seeing you, but we (the fans of the other NFL Teams) respect you. Well, at least, most of us respect you. Some of us just ..don't like you and that's the way it is in Sports. As for Coach Bill, while I do respect you, it's tough to do so. You're so smug at Press Conferences and have been linked to and accused of Cheating so much ..it's tough. I only hope the 49ers, at least, tie you in Super Bowl wins. You can't have more than us. It's ridiculous.