It's NHL Season: Stay Safe in the Stands
Safety Tips for NHL Fans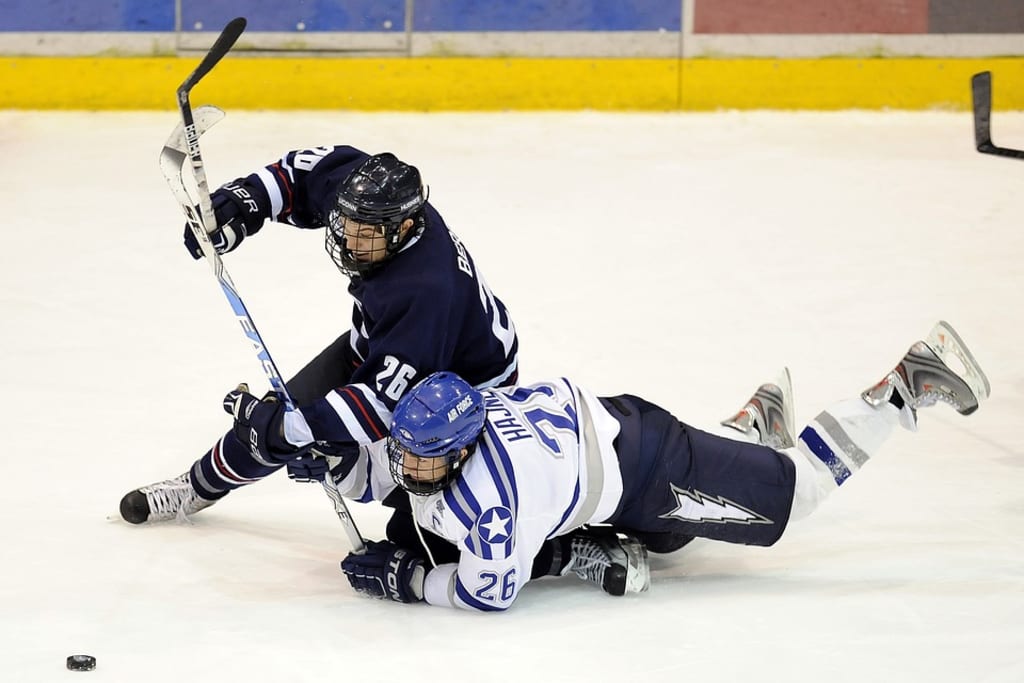 In March 2002, a girl named Brittanie Cecil lost her life after an accident at a Columbus Blue Jackets game two days before her 14th birthday. A hockey puck flew into the stands and struck the young girl in the left temple, causing a traumatic brain injury that would prove fatal a few days later. It was the first time in the National Hockey League's history a fan died because of a flying puck. Now, over 17 years later, it is still just as important for NHL fans to practice spectator safety.
Get Seats in a Safe Location
Flying pucks are the greatest safety concern at hockey games, according to St. John Fisher College. Pucks can become deadly projectiles and cause serious injuries if they deflect off the sides of the rink and enter the stadiums. Studies show it is more difficult for fans to avoid flying pucks than foul baseballs. It is more difficult to see a puck than a ball due to the dark color of the puck and the dimmer lighting of an NHL arena compared to a baseball diamond. Pucks can enter the stands at speeds of 100 miles per hour or more.
Although the tickets may cost more, seats closer to the ice can be safer in terms of avoiding flying pucks. Closer to the rink, the plastic or glass partition can extend high enough to block any pucks that may otherwise pose a threat to fan safety. If a puck does fly over the partition or safety net, it will do so higher up in the stands.
Be Aware of Your Surroundings
You may be able to prevent an accident or injury by paying attention to your surroundings. Avoid drinking alcohol while at an NHL game. Pay attention to the game, keeping your eye on the puck as much as possible. Watching the puck may help you avoid or deflect a puck that flies over the glass in your direction. While walking around the stadium, pay attention to where you are going. Do not text and walk, as this could increase your risk of a fall accident.
Arrive Early
NHL injuries can occur in parking garages or the stands before the dropping of the puck. Arrive early to avoid the rush of traffic and spectators racing to their seats. Staying out of heavy traffic can decrease your risk of getting into a car accident on your way to the game. Walking to your seats while you still have plenty of time before the game starts can decrease your odds of an injury since you will not be rushing through the stands. Give yourself enough time before the game to safely get to your destination.
Report Safety Concerns
As a spectator, you may be able to notice safety issues or concerns the authorities in charge of the stadium might miss. Be a Good Samaritan and report these problems. A maintenance person may be able to tape off a section of a staircase that has a broken railing, for example, or mop up a wet floor before someone slips and falls. Report an issue right away to reduce the risk of a fan suffering an injury. If the safety problem already gave you an injury, report your accident to staff members.
The NHL instituted a rule of putting nets behind each goal after Brittanie Cecil's tragic death. The nets extend 18 feet above the boards to help prevent slap shots from deflecting and flying into the stands. Inspect the glass and nets that separate you from the rink before an NHL game. If you notice any holes or issues with the net, say something. The stadium should not allow the game to commence before remedying the issue.
Stay sober, alert and ready for anything while watching an NHL game. Hockey can be exhilarating, but as a spectator at a live event it can also be dangerous. Take steps to help decrease your risk of becoming a victim this hockey season.