Is It Time to Rethink Hitter's Counts?
A Look into Pitch Usage and the Results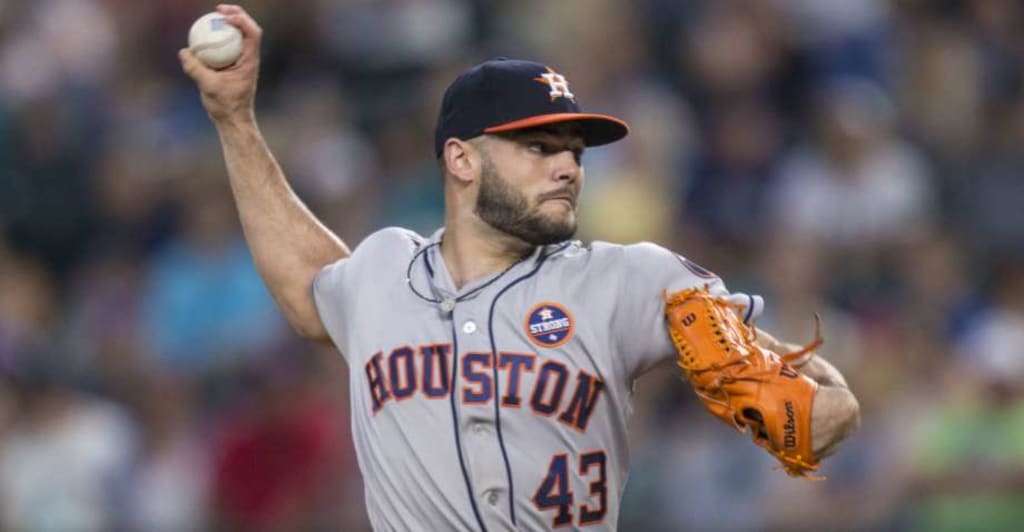 (Lance McCullers isn't afraid to throw his off-speed pitches in any count.  Photo: Stephen Brashear/Getty Images)
Hitters have always lived by the idea that they will try and work the count in their favor to not only get closer to a walk, but to force the pitcher to be more predictable. Limit the pitcher down to just throwing you a fastball, and give yourself a better chance at guessing correctly. Pitchers do not want to walk people and will throw their fastball much more predictably as they fall down in the count.
Take Clayton Kershaw, for example. As Jeff Sullivan pointed out in an excellent piece, Kershaw is pretty strong against using his curveball in hitter's counts. A pitch he throws roughly 17 percent of the time has been almost nonexistent in hitter's counts. For any hitter, getting to a friendly count against Kershaw means he does not have to worry about seeing the curveball. Take a look at how he has used all of his pitches, by count, this year.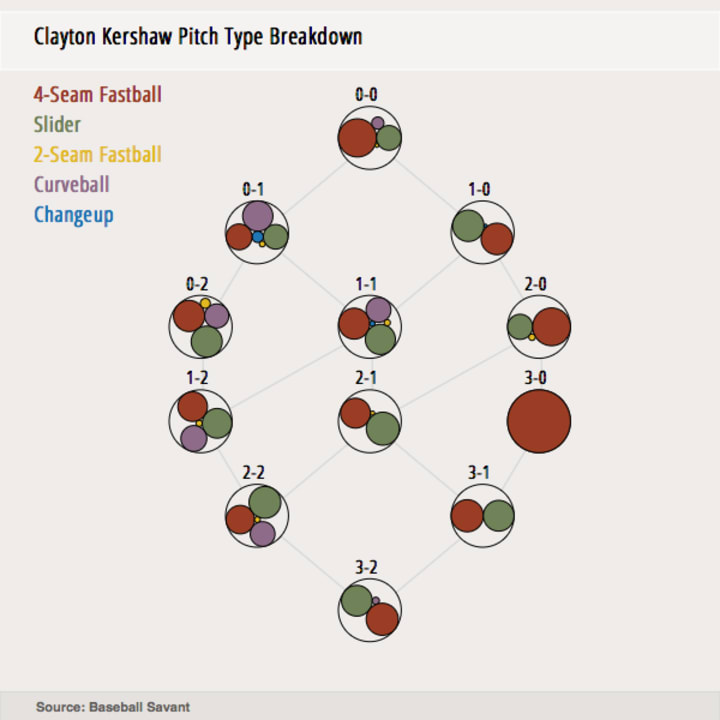 Get yourself in a hitter friendly count and sit fastball. Of course, it is easier said than done to hit Kershaw, but it has led me to wonder whether it is right to keep throwing so many fastballs in counts where hitters are anticipating fastballs.
To start, I pulled the results for off-speed and fastball usage in hitter's counts for all pitchers in 2017 (min 50 off-speed and fastballs each in hitter's counts). Just to try and get a sense as to whether there was any relation, I first took a look at off-speed usage in hitter's counts vs xwOBA.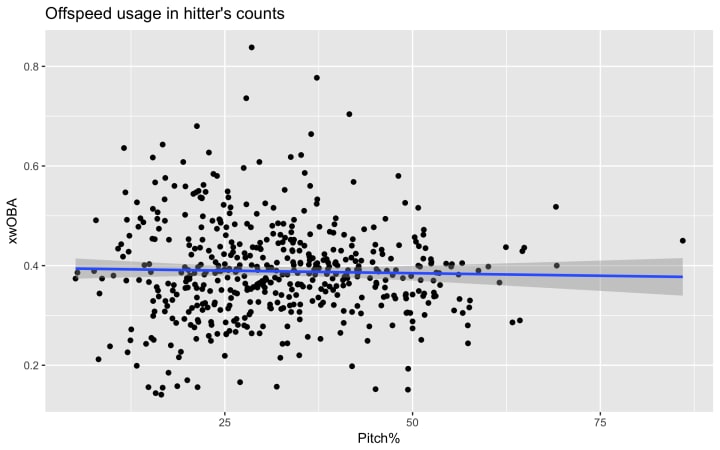 Nothing to really find here; a lot of randomness. What about fastball usage in hitter's counts?
There is a small relationship here, but not too much to glean from this, even from the guys who have bigger (faster) fastballs.
But pay attention to the y-axis for both plots: the fastball group is centered higher than the off-speed group. It is not something small, either.
Avg xwOBA on off-speed (hitter's count): 0.388
Avg xwOBA on fastballs (hitter's count): 0.439
Much of the concern here, I am sure, revolves around the basis that pitchers throw fastballs in these counts because there is a significantly higher chance of throwing a strike with a fastball versus an off-speed pitch. Well, that simply is not the case.
Zone% off-speed (hitter's count): 52.1 percent
Zone% fastballs (hitter's count): 58.2 percent
We see only a six percent difference here. There is a lot that goes into guys throwing off-speed pitches for strikes, but this is something more negligible than I thought. Normally, you would think some players would not have this much control over off-speed pitches, but they are big league pitchers.
So, we have pitchers who can throw off-speed pitches in the zone nearly as often as they do fastballs when hitters are ahead in the count. How have hitters fared against those pitches in the zone?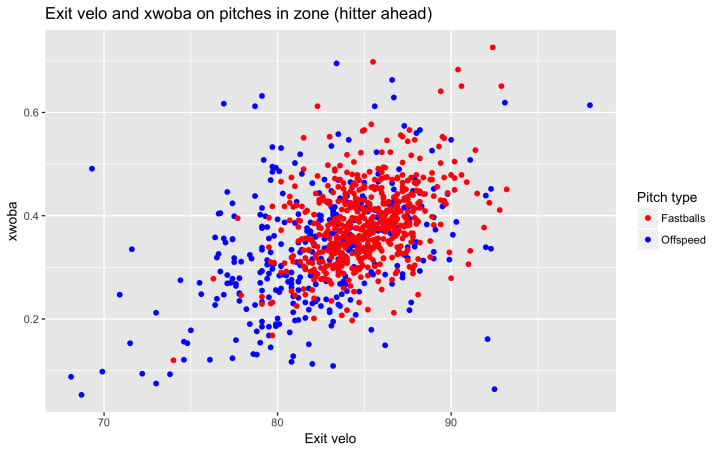 This is from the same two groupings of pitchers (min 50 off-speed and fastballs in hitter's counts), so there is some overlap for some players. But, I hope you can see the off-speed grouping is centered a little more left than the fastball groupings. For these players, the average off-speed exit velocity was roughly two MPH lower than the average fastball exit velocity (82.4 vs 85 MPH). The league average sees a similar split as well (88.1 vs 90.7 MPH). To put this velocity gap in perspective, among the 387 pitchers who threw at least 750 pitches in 2017, the standard deviation of exit velocity was 1.56 mph.
There are a few caveats to all of this. There was nothing direct about throwing more off-speed pitches in hitter's counts that led to better results; there is a smaller sample of off-speed pitches thrown versus fastballs thrown in hitter's counts, and sequencing is always an issue that is hard to build in. And maybe it is not fair to consider all counts where the hitter is ahead. 1-0 certainly is not the same as 3-0, but enough of the general convention still seems to be in place today. Even a pitcher like Clayton Kershaw becomes more predictable and narrows his arsenal after falling down 1-0.
But it is time for pitchers to expand their arsenal and use their off-speed pitches more often in hitter's counts. Pitchers can certainly throw their off-speed pitches in the zone nearly as often as they can their fastballs and to better results as well. Much of the hitter's advantage when the count is in his favor is that he has a better idea as to what pitch is coming. Given the skill of MLB pitchers, it is an advantage that very well could be taken away to favorable results.
Reader insights
Be the first to share your insights about this piece.
Add your insights