How the Dodgers Can Try and Neutralize Houston's Offense
The Astros became the league's best offense by swinging hard but not striking out. The Dodgers have the right pitchers to win this battle.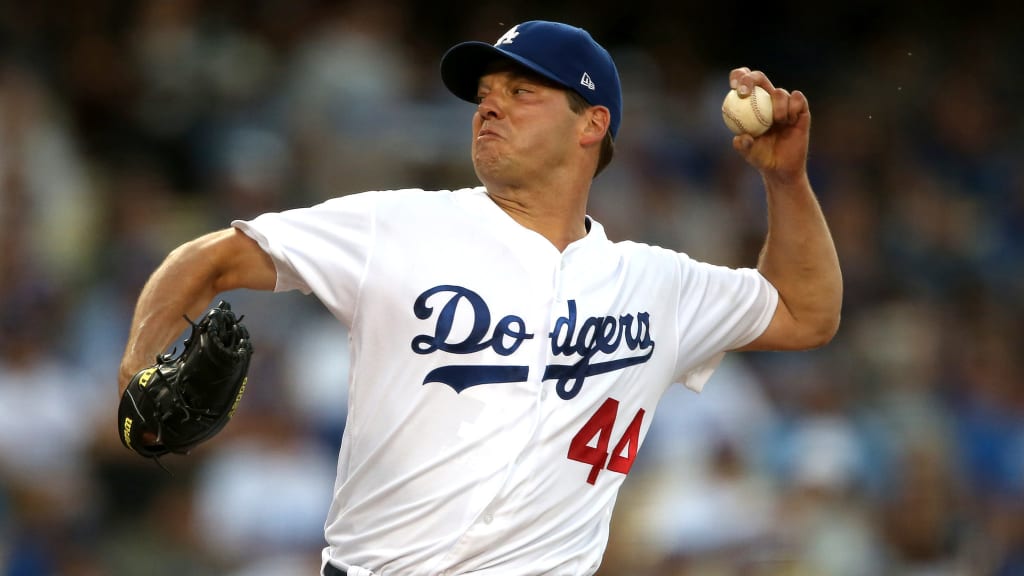 (Los Angeles Times)
The Astros have one of the best offenses we've seen in a while. As a team, their 121 wRC+ is the fourth highest all-time for any team since 1900.
Shutting down their bats is no easy task. They have the league's lowest strikeout rate and the league's highest BA, OBP, and SLG. Surprisingly with a league low strikeout rate, they are league average in terms of swinging at pitches out of the zone (29.2 percent O-Swing%, 15th in the league) but best when it comes to whiffs (8.5 percent SwStr%). Take in all this with the fact that they have a league best contact rate and you have a team that isn't as disciplined as you'd be led on to believe but puts the ball in play quite frequently.
Taking a look at their weighted pitch values, a way to look at how they've done with particular pitches, they're tops in the league against fastballs, sliders, and curveballs. The only pitches they seem to have weakness against are cutters and changeups ranking 13th and 10th respectively. There frankly isn't anything to be found here. An offense of this caliber is going to crush fastballs and just about everything else.
Let's take a look at the Houston offense by a few big counts:
Through 0-1: 91 wRC+ (league best)
Through 1-0: 137 wRC+
Through 1-2: 45 wRC+
Through 2-1: 152 wRC+
While it seems obvious enough that you wan't to get on the Astros first pitch, it isn't always so simple. Throwing first pitch anything is dangerous with these guys.
Like I said earlier, the Astros crush fastballs. They swing at 30 percent of fastballs in 0-0 counts and their wOBA against fastballs in that count is .459. Dangerous, and surely something to think about when you're trying to get ahead.
On the other side they swing at 25 percent of off speed pitches in 0-0 counts with a wOBA of .423. Still scary.
Getting ahead on these guys is rare and damn difficult. Pitchers get a first pitch strike on the Astros 46.7 percent of the time, the lowest in the league. This wasn't a regular season thing either, they still have the lowest rate of first pitch strikes against in the playoffs.
The Dodgers this postseason have led the way in first pitch fastballs with 79.3 percent of their first pitches being heaters. It hasn't necessarily worked out either as they've allowed a .471 xwOBA on those pitches. For off speed pitches in 0-0 counts this postseason, the Dodgers pitchers have allowed a much better .227 xwOBA albeit in a much smaller sample.
For LA, off speed pitches have generated a .217 xwOBA in the playoffs and they've seen amazing results with the fastball, producing a .273 xwOBA against. The count isn't won or lost on the first pitch but its importance shouldn't be forgotten here. There were certainly times in their matchups with Arizona and Chicago where they started to lose their grip in some games, but the pitchers just outright shoved. However, the D-Backs and Cubs are not even close to the offensive talent that Houston is.
For Kershaw and Hill, bust out first pitch curves. For Darvish, spin a cutter up there to start. And for Wood, drop a change up low in the zone to get ahead. This is the time for guys to throw their best pitches, their nasty off speed in any count. The world just watched Lance McCullers Jr. spin his way through the Yankees, why not apply that philosophy here?
While this all may sound incredibly particular, it's important to remember that this is a seven-game series and that every run is going to matter a great deal. When it comes down to it, the Dodgers have been throwing too many fastballs in a count where the hitter is expecting a fastball. No one is better than the Astros at demolishing fastballs so they ought to be less predictable where it matters and more aggressive in throwing their best stuff.
(Data via Baseball Savant and FanGraphs)
Reader insights
Be the first to share your insights about this piece.
Add your insights