How Much Money Do PGA Golf Caddies Earn?
Some Golf Caddies Make Ridiculous Amounts of Money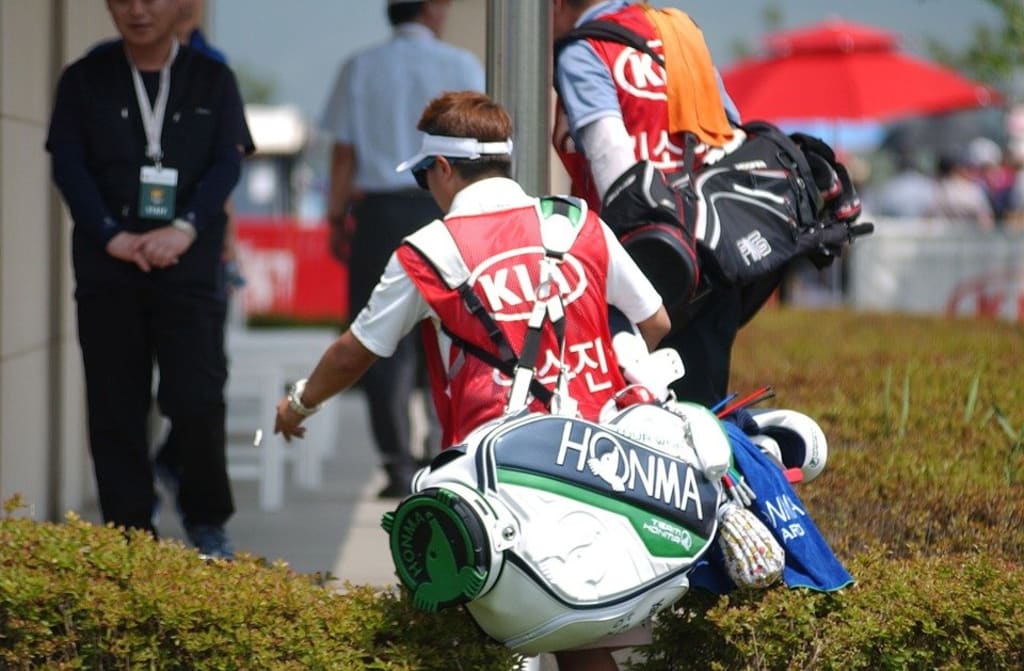 If you've ever wondered how much money caddies make on the PGA Tour here is your answer. PGA Tour caddies are independent contractors who generally make $1,000 to $2,000 per tournament plus bonus money that is a percentage of what the player they are caddying for earns or wins in tournaments.
A young player on the PGA Tour will typically pay their caddie a 10% bonus if they win a tournament, give them 7% of their winnings if the player finishes in the top 10 and give the caddie 5% of all other winnings outside the top 10. If the player misses the cut there is no bonus as the player earns no money and the caddie only gets the $1,000 to $2,000 in base salary for the week.
A caddie for a top player on tour will generally get $1,500 to $2,000 a week guaranteed and then get a 10% bonus if the player wins a tournament and get a flat 8% bonus for all other winnings. Caddies can also negotiate with sponsors to advertise on their hats and shirt sleeves for additional money (caddies bibs are already taken up by the sponsors for each tournament and the caddies get nothing for that to their chagrin).
In real terms, a caddie for a young player who plays in 20 tournaments a year will earn $20,000 to $40,000 in base salary. If the PGA player earns $1 million but does not win a tournament the caddie will get another $60,000 or so in bonus money for $80,000 to $100,000 a year in earnings.
A caddie for a top player who plays in 20 tournaments would earn $30,000 to $40,00 in base salary. If the player wins once or twice and earns $5 million for the year the caddie would earn another $450,000 or so for yearly earnings of $480,00 to $490,000.
According to the wife of a PGA Tour caddie who contacted me, while caddies can make great money they also have very high expenses. Caddies are responsible for their own health insurance and travel expenses like hotels, flights, rental cars and even yardage books. The wife of the PGA Tour caddie also said caddies miss a ton of family time and activities due to their busy travel schedules.
The caddie who makes the most money in any given year? It's almost always the caddie for the PGA Tour player who wins the FedEx Cup because that player gets a $15 million bonus and the caddie gets 10% of that or a $1.5 million bonus right there on top of all the other money earned.
The most money any caddie has ever earned in one season? Most likely that was Michael Greller, a former math teacher who is Jordan Spieth's caddie, who earned an estimated $2.14 million in 2015 when Jordan Spieth earned $22 million including the $10 million FedEx Cup bonus. Greller's earnings as a caddie in 2015 were only topped by 37 PGA Tour players.
In 2019, Rory McIlroy earned $7.79 million on the PGA Tour and won the FedEx Cup for another $15 million. McIlroy's caddie is his childhood friend Harry Diamond and it's likely that Harry earned a new record for a caddie of $2.25 million during the 2019 golf season.
At some point in the not too distant future a golf caddie is going to earn over $3 million in a season when one of the top players has a monster season and finishes off the monster season by winning the rich $15 million FedEx Cup fist place prize. Being a golf caddie is a lucrative job these days if your client is a top player.