Chris Sale Is on the Cusp of History
Pedro Martinez levels of dominance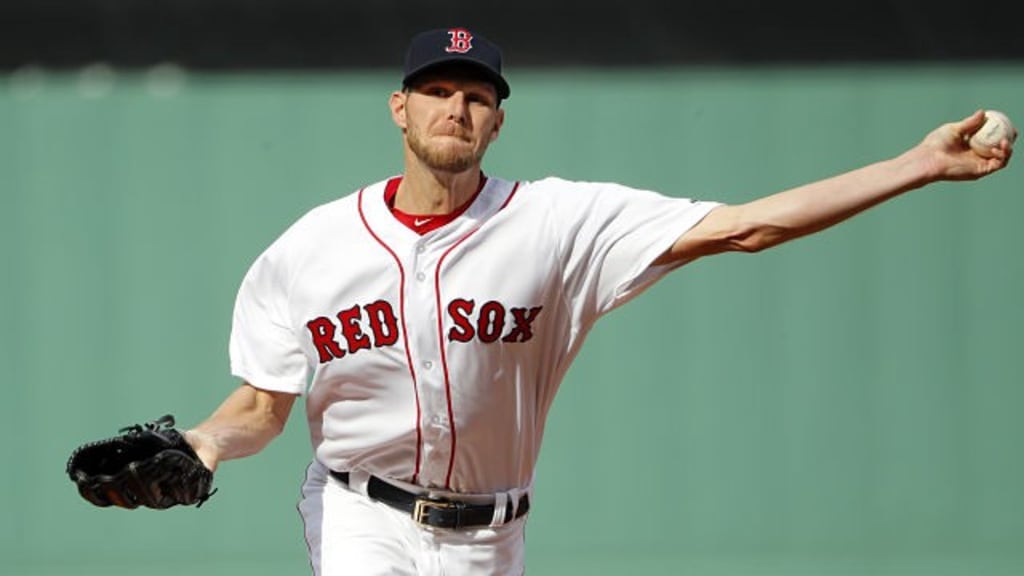 (NESN.com)
I am touching sacred ground here, but Chris Sale is approaching 1999 Pedro Martinez levels right now.
The fellow Boston righty strikes out a lot of people as you are well aware, I'm sure. He's also incredible at not walking batters either. This year, he's posted a K% of 36.1% and a BB% of 4.7% for a K-BB% of 31.4%. Were the season to end today it'd be the second highest single season mark (amongst starters) of all time, only behind 1999 Pedro Martinez (33.1% K-BB%).
Sale has been at his best this year with 6.5 fWAR (a career high already) through 153.1 IP. He's can still reach the elusive 300 strikeout season as well as the highest single season fWAR for a pitcher in the 2010s, if he performs to his projections. Sale still can't touch nearly all of Pedro's 99' season (11.6 fWAR in 213 IP), but it's remarkable that he's even close in any category.
A look at their rolling averages through their starts: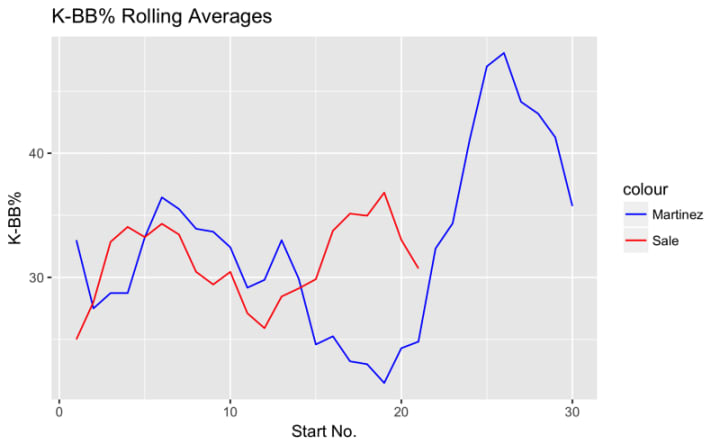 Sale has been far more consistent throughout his starts, having just one start with fewer than seven punch outs. He has consistently held that high K-BB% throughout the year and hasn't gone through any sort of a dip like Pedro had around this time of year. Unfortunately for Sale to have to reach Pedro's mark he'd have to outpace his current projections by a good amount and outperform his current season rates for the rest of the year. Should he avoid such a dip, Sale wouldn't have to pitch absolutely out of his mind like Pedro did.
But those games where Pedro went off?

It's hard for any elite pitcher to have a 15 K game, but to have two in three starts and top that off with a 17 K performance is pure lunacy. You can't expect anyone to put up those numbers over any start in a pitcher's career.
Sale has had a 15 K performance in the past and this year has put up two 13 K games, but he can't afford to have low strikeout starts because he can't pick things back up by being '99 Pedro. No one can.
Don't get me wrong though, Chris Sale is still consistently amazing and long gone with his pitch to contact approach from last year.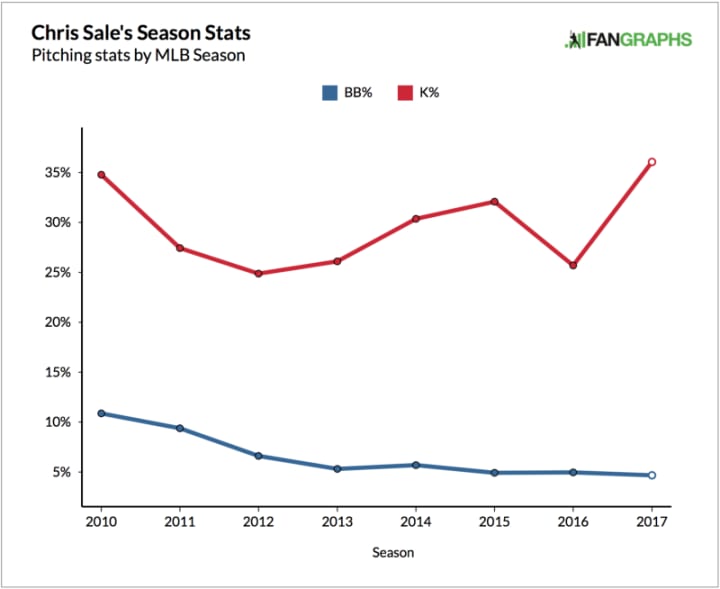 Here he is in one of his 13 K games against the Yankees a few weeks back.
We are seeing Chris Sale at his best this year. He's growing as a pitcher. He's been mixing his fastball velocities to keep hitters off balance. He's upped the combined usage of his slider and changeup to 49% compared to last year's combined usage of 39%. As a result he's seeing the highest O-Swing% of his career (35.9%), the highest SwStr% of his career (15.5%), and the lowest Contact% of his career despite throwing more pitches in the zone than he ever has before as a starter.
This is something to keep your eye on along with Corey Kluber (30.0% K-BB%) and Max Scherzer (29.1% K-BB%) who are not far behind either. Peak Sale is still nowhere near peak Pedro, but man it's damn amazing that he's even close in one metric.
Reader insights
Be the first to share your insights about this piece.
Add your insights