Home
I played 3 sports in high school: volleyball, basketball and softball. I had been playing basketball since I was able to walk, my Dad put a ball in my hand as soon as he could. Volleyball was a development in middle school and I was really hesitant about playing because seriously the spandex. I still to this day don't think, unless you're playing sand, that the spandex is completely unnecessary. It adds to the objectification of women, starting the objectification at a young age because the sport deems spandex as the most appropriate dress code. That's another story though. Softball, I picked it up my sophomore year in high school and it immediately became my favorite sport of the year, each year also becoming the first picture I ever shared on my facebook profile.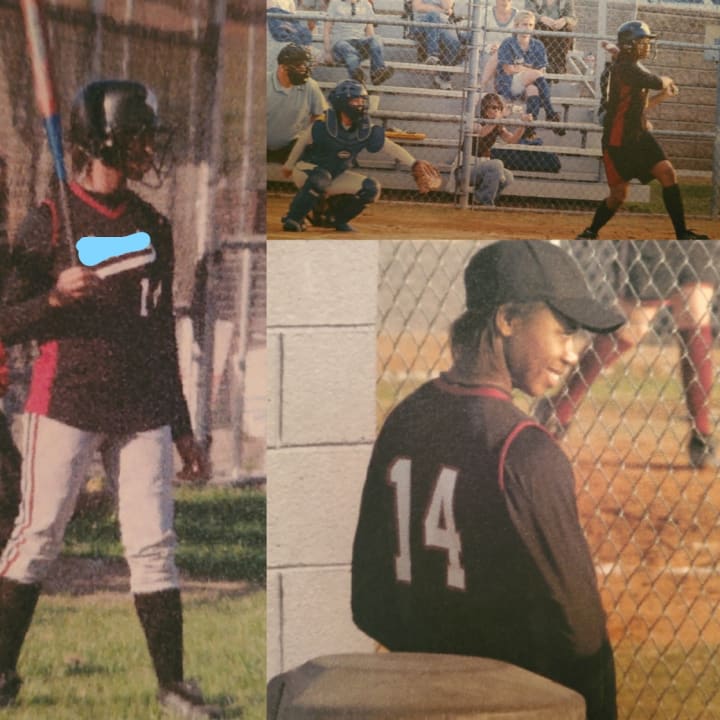 My high school team was bad and I mean bad. We knew it, the coaches knew it, we tried but where we grew up these girls we were playing had been playing softball together since they were learning how to tie their shoes. So it became the fun sport for me. It became the sport where I found my best friend, my first girlfriend, the first time where I wasn't a complete natural ( I missed catching the ball a number of times, my depth perception is a bit off), and the first time I found myself extremely excited to get up on a Saturday and play all day with my team. We have beautiful springs in our little town here in the south and I would relish being able to play outside.
I have fond memories of my three years of playing. I was really big into weight lifting at the time so I was strong. I had terrible form but I could crush a ball out the park, all I needed was contact. I miss it. It was simple, no pressure. I knew exactly what I needed to do and the rest of the time the only requirement was have fun, encourage the team.
Philadelphia
When looking to do this challenge I was looking for certain pictures from my first year in Philadelphia. My first winter in Philly, I kid you not, it snowed every other day for two months straight. We would have these huge building sized black snow piles hanging out in the parking lots because there was nothing to do but let it melt. The city of Philadelphia sits on a mountain; it is breathtaking, historical, and scenic so even with the dirty snow it was beautiful. On the days it snowed though, icicles would cling to the mountainside and hills of Philly's scenario, streets would be covered with snow but Philly didn't stop, people would still be crowding the streets living their everyday lives. I took tons of photos but I no longer have access to that Instagram and I can't remember the password I used for that phone. It makes me upset a bit, just due to the fact those memories of driving around Philly and taking pictures of the life people lived are some of my favorite. However in looking for those photos I found other memories of my first year. Such as my first baseball game at the then new Phillies baseball stadium.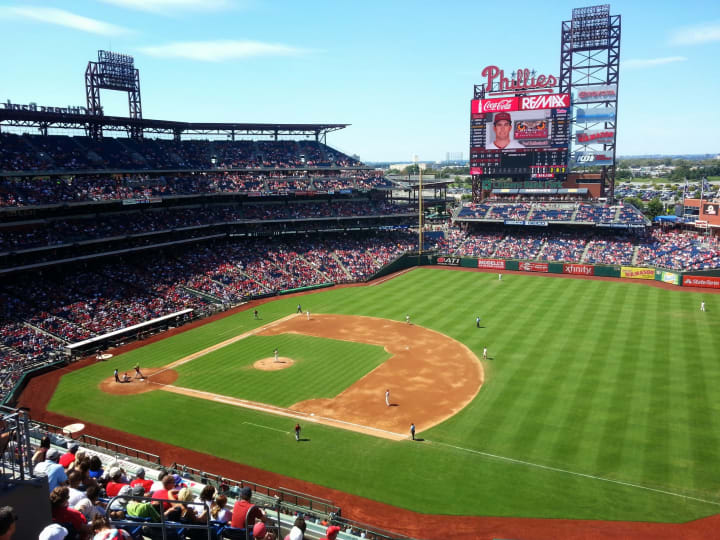 This was the cover of my facebook profile for almost an entire year. It does have a filter on it to sharpen the colors. It was a beautiful day and the field looked magnificent so I wanted to enhance it, this was the end result. Like I said before softball is my leisure sport and as I got older that did not change. I went to this game with the company I was working for. It was my first job up there and I had only been in Philly for a couple of months. I remember putting my feet up on the row in front of me, drinking a ridiculous small beer that cost entirely too much, enjoying the fresh air, enjoying the Phillies' fans (who are intense, Phillies were terrible that year too) and taking a breath to really start intaking the new season of my life. I didn't worry for 2 hours about what was next, I relaxed, groaned, and cheered with plays of the game and the fans. It is a simple memory but it is one of my favorites from my time in the city. I once again just enjoyed the game I had grown massively fond of.
Atlanta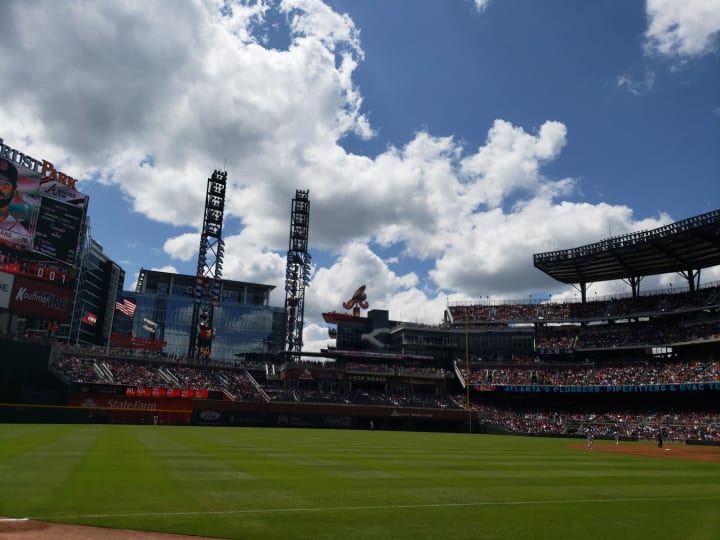 Fast forward 5 years, I am back in the south and it's baseball season again. Me and my best friend from my high school softball days decide to take a trip. We go down to Atlanta to enjoy a famous rivalry between two teams. I am not invested in either one of these teams but I prefer the Braves to the Red Sox any day. So I found the jersey in my closet that most closely resembled the colors of the Braves, my friend wore her Red Sox jersey and we was off. That day was HOT. We were right next to the field so the sun was beaming on us and felt like it was reflecting off the perfect grass of the field. It was awesome though being that close because you can hear the players (who don't play) talk to each other or yell out to the base coaches. You can feel the energy of the stadium sitting that low too. This stadium is more animated/interactive than the Phillies stadium so when a song plays the fans sing, when the tomahawk chop comes on the crowd always participates and you can see the guy at the top of the stadium banging on the drums. I loved it and simply we had fun with a sport that once again we love.
I want to visit as many stadiums as I can in my lifetime. I want to experience the fans and the vibrations that run through the park from fans celebrating their teams. Each stadium has its own heartbeat and I truly believe the stadium, whether it is simple or puts on a full spectacle, is part of the reason why baseball is such a great game. You're going to spend 2 plus hours just watching the game so it is a great opportunity to bond with friends, family, and strangers. It is sad that covid-19 has really cancelled the best part of sports which is attending. In the meantime I am working to create a life for myself so that the next time I talk about what attending the game meant to me, I can have the Red Sox's stadium, the Yankee's stadium, and the Athletics' stadium at the top of my experiences.