All-NBA Teams: Playoff Edition
With A Twist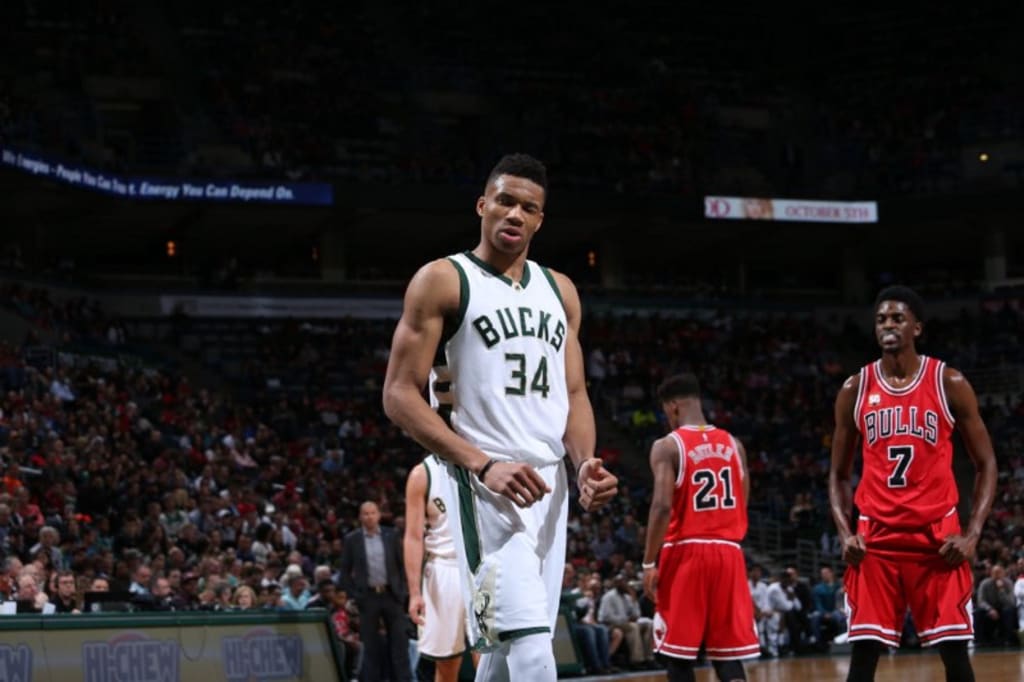 via SLAMonline
Saturday, April 15th will probably feel more like December 25th if you happen to be a basketball fan. The commencement of the NBA playoffs is the beginning of the end of one of the most exciting basketball seasons in recent memory. A four-man MVP race, triple doubles everywhere, the player rest debate (or debacle,) the return of Lance Stephenson!!!! Shaq vs Javale? This has been a great NBA season no doubt but, for whatever reason, the NBA has decided to make their own awards show to announce such famed titles as MVP, Most Improved, Coach of the year, etc. That is all well and good. However, the NBA has also decided to hold this illustrious event AFTER the NBA Finals.
I'm going to speak on the behalf of all of us and say how awful it is going to be to have to wait until June to find out who wins MVP. I think we were all prepared to see super pissed off Harden and/or Westbrook have to play against one another. I feel for you NBA fans, as I am in pain with you. To hold us all over, here are some fun playoff all-NBA teams to help us cope with the wait.
First Team All "Might Drop 40 Out of Nowhere:"
JR Smith
Eric Gordon
JJ Redick
Kent Bazemore
Khris Middleton
Every year there's always a few of those "wait what?" games where someone just gets hot. It's the nature of the playoffs sometimes. Teams game plan to stop the star(s), and pray the supporting cast can't beat them. That doesn't always work. JR and Gordon live in constant heat check mode, Redick doesn't miss, and Bazemore has to fill the hole Kyle Korver left. These guys were born to get hot, and don't sleep on Khris Middleton. He's been exceptional for the Bucks since returning from injury earlier in the season.
First Team All Fight Squad:
Matt Barnes
Taj Gibson
Serge Ibaka
David West
Patrick Beverly
Honorary: All of the Memphis Grizzlies
Gone are the days of Malice at the Palace, but every now and then in the NBA shit gets real. These are grown men, and if you think they won't swing you're wrong. I will admit, the word "goon" in this sense is a bit different from that of it's Hockey origins. In Hockey, a goon is someone who is predominantly on the team to fight, and protect the star players. The players on my all Goon Squad team are actually quality basketball players contributing to their teams playoff runs, but try some extra shit and the gloves come off. Beverly, Taj, and West are both known for being able to get their opponents to snap. Matt Barnes has basically become folklore at this point, especially since Kanye pretty much based the concept of a track on The Life of Pablo about him. And well, Serge…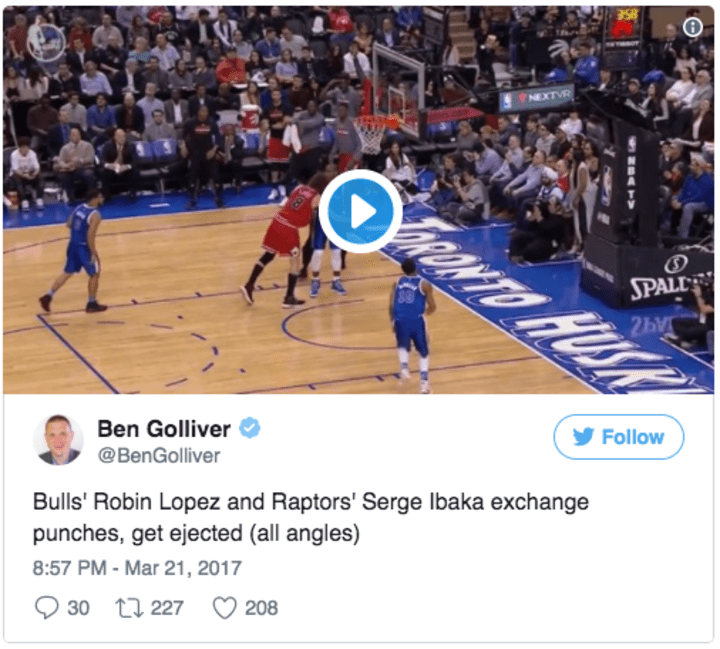 Serge was a few inches to the right away from what would have been a more entertaining fight than Pacquiao v Mayweather.
First Team All "Most Likely to Have 20 Points and 20 Rebounds in a single Game:"
Dwight Howard
DeAndre Jordan
Rudy Gobert
Giannis Antetokounmpo
Russell Westbrook
This has pretty much been Dwight Howard's calling card for the past ten years. Love him or hate him, Dwight gets after it on the boards. He always has. Same thing with Gobert and Jordan. If the Bucks are going to get by the Raptors, Giannis is going to need to take over, and I'm sure they'll try. I threw Westbrook in there on the off chance that he stumbles across this and needs some inspiration. Hey Russ! Did you know that there's a record out there you still haven't broken? Wilt was the only person to ever have a 20 20 20 game. Come on Russ! We know you can do it!
First Team All Role Players:
Kelly Oubre
Marcus Smart
Shaun Livingston
Patrick Patterson
Nene
Wizards fans, I'd like to apologize for not knowing about Oubre until a few weeks ago. I didn't know. I'm still recovering from when you swept my beloved Raptors a few years back, but it's hard to still hate a team that's so fun to watch. Oubre's played well down the stretch, and Markieff too, but he's disqualified as he's started every game he's played so far. Marcus Smart can come in for Bradley and the Celtics lose nothing on the defensive end, or he can come in for IT and hold the fort if he has to. Livingston has proved himself to still be a capable NBA Player, logging quality minutes throughout the season and last years playoffs. The Raptors most efficient lineup up until acquiring Serge had Patterson in it, he can play both ways and he can stretch the floor to open up lanes. He's been the bright spot of a thinner-than-usual Raptors bench.
The resurgence of Nene deserves its own paragraph. Troubled with injuries over the past few years, Nene hasn't played more than 70 games since 2011, and in fairness he hasn't this year either. However, despite his age, the mileage, and the injury trouble he's managed to find a role on a really great team. The Rockets have a solid bench, and Nene deserves a lot of credit for it.
First Team All "Was Probably More Excited for John Mayer dropping than Kendrick Lamar This Week:"
Kelly Olynyk
Ryan Anderson
Jason Smith
Gordon Hayward
Kyle Korver
Yeah, anyway.
First Team All "Will be Overheard Cursing Somebody Out at Some Point During the Televised Broadcast"
Lebron James
Russell Westbrook
Draymond Green
Rajon Rondo
Dwane Casey
Whether it's a referee, a teammate, a coach, whatever, people get called out in the NBA, and sometimes the fans get to hear about it. Lebron is infamous for this, but when you basically coach your own team, what you say goes. Rondo just gets mad in general, same thing with Westbrook. Draymond is probably the most vocal of all the Warriors, but they all take their turns screaming at each other. I included Dwane Casey because I found this the other day and I just think it's fantastic, but really it could be any coach in the league.
On behalf of all of us at The Unbalanced we wish you a happy playoffs and good luck to your team, unless of course, they're playing my team.