Aaron Judge: Major League and Small Town Folk Hero
What are some places Aaron Judge could do serious damage in?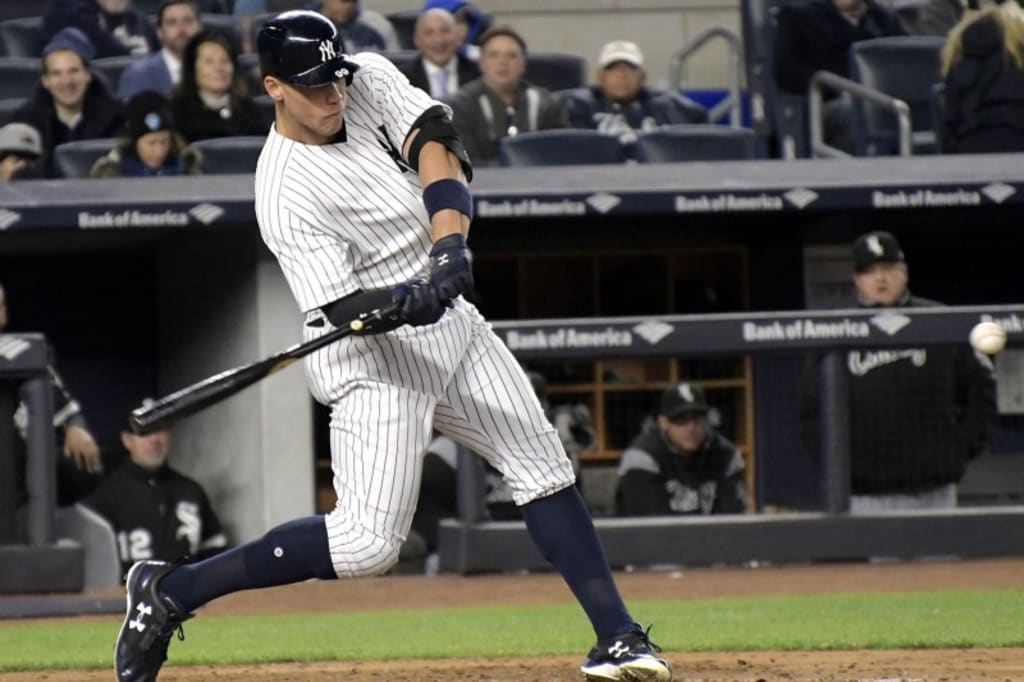 (New York Post)
On Sunday, Aaron Judge did this: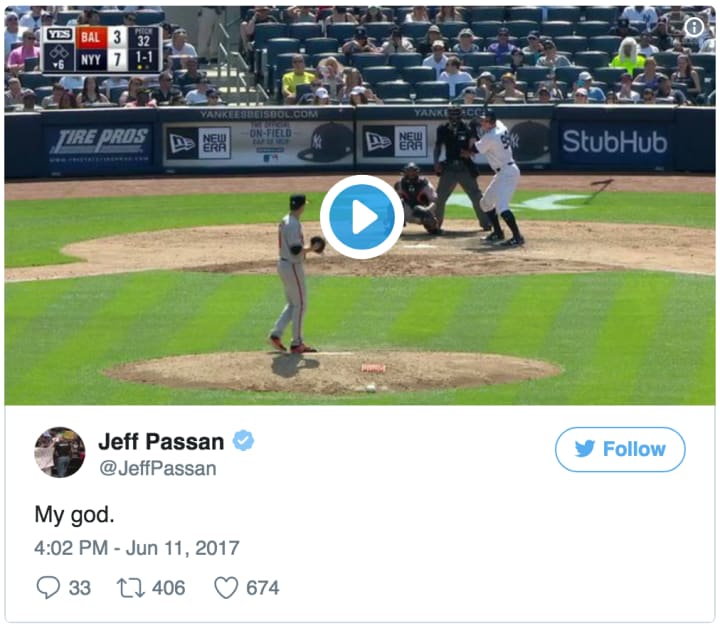 That ball left the bat at 118.6 MPH and traveled a projected 495 ft. It's tied with a Kris Bryant bomb for the second longest HR in the Statcast era (since 2015 when these estimates were taken), but Giancarlo Stanton's record holding 504 ft HR was aided no doubt by the elevation at Coors Field. Regardless, this is something that human beings shouldn't be able to do, and adds on to the folk hero status that Judge holds. This is just the day before Judge set the record for the hardest hit ball in the Statcast era: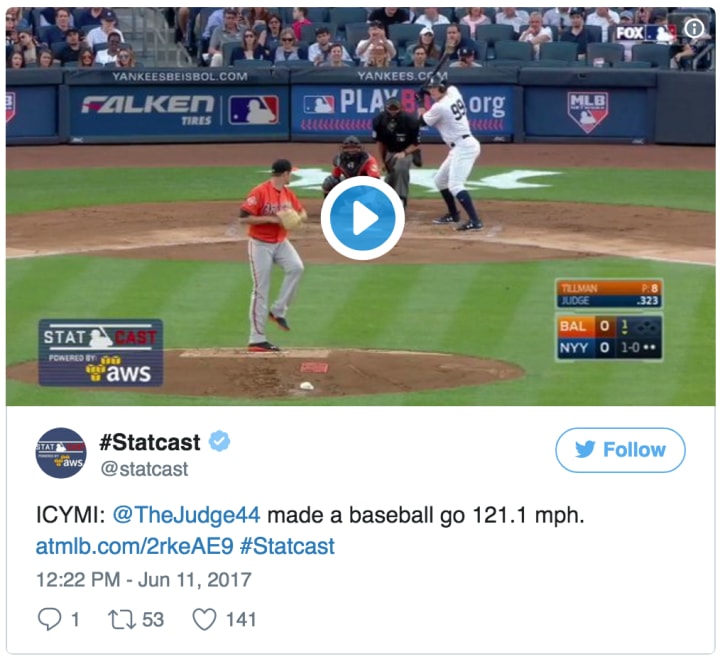 Watching Judge hit bombs in MLB stadiums is impressive because he's continuously pushing stadium dimensions to their limits. I don't think there's any doubt, though, that people enjoy a diversity of dingers. Hitting balls into hotels and breaking TVs is the stuff of legendary power. Something out of The Natural.
A 500 ft HR in Yankees Stadium is something to behold, but where would a 500 ft shot land on the different fields where Aaron Judge played high school baseball?
For some background, Judge was born and raised in the agricultural town of Linden, CA, just outside of Stockton. As someone from Linden I can assure you it's a town so small and rural it doesn't have a stop light, and is known almost solely for producing cherries and walnuts. Judge went to Linden High School (population of roughly 700 students) and played Division V baseball, where pitchers who throw in the upper 70s can easily dominate. Yes, Aaron Judge played D-V high school baseball in the pre-BBCOR era (yes it was totally unfair).
Some of the better locales for dingers in the league Linden competes in:
1. Linden High School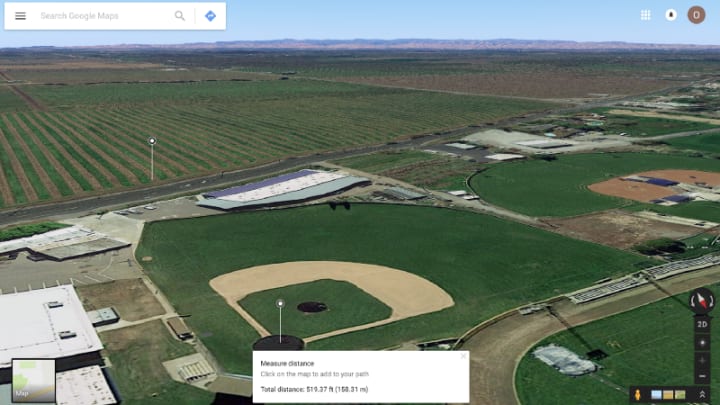 Yes, an Aaron Judge home run could make it into not only one but TWO different orchards. For Linden, it's the equivalent of hitting a ball into the corn field from Field of Dreams. The orchard in dead center is much shorter, but I'd prefer the bomb that clears Highway 26. Has there ever been a home run that has endangered squirrels before? Or at the least cost a farmer a little bit of money for some lost produce?
2. Summerville High School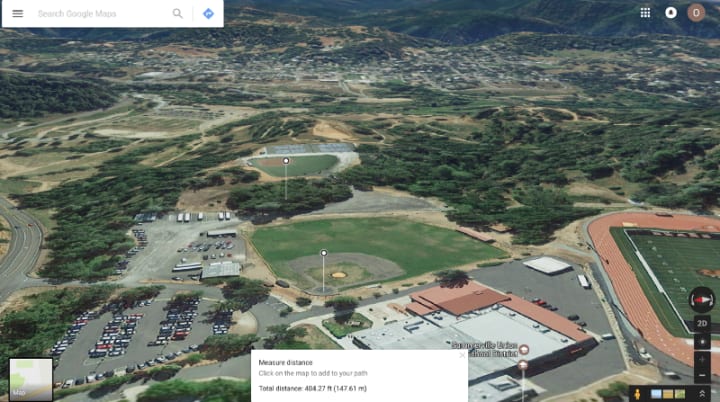 Two hours east up into the hills and you come across a gravel infield. Yes the infield is made of gravel, but it's ground up to feel like a dirt type texture. Unfortunately, Google Earth doesn't do much justice for the verticality of the setting because it should be noted that businesses and schools are put on all the flat land that is available and much of the nature is left untouched. So, we find ourselves treated to Judge dingers that get lost up amongst the trees (roughly 30 ft high). He'd be sure to disrupt a few bird nests and if the story is true, he has put a ball up in those trees (I personally chose to believe my coach who told me the story).
3. Amador High School
Here we are in the heart of gold country, Sutter Creek. Now we've got Judge in a spot where his range can do damage to homes. Had Judge lived in and played for Amador, there might have been a situation where people wanted special insurance policies covering inevitable damages. With the way Judge has been progressing and where his home runs have been landing, it wouldn't be surprising if a Judge home run managed to find its way to a small creek that was flowing with heavy amounts of gold flakes.
Judge has hit home runs great distances, and baseballs that go great distances tend to find ridiculous final destinations. In a time when I'm sure many thought that Statcast would tamper down expectations and add a sad dose of reality to what we see, it has only verified the ridiculousness of what we're witnessing. I can only imagine what it was like for Judge to hit 500 ft HRs into orchards, high into trees, and into people's homes, but it's undeniably ludicrous that I can even propose a player hitting the ball like this. The man with the Paul Bunyan strength and mystique has established himself as a player who has gone past the point of being a someone we hope can perform up to expectations, and has become someone to constantly spur the imagination about what is yet to come.
Reader insights
Be the first to share your insights about this piece.
Add your insights