A Moment in Time
Being a Raptors Fan right now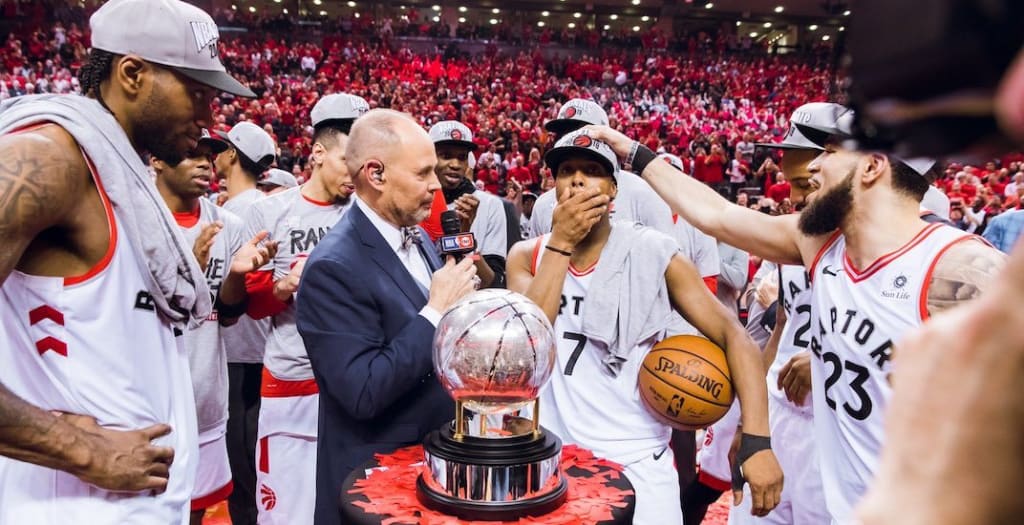 Living in Toronto, I do not think there is a better time to be here than now. Witnessing history in the making is quite amazing. For the first time in the 24 years, the Toronto Raptors have been in the NBA. They have made it to the Finals.
For those in the US, they may not understand the hype, but Toronto/Canada has not been in the finals since the 2011 with Vancouver going to the Stanley Cup finals. Since then, teams in every sport have come close but never made it. The city has been buzzing for it since the Jays got close twice in 2015 and 2016 too. We could almost taste it. Then, with LeBron going to the West, we knew we had a shot, but no one thought it would happen really. If you asked anyone in Toronto, the feeling was always that we can make it to the Finals, but we are not sure if we really will.
The buzz around the city right now is difficult to explain. All anyone is talking about is the Raptors, close to everyone is wearing Raptors gear, and all the sport stations are talking Raptors only right now. You had to make reservations on Monday at the bar you wanted to be at for the game this Thursday, May 30th, in order to even get a seat!
If you still question how big this is for the country and the city, I will try to explain it to you. For those not aware, there is something called Jurassic Park, which is outside the Scotiabank Arena in this little blocked off section that maybe holds a couple thousand people. For Game Six against the Bucks, Jurassic park grew to cover three blocks, with four separated areas for crowd control, and there was an estimate of one million people down there, and I was one of them. For the finals now, the MLSE has allowed for Brampton, Mississauga, Burlington, and Kingston to all have their version of Jurassic Park for fans to come and watch. People have been lining up downtown Toronto since 4 AM to get into Jurassic Park for Game One. The transit system even is delaying track work so that people can use the subway for the game. Everyone in the city is all in for this, including our very own sideline mascot Drake.
The moment that the Raptors won the East conference finals, I do not think it can be put into words, the reaction in the city. The place went crazy, but in a very Canadian way. Nothing was destroyed, no arrests were made, no riots, no fights. There was a lot of tears, a lot of yelling, a lot of chants, and just all-over joy. You could see it on everyone's face, young or old, what this meant to the city. Random people were hugging each other, high-fiving each other. It was a city of love that night. And still, everyday since that win, the city has been on a high, which is crazy to experience.
What those of you in the States do not understand is that this is our team. Not just Toronto, but this is Canada's team. We do not have another team that represents the North in basketball. That is why it is such a huge deal for us all, because it was a 1 in 30 chance that we would make it here.
Not just that, but it was a tough beginning of the season for us. We traded Demar and got Khawi. It turned into being a great trade; but at the time, it was not popular really because Demar was the star of the city. We love him still and he is a great player. Now Khawi is better, yes, but after last season, we did not know if he was going to play like he did or if he was just not going to play because he was not a fan of this city. So it was a tough moment. Then we traded Jonas Valančiūnas for Marc Gasol. Another tough trade to see happen as Jonas was another crowd favourite. But it needed to be done, and seeing Gasol play made it worth it to the fans!
This year is the biggest year for Canada sport fans since 2011 and the biggest year for Toronto since the Leafs won the Stanley Cup in 1967. Time for the underdogs to win the championship!
basketball
About the author
Being a writer is never a choice; it is an irresistible compulsion
I write about what I like and how I feel. It's my outlet to make sure everything's real.
❤️ a story if you want similar ones written
Reader insights
Be the first to share your insights about this piece.
Add your insights