A Life Touched by Hockey
Hockey: A Metaphor for Life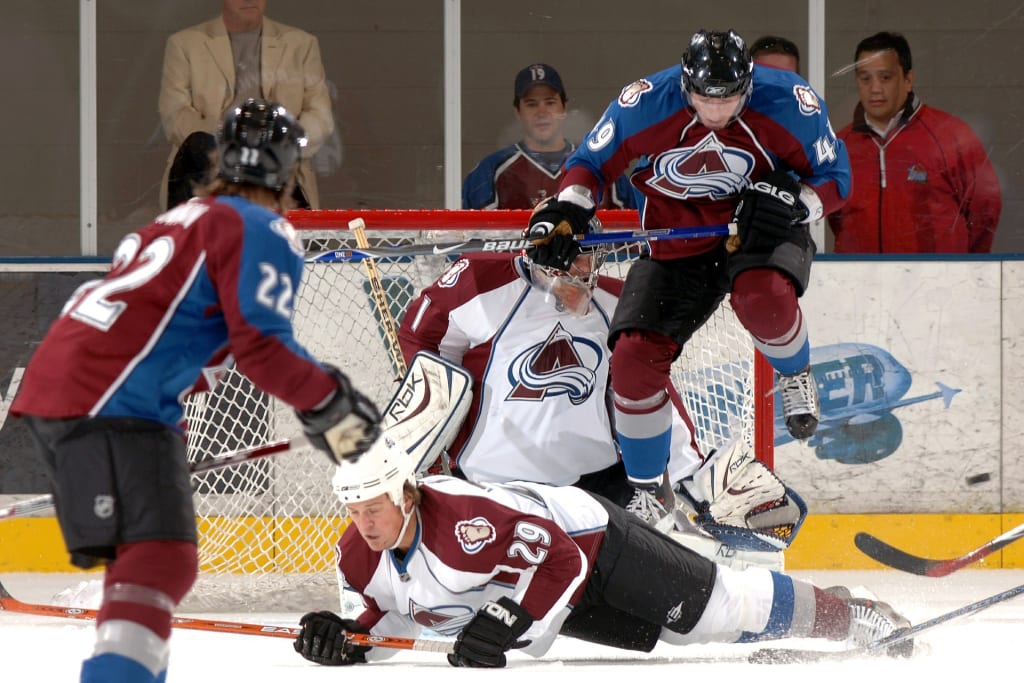 I am what you could call athletically challenged. You know, I was the kid who was always picked last for scrimmage football, schoolyard baseball and road hockey. But even though I never played on any organized sports team, my life has been touched by the sport of hockey.
I inherited my dad's passion and talent for music and business as well as his nary-a-puck-passing-and-body-checking bone in his body. Founding a popular dry cleaning business in hockey-centric Windsor, Ontario, in 1939, while being recognized as one of the top band leaders in the Windsor-Detroit area, my father developed quite a following and had a wide circle of friends. One of his best friends was a legendary National Hockey League player and coach by the name of Johnny Wilson.
Johnny would ask my dad to bring Mrs. Wilson, his mother, to the games when he played against the Detroit Red Wings. Attending some of those events, I recall nervously navigating the narrow, steep steps of the old Olympia Stadium to watch the talented left winger battle along the boards when he played as a Toronto Maple Leaf and a New York Ranger.
Johnny later helped the Red Wings win four Stanley Cups and appeared as a NHL All-Star twice. He went on to coach Detroit as well as the Pittsburg Penguins, Colorado Rockies, and the Los Angeles Kings.
Saturday nights in my home during the fall and winter in the early-mid 60's were spent in front of the black and white television set watching Hockey Night in Canada. There were only six teams in the National Hockey League then. The iconic show, which exists to this day, usually featured either the Maple Leafs or the Montreal Canadiens. Mind you, it was a SUPER Saturday Night when the only two Canadian teams in the NHL faced each other!
I was a die-hard Maple Leafs fan and vividly recall cheering on my heroes—Dave Keon, Eddie Shack, Tim Horton (of the coffee and donut franchise fame) and of course, the Mahovlich brothers, Frank and Peter. Much to my boyhood exuberance, the Leafs won the cup four times in this decade!
As fate would have it, "The Big M," Frank Mahovlich, moved in just three doors down from us in the late 60s after he was traded to the Red Wings. Road hockey was usually played out front of my home. I can only imagine Frank watching through his living room window wondering how much he could teach this clumsy kid about the game of hockey. He, once with Pete, used to take walks in our neighbourhood, and on more than one occasion, Frank invited me to tag along. My hockey skills, or lack thereof, were never discussed (Frank was a very quiet man and I really don't recall any conversation), but talk about being in seventh heaven strutting down the street with my hero!
Joining us from time to time, flailing away at a ratty tennis ball and hustling the tattered nets off the road each time a car approached, was eventual Red Wing netminder, and one-time Director of Player Development for the Phoenix Coyotes, Eddie Mio. Strangely, I don't recall Eddie as "sticking" out at the time, but his career, including NHL player management, speaks for itself.
Three doors down the other way during this time the Shaver family moved in for a couple of years. I became friends with their son, Wally. His dad, a sports announcer, was famous for calling 1950's Grey Cup Championship (Canadian Football League) games broadcast nationally on the Canadian Broadcasting Corporation.
On the doorstep of NHL expansion in 1967, Al Shaver moved his family to the U.S. where he became the "voice of the Minnesota North Stars" until the team moved to Dallas in 1993. Wally is currently the radio play-by-play announcer for the University of Minnesota Golden Gophers and his son, Jason, is a third-generation broadcaster, calling games for Chicago Wolves fans. Guess the puck doesn't fall far from the net in some families!
The family dry cleaning business, which I eventually bought, attracted more people from the world of hockey. Another of my father's friends and customers was Stanley Cup referee, and eventual NHL Supervisor of Officials, Art Skov. At the time of his retirement, Art had refereed more games than any other referee in the history of the NHL.
After my dad's retirement, he'd share the links (and drinks) at his private golf club with NHL notables such as Philadelphia Flyers' four-season, 50-goal scorer, Tim Kerr, and Chicago Black Hawks captain, Pit Martin. Hearing some of their stories, albeit second hand, was always a thrill.
During my days of operating the dry cleaning company, another customer was legendary "enforcer," Bob Probert. Known as much for his heavyweight on-ice fights in the 80-90s, as his off-ice run-ins with police and custom officials over drugs and alcohol, Bob was really a soft-spoken, teddy bear at heart. He was known for purchasing tickets for underprivileged children so they could attend Red Wing games as well as heavily supporting youth hockey in my community. More than once, he left signed memorabilia at my shop, while dropping off his neck-size 19 shirts, for my oldest daughter, Sara, who was a huge fan. Sadly, in the summer of 2010, after getting his life straightened out and settling down with his young family, Bob Probert passed suddenly after experiencing severe chest pains on his boat. His family was by his side.
It was a fitting tribute that not only his former teammates and team management attended his large funeral but also his biggest rivals, those he ferociously went toe-to-toe and fist-to-fist with on the ice during his career.
As an adult, I frequented the Joe Louis Arena with hockey-loving friends, often bringing my daughters, employees and "little brothers" to watch the Detroit Red Wings dazzle the always-filled-to-the-rafters, diehard fans. Prior to moving to Brantford, birthplace of "The Great One," Wayne Gretzky (his father, Walter, lives a few blocks away), in 2005, I lived in a high rise overlooking the beautiful Detroit skyline and "the Joe."
These days you can still find me glued to Hockey Night in Canada during hockey season. A widescreen HD monitor now reveals just how much faster and more furious the game is today.
At a slightly slower pace, you can catch me sitting in a cold out-of-town arena with my sister on some Sunday mornings watching my 13-year-old nephew compete in house league and travel hockey games. Quite the offensive star, I'll never forget our conversation during his second or third season when I asked him how a game I didn't attend, went. He said, "We won, 12 to 1." When I asked him how many goals he got, he matter of factly said, "11."
Frank Mahovlich, Dave Keon and Tim Horton are enshrined in the Hockey Hall of Fame. The Big M, who was ranked number 27 on The Hockey News' list of the 100 Greatest Hockey Players, was later inducted into the Canada Sports Hall of Fame and served in the Canadian Senate as The Honourable Frank W. Mahovlich.
To me, the game of hockey is a metaphor for life. In a life well-lived, as in hockey, there is no out-of-bounds. Unlike most other sports, there is nowhere to run off safely to when things gets tough and an opposing force comes crashing in on you. You learn to take your hits on the boards and come bouncing back to score yet another goal and achieve another victory. This is how the players in this story managed to leave great legacies, as did my father. And why, even after never having played ice hockey myself, I feel my life became richer just having come into close proximity to those who passionately played and loved the game.
©Rick Beneteauwww.RichardBeneteau.comHow