What is Online Trading- An Era of Technological World?
Trading on the stock market has been less time-consuming in recent years, thanks to online trading, which allows you to trade without the assistance of a broker.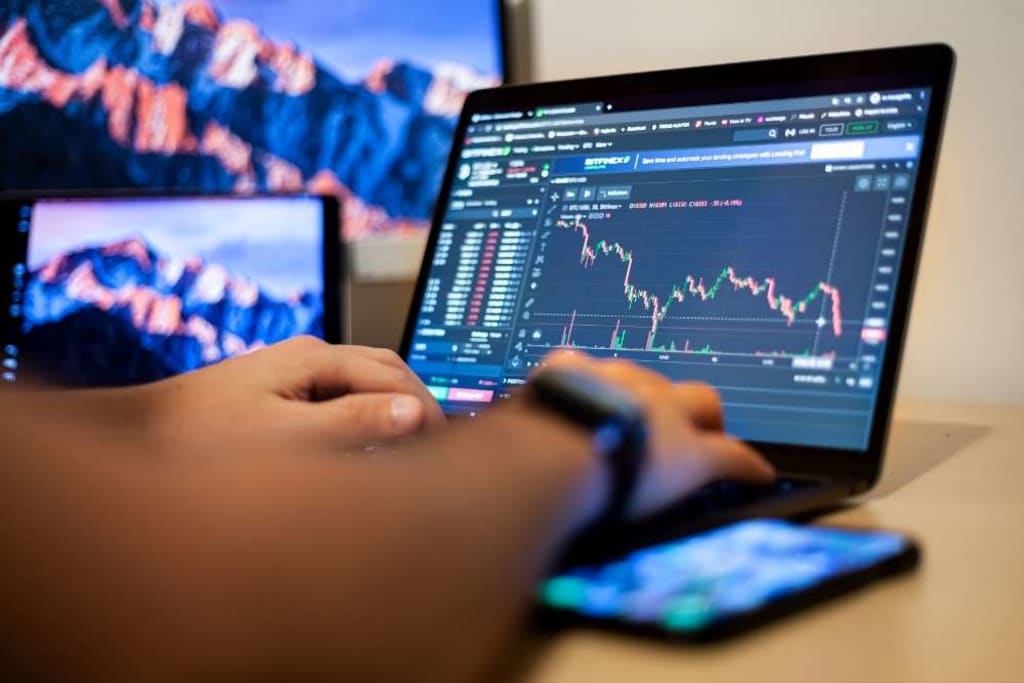 What is Online Trading- An Era of Technological World?
Trading on the stock market has been less time-consuming in recent years, Thanks to online trading as it allows you to trade without the assistance of a broker. You can purchase and sell stocks online in the same way you can shop for groceries.
To begin what is online trading, you do not need to be an expert because these platforms are easy to use and do not require any specific training and have made things even easier for an investor or trader, as you can now conduct any stock market transaction using only your smartphone. The mobile trading software allows you to trade from anywhere at any time.
What is Online Trading?
Online trading is a common way to transact financial items through the internet. Brokers have gone online, and their platforms now provide a wide range of financial instruments such as equities, commodities, bonds, exchange-traded funds (ETFs), and futures.
Online trading websites make it easy for you to trade because they allow for high-speed trading. Trading has been changed thanks to these platforms. You may download these to your computer or mobile device and start trading right away.
Trade platforms give the essential support and assistance by allowing secure real-time access to trading, research reports, stock price analysis, and market news, among other things. If you have a trading account and access to the internet, you can purchase and sold stocks. You are able to trade currency, commodities, and other financial instruments through a single trading platform.
Advantages of Online Trading
Simple to Continue: It allows a trader to deal without worrying about anything. Trading online does not require any special skills. Thus everyone may use these sites.
Less Time Consuming: Electronic Trading can be done in a more efficient and seamless manner. Trading may be done in the most basic way, even using smartphones.
Controllable: You can make trade orders at any time and from anywhere. That is the kind of flexibility that online trading provides.
Fewer Errors Occurs: You can make trade orders or cancel them without the involvement of a broker, allowing you to manage trade operations on your own in Online Trading.
Research Reports: You may obtain top research recommendations, reports, and stock price analysis based on various charts.
How does Online Trading Works?
When a user enters an order to buy a certain stock on an online trading platform, his order is kept in the trading member platform's and exchange platform's databases. This information is then utilised to search all platforms that sell that particular stock and display the best price available.
If the user's requirements meet prices and the trader approves the order, the process is considered valid by both sides. After then, the online broker has three days to complete the monetary settlement, and the funds are then transferred to your account.
Many online trading platforms include stock analysis, which allows customers to learn about the current state of the stock market. This aids them in assuming the stock market's future performance and guiding their actions. In addition, users are drawn to online platforms because of their ease of use and lower commission rates. Finally, a properly funded account is required to perform transactions on a platform smoothly.
Here are some points to consider while online trading:
Choose a Broker
You must first choose an online broker like Investby before you can trade stocks online. Your online broker will carry out your trades and keep track of your funds and stock in a separate account. There have been a number of brokers and acquisitions in the internet trading market, but there are still a lot of companies to pick from. Different companies also provide varying levels of assistance, account kinds, and other services.
Open and Fund your Trading Account
When you establish an account, you must make various decisions and supply information. Individual and joint accounts are available at most brokerages, just as they are at banks. You are able to open custodial accounts for your children also as well as tax-deferred retirement accounts.
The next step is to pick between a cash and a margin account. A cash account is similar to a traditional checking account. If you wish to buy something using your checking account, you must have sufficient funds in the account. Likewise, when using a cash account, you must have sufficient funds to purchase the stock you desire.
Start Online Trading
You can purchase and sell stocks after you've opened and financed your account. But first, you'll want to receive a real-time stock quote to validate the stock's actual price. As part of your service, your brokerage may give real-time quotes.
Online Trading Frauds
You might think you have plenty to worry about when it comes to stock investing, what with fluctuating prices, corporate scandals, and "market corrections." However, there is one more major concern to add to the list: investment fraud.
Offline Trading vs Online Trading
Retail trading finds a home in local stock exchanges and offices, while online trading expands its roots into the current trading sector. With the advancement of computers and the internet over the last two decades, the impact of online trading over offline trading has been more obvious. Online trading offers a number of benefits that are harder to obtain offline.
Stocks and other financial items have become much less expensive. The bulk of traders and investors prefer online platforms since they offer a significantly more affordable experience. This is achievable because internet trading eliminates the majority of intermediaries, lowering the additional cost of commissions on these products.
Conclusion
Electronic or Online trading using the internet and computers is known as online trading. The customer can look for equities on many exchanges and choose the broker who gives the best pricing and an easy-to-use trading platform. You can select a trading platform and begin putting a variety of stock trading orders. The stock order is saved in a database, which is then processed for money transfer when the buyer and seller have verified it.
These platforms offer a variety of marketing and user acquisition options, ultimately benefiting users greatly, which is uncommon in offline commerce. Some of the key effects of internet trading are lower product costs, decreased intermediary roles, enhanced broker competition, etc.