TransferWise Review: How To Save Money On International Money Transfers With TransferWise
Save Money With TransferWise!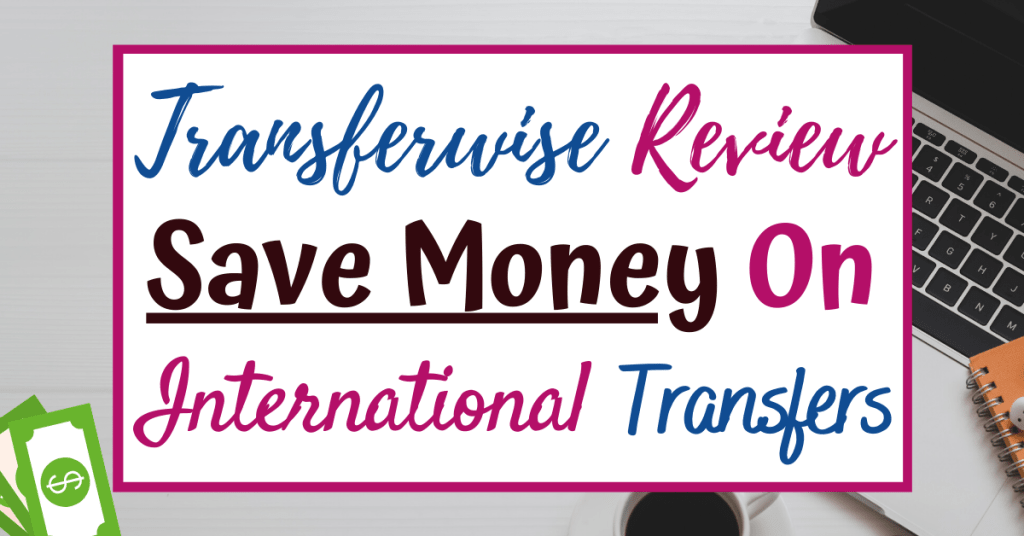 Big banks and other financial institutions have, for a very long time, gotten away with charging any amount they want for international money transfers. However, the days of such practices are numbered. Technology has evolved and now you can send money abroad for ridiculously low rates with TransferWise!
Forget about incoming and outgoing wire transfer fees, exchange conversion rate, SWIFT tracing fee, and other hidden fees. Times are changing and the banking sector is now evolving with technology.
In this day and age, you do not have to go a physical branch of a bank to transfer funds. You can comfortably sit on your couch and transfer money to another country using your phone and pay the lowest possible rate!
How is that possible? Is it possible to transfer money without actually going to a financial institution and verifying your identity? The answer is yes.
Say hello to TransferWise!
TransferWise is a global technology company – an electronic money institution, and not a bank, whose primary goal is to let people move money around the world at the lowest possible cost. TransferWise is on average up to 13 times cheaper than banks.
People have already started making the shift to TransferWise. They have already stopped using banks and financial institutions like PayPal and Western Union for their money transfer needs.
This is because TransferWise lets people transfer money easily and quickly at the lowest possible rate.
How Does The Traditional Money Transfer System Work?
Until now, the only way to transfer money was to go to a bank and initiate the transfer. Banks and money transfer services transferred actual funds from one country to another electronically through wire transfers.
What these services did during wire transfers was that they added a markup to the real exchange rate. What they also did was they charged the sender as well as the receiver a wire transfer fee.
Currently under the traditional money transfer system, after the sender sends the money, banks and financial institutions, more often than not, forward these funds to a different country for verification purposes before redirecting it to the receiver. They charge the receiver a fee for these verification procedures.
In addition, if expedited service is requested, these institutions charge a fee for that. Moreover, both the sender as well as the receiver have to pay more in many other types of hidden fees.
As you can see, a large portion of the money sent by the sender is taken by the banks as fees. Eventually, while the receiver receives most of the money, he loses a lot of money in hidden fees unnecessarily.
How Does TransferWise Work?
TransferWise works differently as compared to banks and financial institutions. It makes moving money easy, fair and transparent.
As mentioned earlier, TransferWise is a technology company. TransferWise has bank accounts in countries all over the world that are connected together with its smart technology.
While sending money, the money doesn't actually leave the country. When the sender sends money through TransferWise from a particular country, the money gets deposited in TransferWise's bank account in that country.
Then, TransferWise sends an equivalent amount to the receiver in receiver's currency. TransferWise sends this money from their bank account in the country where the receiver is located.
What Are The Fees Associated With Sending Money Through TransferWise?
To begin with, TransferWise doesn't mess around with the exchange rate. You send money abroad using the real market exchange rate.
Secondly, it doesn't go through loops of verification processes that end up charging a lot of money. Since sending money through TransferWise is direct and transparent, the money goes directly to the receiver.
TransferWise clearly mentions the fee upfront so that you can have a peace of mind. The receiver receives the money within 2-3 business days.
The fee amount that TransferWise charges is much less than what financial institutions charge. There are no hidden fees and you clearly see how much you are saving with TransferWise on the homepage of TransferWise when you are looking to make a transfer.
Is TransferWise Safe?
Yes, TransferWise is very safe. Over 6 million people have used TransferWise since it launched in 2011. TransferWise moves over $5 billion every month. TransferWise has achieved these levels of success because its prime focus is safety and security.
TransferWise is regulated with, registered with and approved by the central banks and the financial bureaus of countries such as the United States, the United Kingdom, Canada, Australia, India, Malaysia, the United Arab Emirates, and more.
When it comes to storing the money at a bank that you send as a sender on TransferWise, you can have a peace of mind knowing that TransferWise only deposits your money in large and established financial institutions such as JP Morgan Chase and Barclays.
TransferWise offers bank-level security. They also have dedicated fraud teams who are trained to detect fraud and protect customers from fraud.
In addition, you can turn on 2-step verification. This will allow you to verify your TransferWise account by text message, fingerprint scan or face recognition each time you log in or make a transfer.
Why Is TransferWise So Good?
TransferWise is not the future anymore. It is the present and it will continue to change the finance industry for the better.
This platform is so good because of its ease, convenience, safety, speed, cost-effectiveness and customer support:
Ease: TransferWise is extremely easy to use. The sleek design of the website and the app make them very easy to use. A person with a very limited knowledge of computers can also easily follow the prompts on the screen and successfully make a money transfer.
Convenience: TransferWise is very convenient. First, the entire money transfer process is online, thus eliminating the need to go to a physical branch. Second, it can be securely accessed through its website as well as its apps.
Safety: TransferWise offers bank-level security to protect its platforms against frauds. It also has dedicated fraud-detection teams that work round the clock tirelessly to combat fraud. It is regulated with the financial bureaus in a number of countries around the world.
Speed: Your recipient can receive the funds you send in as soon as 2 business days. This was never possible before with banks and financial institutions as they usually took at least a week.
Cost-Effectiveness: With TransferWise, there are no hidden fees at all. You pay for the actual exchange rate, not a marked up rate. The only fee you pay is the fee you see in the beginning before you make the transfer.
Customer Support: TransferWise provides global customer support in a number of languages. With over 13 offices around the world, TransferWise has got you covered no matter where you live.
How Can You Send Money Abroad With TransferWise?
Gone are the days when you were required to go to a bank and meet a financial advisor to send money. TransferWise has made it very easy to send money abroad. You can do it from the comfort of your home using your computer, smartphone or tablet.
Here is how you can transfer money with TransferWise:
1. Sign Up
Go to TransferWise's homepage and sign up for a free account. You can sign up using your email address or your Google or Facebook account.
2. Enter The Amount
Enter the amount of money you would like to send. Alternatively, you can enter the amount of money you would like the recipient to receive.
In either case, you will see exactly how much money you would have to send and how much you will pay in fees.
There are different payment methods that you can use to send money such as direct debit, debit card, credit card, wire transfer and bill payment. Each payment method has a different fee that you will always see upfront.
3. Fill In Details
After you have decided on the amount, the next step is to fill in all the necessary details to process your transfer.
Enter your personal details like your address. Your personal details are necessary for TransferWise to comply with financial regulations.
Next, enter the details of the recipient. If you have bank details of the recipient, fill in that information here and TransferWise will directly send the money to the recipient's bank account.
If you do not have the bank details of the recipient, leave it blank and TransferWise would send an email to the recipient requesting for the same.
4. Verify Your Identity
You will be required to verify your identity before you can transfer any money. It helps TransferWise keep the platform safe against frauds such as money laundering.
You can verify your identity using your passport or other forms of identification such as national identity card or driver's license.
5. Pay For Your Transfer
You can choose from a number of different methods to pay for your transfer as mentioned in Step 2.
Direct debit is usually the cheapest option to pay for your transfer.
6. Sit Back And Relax
The final step after paying for the transfer is to sit back and relax knowing that you have transferred money securely for the lowest rate possible.
You can track the transfer in your account. TransferWise will automatically let the recipient know of an incoming transfer.
What Else Can You Do With TransferWise?
While the primary goal of TransferWise is to let people send money at the lowest possible rate, it offers some more features that make life easy.
What's awesome about these additional features is that you can get access to all of these features for free with your TransferWise account!
Open A Multi-Currency Borderless Account
You can open up a multi-currency borderless account within your TransferWise account. You can hold money in your account in all of the currencies that TransferWise currently has to offer (more than 50 of them).
Once you have the currencies set up in your account, you can start receiving payments in those currencies without paying for fees.
For example, if you live in Canada and you often receive payments in US dollars and UK pounds, you can open up a US Dollar account as well as a UK Pound account and redirect your USD and GBP payments to these respective accounts. You can then receive your payments with zero fees.
You can then convert these funds to your local currency at the real exchange rate and at the lowest possible TransferWise fee.
It is simple to add multiple currencies to your borderless account. Simply click on the currencies you would like to add one by one and the currency accounts will be added for you to your borderless account.
Open An International Business Account
If you are a business owner, you might find it convenient to have a TransferWise business account in multiple currencies.
Having a TransferWise business account is better than having a PayPal business account because TransferWise business account is 19 times cheaper than PayPal business account.
Visit TransferWise's Business Account page and scroll down to see the comparison between TransferWise and PayPal.
To open a business account, you need to present your business registration documents for TransferWise to verify your business.
Get A TransferWise Mastercard Debit Card
This is a relatively new addition to TransferWise's range of offerings. TransferWise recently introduced the Mastercard debit card. With the TransferWise debit card, you can shop as a local no matter what country you go to.
You can use your debit card wherever Mastercard is accepted. You would not pay a foreign transaction fee with this card. TransferWise's smart technology would automatically convert your money using the real exchange rate so that you pay the lowest amount.
Another very useful feature of this card is that it lets you withdraw up to $250 from an ATM every 30 days for free.
In addition, you can freeze and unfreeze your debit card instantly and conveniently right from your TransferWise app.
The TransferWise debit card is not currently available everywhere. It is currently only available in the United States, Australia, the United Kingdom, New Zealand, Singapore and European countries.
TransferWise Review Summary
Pros
Lowest possible money transfer rate
Transfer through the website or the app
Easy to transfer money from one country to another
Bank-level security
Global customer support
Offers an international multi-currency business account
Offers a debit card with no foreign transaction fee
Lets you hold over 50 currencies in your account for free
Cons
Transfers are not instantaneous and can take a few days
The Mastercard debit card is not currently available in all the countries
Disclaimer
This post may contain affiliate links, meaning I receive a commission for purchases made through these links, at no cost to you.
About Me
My name is Dhreen Tulsiani and I am blogger from Toronto, ON, Canada. Learn more about how you can earn money, save money and grow financially on my blog The Money Casa.