These Black Women Finfluencers Are Changemakers (Women's History Month Special)
Interviewing five Black women finfluencers from Instagram who make money moves, and do it unapologetically.
Achieving financial freedom is a goal of many in the United States but for Black women, it's about more than freedom, but also the ability to be your own boss and have control over your life's trajectory. So to showcase Black women living by that example, I had the honor and privilege to ask a few questions from these five incredible Black women with proactive financial mindsets like no other!
**Please note: The real names of the interviewed party will not be disclosed out of respect.**
Meet Them Here:
Kiwidollars
Born and raised in Louisiana, she is a 22-year-old full-time student and a part-time program coordinator. Through her brand, she provides insight on contributing to your Roth IRAs, reaching your CoastFI number, and making money moves within the Gen-Z demographic. Definitely shows her craft as a generation leader!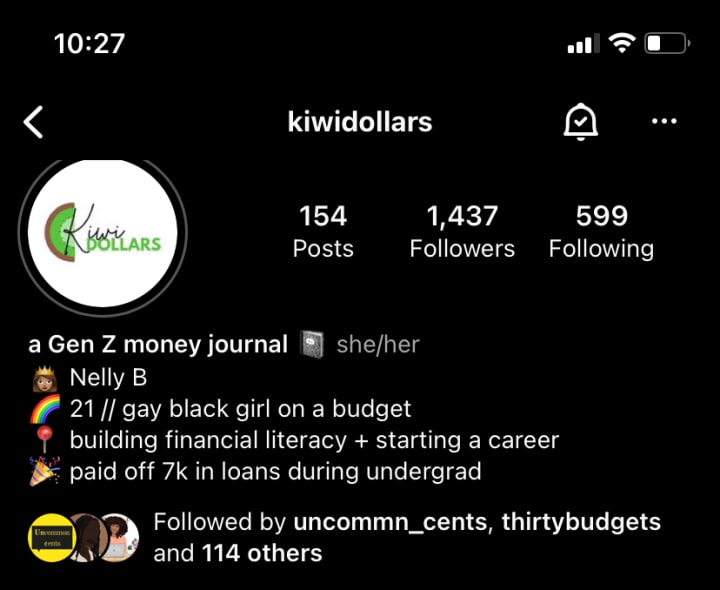 OhhToBeDebtFree
Hailing from Pennsylvania, this multifaceted entrepreneur currently works as a Client Solutions Manager. Unapologetically vocal about achieving a debt-free life, she knows that the journey is not about perfection, it's about humility.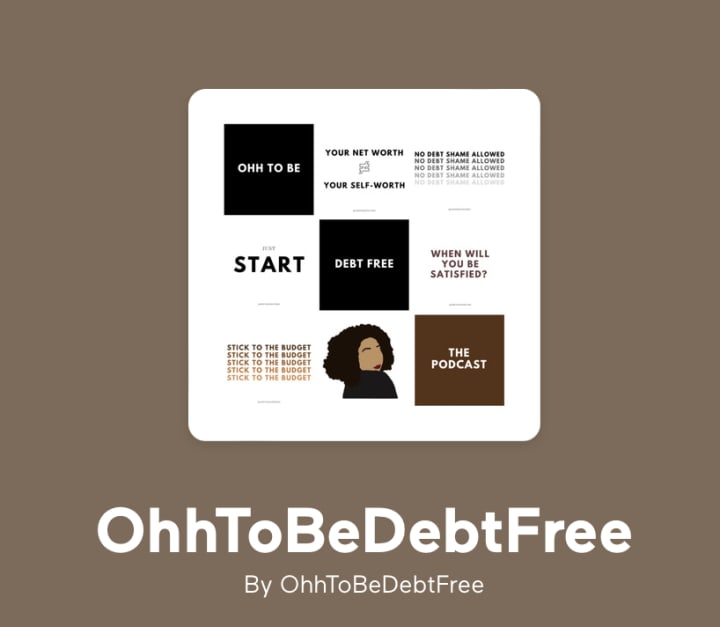 StudentDebtBrand
On her 9–5, she's an HR Manager, but 24/7, she's an activist fighting against the predatory student loan crisis. This Cincinnati resident will give you the rundown of everything student debt-related faster than you can say Mississippi three times! Understand the missteps of the higher education loan process inside and out! If you want innovative ways to rid of student debt, she's your right-hand woman!
BlackGirlFreedom
This Californian HR/Finance Coordinator can teach you a lot about personal finances. As a personal finance generalist, her content takes things to the next level! From investment accounts to side hustle strategies, she'll break everything down to a science you can understand! If there is such thing as a financial behaviorist, she'd be the CEO and Founder of it!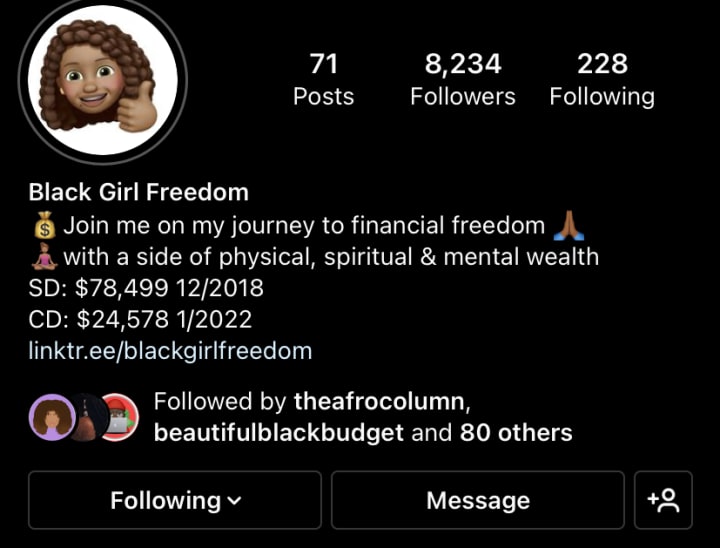 MoneyMotivesLLC
This brilliant MarCom professional is a triple threat! Investing? She knows it! Budgeting? She got it! Paying off debt? She excels at it! She's resourceful and one of the best I've ever seen in this community thus far. This Black woman is Missouri's financial gem!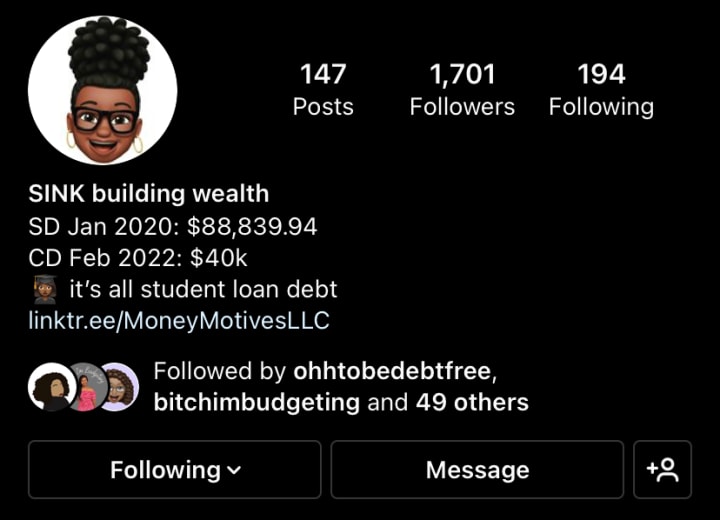 Interviewing Them
I asked them a few questions to hear their experiences about being a Black woman taking care of their financial priorities.
What made you want to create your platform?
Kiwidollars: I was paying a car loan that was super predatory because my mom got it in her name but had terrible credit, so we were paying $500/mo for a used 2015 car… it had an MSRP of $15k, but my mom financed 26k. I also didn't understand how my student loans worked. 2020 was really rocky with the pandemic and being unemployed, so I finally decided to get my money together… and Kiwidollars was born. It's transformed since then, but I'll never forget the soul-crushing moment I realized I was in at least 34,000 dollars worth of debt at 19.
OhhToBeDebtFree: I wanted to track my debt pay-down progress and show my journey into finding a career I love.
StudentDebtBrand: I realized that the higher education lending process was setting many borrowers up to fail and was disproportionately affecting women, specifically black women. When I realized what the federal student debt balance was, I wanted to do something to help.
BlackGirlFreedom: I wanted to finally get my finances in order. I kept re-starting my journey and failing. I remembered the quote that goes something like "If you want to learn something, read about it. If you want to understand something, write about it," so that's what I did.
MoneyMotivesLLC: I created my platform to track my financial progress and keep myself motivated on my journey.
What does being Black mean to you?
Kiwidollars: Being Black to me means overcoming generational curses and succeeding beyond my wildest dreams. Being Black means doing everything they said you couldn't do or wouldn't do, and doing it well! But also, being Black to me means prioritizing rest and relaxation in a harsh, violent world where we are unappreciated and invisible.
OhhToBeDebtFree: It means I have to try harder against a system that was created against me. Black people are resilient and I love being Black.
StudentDebtBrand: It means coming from a rich culture and historical heritage. It's also an opportunity to share our culture with the world and work to put an end to the misinformation that is propagated by racism.
BlackGirlFreedom: Being Black is everything! It's about just being who I am. It is to be vulnerable and strong. Being proud knowing how many people endured for me to here today. It's embracing my rich skin and every kink in my hair knowing that I was designed out of the purest love by God. It's staying rooted and connected to my community. My soul is fed with kindness, love, and all the riches we deserve. Being Black to me is a sense of inner peace and joy, knowing that I am connected to something bigger than myself. It means that whatever I do, I do for us because it comes from a place of love.
MoneyMotivesLLC: Black is Power! Knowing ancestors' blood is running through my veins is powerful!
How do you use your platform to help the Black community?
Kiwidollars: I love using my story and personal email experiences to show people who look like me or identify similar to me that they can do it, too! I had never traveled, had no idea what a Roth IRA was, thought investing was for rich people, and did not understand student loans–all less than three years ago. All the resources we need to succeed are out there! We've just got to connect with one another!
OhhToBeDebtFree: I show my real experience navigating finance as a Black woman, including figuring out a career, working on my confidence and working towards financial freedom, and creating generational wealth ( something that has not been easy for my community).
StudentDebtBrand: By pushing for more awareness regarding the issues that stem from student debt, generate more activism, and push for more personal finance education.
BlackGirlFreedom: I primarily use my platform to share my journey and personal experiences. I'm a Black girl from the east side of South Central LA who grew up thinking I inherited poverty and was doomed for a life of struggle. I hope my platform shows people that look like me it's possible to reach their goals even with the smallest changes. I hope my platform provides a compassionate safe place where my community can learn with me, have judgment-free space to share, and encourage other Black people to take control of their finances and reach their financial goals.
MoneyMotivesLLC: I am a Black woman with a single income, paying off a 5-figure student loan debt while investing. By documenting the good and bad of my journey, I am showing the Black community that it is possible for us to change our financial situation for the better.
What's the biggest lesson you want the Black community to understand in regards to their finances?
Kiwidollars: I try to focus my content specifically on Gen-Z (ages 16–23). I really want people to understand that starting early matters much more than starting BIG. It can be hard to get above water at first, but even small amounts here and there will go a LONG way when it comes to saving and investing (or with any habit for that matter).
OhhToBeDebtFree: Ask for help and use all of your resources. Do not forget to INVEST!
StudentDebtBrand: Your finances do not have to be complicated. It's important to start early with personal finance education. I truly believe it's how we build generational wealth and elevated our community.
BlackGirlFreedom: Black people are generally excluded from traditional personal financial education & application so finances can be a touchy subject. Many of us never learned about saving or investing and our financial knowledge consists of myths about who wealth is for, how evil money is, and the mistrust of financial systems being out to get us. Misconceptions like that are the reason why a lot of us freeze up when it comes to money. The biggest lesson I want to share with my community is to know that just like everything else you've overcome, personal finances are something that can be conquered. You can absolutely thrive and create freedom for yourself and your family. Gaining knowledge and taking action can make all the difference. Even focusing on something small can change the trajectory of your life. Start with the basics — change your mindset and unlearn what people have told you, start budgeting & saving, start paying off debt, and invest in your money & health. When you start, the journey of building holistic wealth is worth it!
MoneyMotivesLLC: I want the Black community to start paying ourselves first as if we are our most important bill. Meaning investing & savings a percentage of our money benefits our future selves.
----------------------------------------------------------------------------------------
Final Words
Getting to know these women has been great in my experience of being in the personal finance community. There is no better feeling than having a community of like-minded women who are using their platform to initiate better financial outcomes. As Black women, we are usually expected to put the needs of others before ourselves. But let me tell you, there's no room for that rhetoric anymore! We stand proud of our Blackness. We stand proud of your womanhood. We also stand proud of making a way for ourselves. Times are changing. And these women are the epitome of being a changemaker looks like!
To learn more about these awesome Black finfluencers, check out their content here:
https://www.studentdebtbrand.com/
https://instagram.com/kiwidollars?utm_medium=copy_link
https://www.morgan-victoria.com/ohhtobedebtfree
https://instagram.com/blackgirlfreedom?utm_medium=copy_link
https://instagram.com/moneymotivesllc?utm_medium=copy_link
About the Creator
Writing about life experiences, personal finance and, career insights that impact the millennials and Gen Z culture.
Twitter:@business_period
IG:@thebusinessperiod
Medium: @thebusinessperiod
Reader insights
Be the first to share your insights about this piece.
Add your insights