The Resurgence Of Day Trading Is Now Televised
Hollywood Host, Jezlan Moyet, Has Become The First Female To Day Trade Stocks on Live Digital Television With The Launch Of The Trading Belle On EverTalk TV (available on AppleTV + Roku)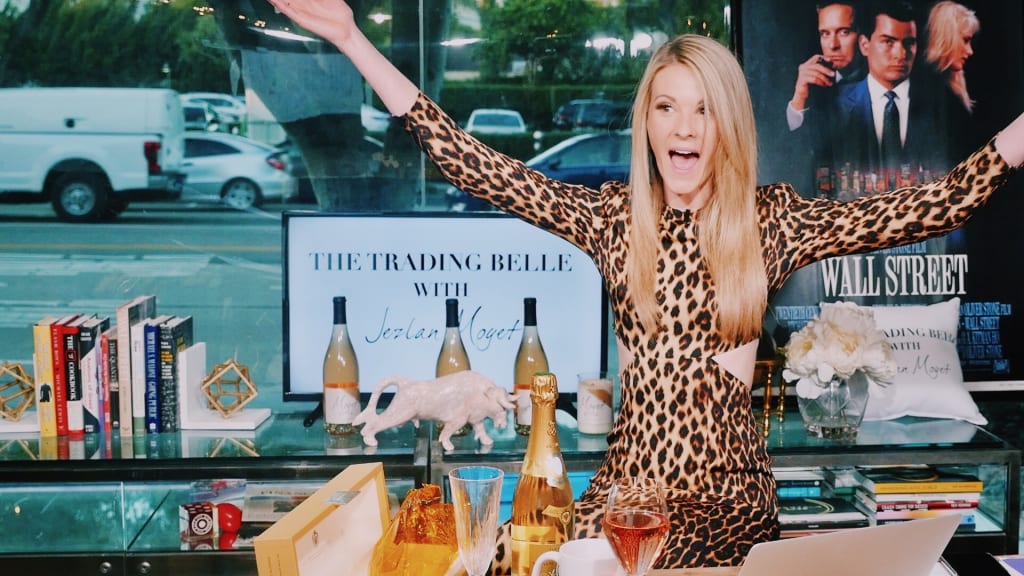 "From Hollywood to heat maps, walking runways to watchlists. I'm not a money manager, I am a Host and Entertainer. And I've just learned from some of the most successful former wall street giants and now I'm cultivating my financial success, with a lot of calculated risks, and a little extra credit. The Trading Belle show is designed to entertain, and educate as I help navigate you through the wonderful world of stock market trading."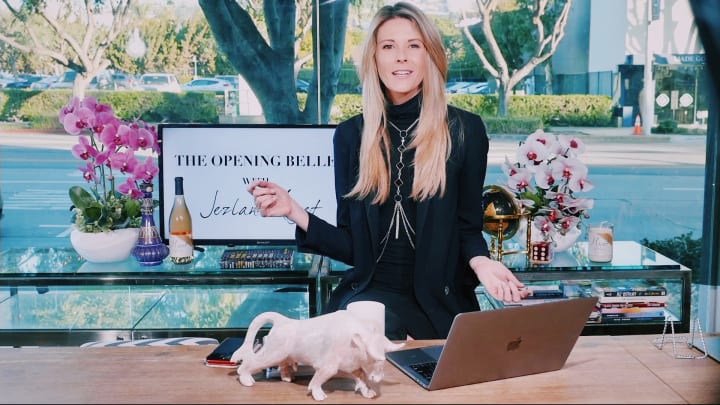 The opening bell has been rung, and Jezlan, aka The Trading Belle, is now live which is broadcasted live on EverTalk TV, the streaming television network she co-founded in 2017 with Wall Street Veteran, Andy Waldman. Ms. Moyet created and co produces the show which debuted on Dec 20th, 2019 at 6:20am PST and is among the first ever to feature a person live trading stocks with their own money on television.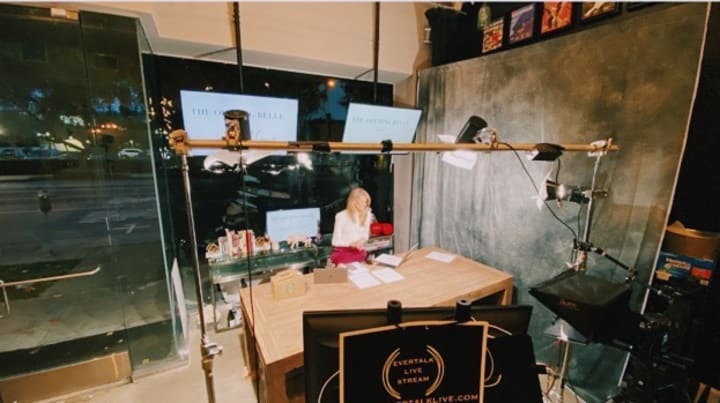 In addition, what truly differentiates The Trading Belle from all other financial trading tv shows is that Ms. Moyet has successfully been able to implement the trading strategy she has learned from Mr. Waldman and her network of WallStreet Veteran traders, dubbed "Market Structure Arbitrage." This pool of proprietary knowledge has allowed her to become the first female to trade stocks live on TV which is done with the dual purpose to Entertain, Inspire and Educate the viewers on the actual process of stock trading.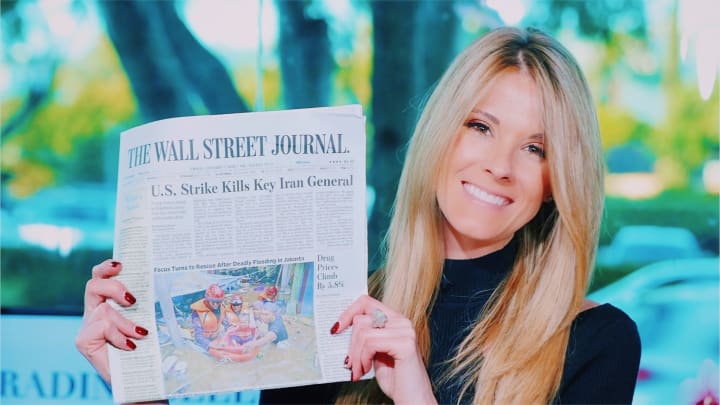 Financial literacy has been cited as the single greatest need for the younger generation to embrace and its content is often dry and mundane. Money is power and coupled with a Millennial female host that has the flair, confidence and credibility to vibrantly deliver this information makes The Trading Belle show a daily essential that will be embraced by a hungry demographic of retail and Robinhood traders. "Free trading app Robinhood has added more than three million accounts in 2020, and now has over 13 million. The median age of its customers is 31. [Barrons.com]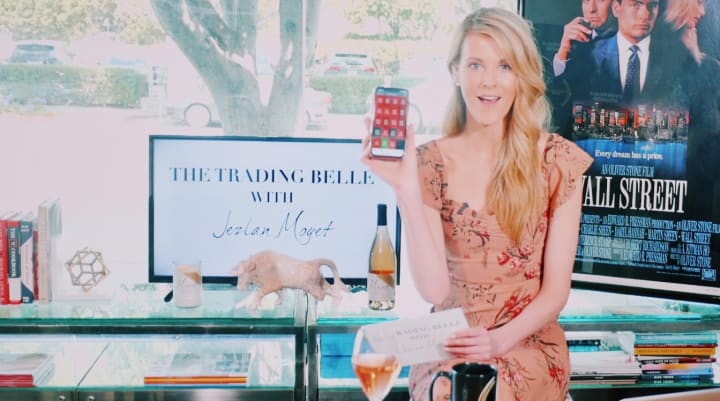 Each market day, the savvy and stylish, Ms. Moyet welcomes her viewers with her carefully curated watchlist which comprises between 6-10 stocks that are in varying stages of trading based on her strategy. Some tickers on the watch list are selects that Ms. Moyet is building an existing position within, some have the potential to enter her trading universe and others are tickers that she has previously traded and likes to keep track of for what she deems "educational purposes." In all, Ms Moyet has had some explosive events occur with some of her trades and she really immerses the viewers in the highs and the lows in an attempt to capture that excitement that comes from making a winning trade.
The most unique part of the show is the ability for the viewers to go back and relieve a particular trade that unfolds over days, weeks and sometimes months. The producers of The Trading Belle have done an excellent job capturing the highlights and put together short reels of the many of the great moments captured live during the show.
These clips are featured on social media and the entire episodes are available for replay on Evertalk TV available online as well on Apple TV and Roku. Such trades took place in tickers BBI, SVRA, NTRP, NOVN, INPX, and the most eventful of them all took place in APRN, the stock symbol for meal delivery service Blue Apron
To illustrate some elements of Ms. Moyet's strategy, she identified Blue Apron (APRN) as a potential trade at the end of January when the stock reached the four dollar level. Ms. Moyet cited this company was a very popular IPO some years back and mentioned regularly on the show how herself and some of her community had appreciated the service in the past. APRN was a very high profile stock for years as it maintained a very aggressive marketing spend, particularly among millennials and when the stock plummeted down to the four dollar level, the stock was added to the watch list on the show and followed each day thereafter as a potential trade.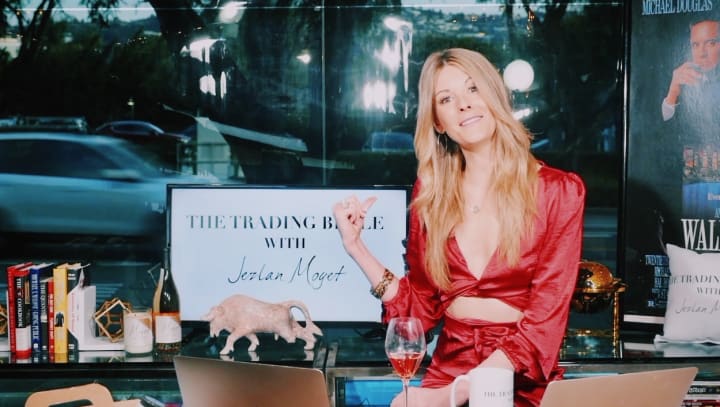 Nearly one month later, the stock price proceeded to get cut near in half and that is when Ms. Moyet decided to begin accumulating stock over the coming days and weeks that followed. During this time, her increasing popularity and stunning trading acumen began to gain attention of some local money managers and with that came an invitation to be the keynote speaker at the renowned Jaboy Family Office Conference in Miami, March 2020. This was an incredible honor and Ms. Moyet arranged for her entire team to travel to Miami to help produce both The Trading Belle Show and her live daily flagship morning show, Evertalk Live with co-host Rob Mack (Access Hollywood, E!) which aired live from the East Hotel in the city's financial center.
The highlight of the trip was indeed the twenty minute keynote, Hollywood Meets Market Structure Arbitrage, which is available for replay online. In this talk, Ms. Moyet details modules of her trading strategy, shares some of her highlighted trades and also included just one stock tip as this is the question she gets the most for being one of the few high profile stock traders on television. At the time, her best stock idea and at that time, March 7, 2020, that company was Blue Apron (APRN), which was trading at $2.94. Ms. Moyet cited her reasoning for the selection, including her keen observation that with the oncoming pandemic that was beginning to emerge, that home food delivery might be one of those companies that benefit from such a horrific series of events.
Ms. Moyet also had an exclusive interview with one of her trading heroes, Jon Najarian AKA "Dr. J," a veteran trader who appears weekly on CNBC. Ms. Moyet often reminds her viewers the very lesson Dr. J mentioned, celebrate your wins with a small, yet meaningful tokens to commemorate the trade. She has taken this to heart celebrating many of her wins with trinkets and bobbles from Rodeo Drive which is minutes from her West Hollywood studio.
Ms. Moyet returned back to West Hollywood for her show on March 9th detailing her experience, talking about interviewing one of her heroes and mentioning Blue Apron as her keynote speech stock selection and ran clips of that talk on her show that week. Just 6 trading days later the stock jumped 50% and just two days later reached a staggering high price of $28.82 as talk of Covid19 began to consume the country making this one of the most epic stock calls of all time. This was a truly remarkable accomplishment that was only briefly celebrated as Ms. Moyet and her production team was forced to halt all filming as Los Angeles and was relegated to lock down procedures forcing the closure of EverMedia Studios. While the country faced its biggest health crisis in a generation, Ms. Moyet and her producers made the difficult decision to prematurely cancel production of Season One of The Trading Belle show .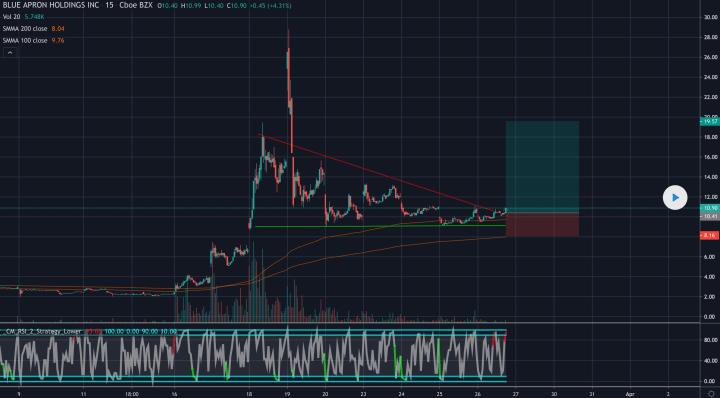 Ms. Moyet continued to trade her strategy during the lockdown and shortly after the production was suspended, a new day trading phenomena began to emerge, infusing a new life to an antiquated industry. According to the Financial Times, nearly 800,000 people opened new accounts at the three biggest online brokers in March and April, amid the heart of the COVID-19 lockdowns.
A pioneer in this movement is the colorful and greatly accomplished, Dave Portnoy, founder of BarStool Sports. During the lockdown, Mr. Portnoy single handedly became the de facto face of a new generation of day traders not seen since the dot com days of the late 1990's. Armed with his million twitter followers, Mr. Portnoy mesmerizes his audience with some phenomenally successful trading which continues to this day and confounds most watchers of his live feed documenting many of his trades. Ms. Moyet follows Mr. Portnoy live trades closely and while their two trading strategies and overall entertainment personas are significantly different, Ms. Moyet is proud to share the mantle with Mr. Portnoy, among the very few who have braved the world of Wall Street while trading stocks on live television. Some viewers even characterize the duo as the 'King and Queen' of a day trading generation that is growing by the day and covered daily in the financial press as a result.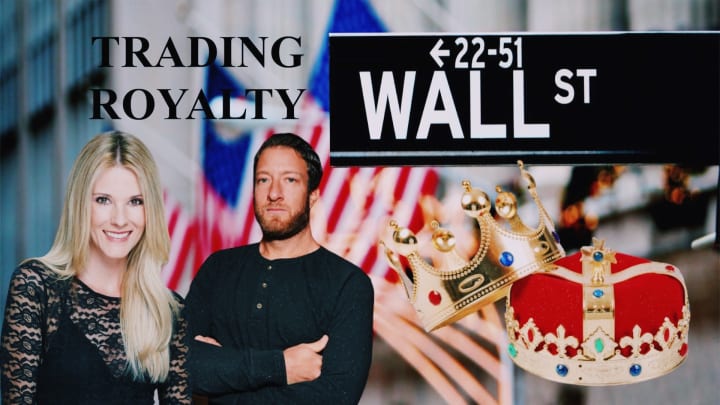 Season 2 of The Trading Belle is coming soon to Evertalk TV and Ms. Moyet is excited to welcome back her existing audience who have been clamoring for her return along with a new cohort of stock traders that has emerged in this serele period in American history brought on by Covid 19. Ms. Moyet, ever the entrepreneur, has used part of the proceeds from her trading success to launch her own namesake rose wine, Moyet Rose, shipping nationwide on www.moyetrose.com. A a reflection and reminder, she closes each show with the tagline from the movie WallStreet, "Every Dream Has Its Price, What's Yours."