The Importance of Streaming Economics
Movie theaters still play an influential role in the economics of streaming services
When Netflix pivoted from having a DvD subscription rental service to having a streaming business, many were skeptical on whether the business could generate meaningful profits or not. Usually, movie producers would release films in theaters and they'd normally receive huge box office sales compared to their costs. But for streaming, subscribers will continue to pay the same amount of money each month.
Looking at Netflix's free cash flow and revenue chart, you'll find that Netflix became free cash flow positive during the pandemic.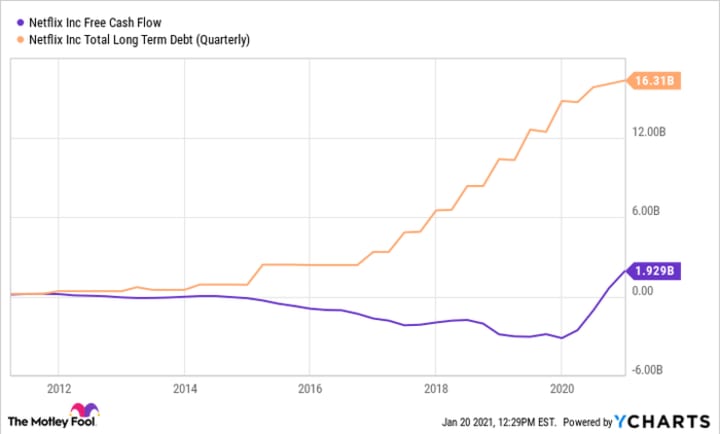 There are many reasons for why Netflix became free cash flow positive during the pandemic. One reason is that Netflix showed its content spending dramatically because of the pandemic lockdowns. The pandemic lockdowns prevented movie producers from producing more content.
Another reason for why Netflix experienced positive free cash flow recently is because many people chose to get a Netflix subscription. Since people are forced to entertain themselves at home, many chose to get a Netflix subscription.
Interestingly, Netflix is deciding to use the positive free cash flow opportunity to pay down debt. Even if Netflix has to keep spending money on content creation to keep users hooked on the platform, choosing to utilize the positive free cash flow to pay down their debt more aggressive is a sign that the business is maturing. If Netflix was still an emerging growth company, Netflix would be expanding their content creation spending with the news of positive free cash flow.
A year ago, Netflix was looking to sell merchandise to consumers. Movie producers usually license their IP to third party merchandise vendors like Hasbro and various clothing companies to generate money from merchandise sales. By the way, this is their merchandise site.
Looking at the latest financial statements of Netflix, their efforts in expanding into merchandising hasn't moved the needle for the company's earnings. Netflix needs to ramp up advertisement for their merchandise store.
If there's one thing Netflix nailed, it's that they knew that people enjoy the convenience of watching shows they're interested in at anytime on their devices. But, the business model is flawed. In the streaming business, the economies of scale go where the more subscribers you have, the cheaper it is produce a piece of content per subscriber. The economics of the streaming business help sustain a steady production of new content.
Meanwhile, other streaming platforms are taking advantage of the benefits that movie theaters provide. Netflix might have their own movie theaters, and other streaming platforms can create their own movie theater chains, but many choose to display their films in every cinema out there. The reason being is that the profits that the revenues they generate from box office sales are a lot higher compared to what they can earn from a streaming service.
Here's an example: The Batman movie and Red Notice
As @ecommerceshares noted, both The Batman movie and Red Notice both cost around $200 million to make. However, in the box office, The Batman movie generated $770 million. For Red Notice, because they weren't displayed in theaters, they never got to reap any revenues from the box office. For Warner Bros Discovery Inc., they released The Batman on HBO Max a month after being in theaters.
Another example that @ecommerceshares has is Sonic: The Hedgehog 2 and Turning Red.
For background, Disney chose not to release Turning Red in theaters and instead released it on Disney+. Even if the Sonic movie cost less to make than the Disney movie, it was able to make huge profits from box office revenue.
@ecommerceshares summarizes the lessons learned from comparing movies in the box office to movies solely made for streaming platforms by saying:
@ecommerceshares is correct when saying that subscriber acquisition costs are a lot lower for streamers with movie studios. When movie producers display great movies in theaters, people like the movie and people would like to watch it again in the future, at a lower cost. Rather than needing to go to a movie theater again, they can subscribe to the streaming platform that features that movie.
As for the economics that come with having a movie studio, streaming platforms will reap a massive profit after featuring the movie in theaters and be able to secure or even grow their subscriber numbers by releasing those movies onto their streaming platform.
Conclusion
Looking at how Paramount Global and Warner Bros Discovery Inc. conduct their streaming strategy compared to Netflix, I'm starting to warm up to Netflix's competitors because they're better able to maximize the cash flows that come with having both a movie studio and a streaming service.
It will be interesting to see how well Netflix does compared to its competitors in the future. My assumption is that Netflix will realize that it could use box office revenues to help with their cash flow problems.
investing
About the author
My views on markets, investment strategies, perspectives on events, etc. usually differ from the mainstream consensus.
*All views expressed in my articles are my own and should be considered opinionated
Reader insights
Be the first to share your insights about this piece.
Add your insights