Should investors invest in micro-mobility giant Bird Global Inc.?
If you use electric scooters often, you understand how useful they are in commuting and in getting around places. And if you dive deeper, you'll know why these electric scooter rental startups are worth billions.
*This article is not financial advice. All content should be considered opinionated. We are not responsible for any gains and losses. Please talk to a financial advisor before making any investment decisions.
While we often see people riding electric scooters in college towns, urban areas, and even in tourist towns, we think that these electric scooter companies are either only cashing in on people's appetite for trying out cool gadgets or that they have a lot of money to dish out on transportation.
But what we don't often hear about regarding these electric scooter companies are: the seasonality (and possibly the cyclicality) of the business, the economics of them, and more.
The electric scooter rental industry is very young. This industry first became a thing in 2017 as Bird and Lime dropped motorized scooters on city streets without permission from the local government. Because government takes time to approve business permits, these startups knew that time of the essence and that they had to launch their business ASAP.
As people started seeing them in the streets and their intrigue got them hooked into the platforms, the electric scooter craze became a big thing. Many people were wanting to ride these scooters whenever they could get the chance. At the same time, there was chaos in the streets as sidewalks would have scooters being thrown there and blocking sidewalks and drivers and bicyclists would have to be more careful as these scooter companies shared the road with them.
The launch of the electric scooter rental industry was similar to the launch of ridesharing or food delivery, where the pioneers had to rush to acquire as many customers as possible and get them hooked to their platform. This is because once a customer goes with one platform, they rarely go to another platform despite the low barriers to switch apps.
Amid the electric scooter boom, there was also a surge in emergency room visits in those same cities. At the time many haven't had experience riding an electric scooter and there weren't any regulations on the industry. In the present day, there are more regulations to the electric scooter business and more R&D by the scooter companies helped make the industry safer as a whole.
What opportunity is Bird capitalizing on?
In terms of transportation, electric scooters are capitalizing on the demand for a better alternative for transportation.
When commuting, people have a couple of options: bus, walking, and bicycling. Each bus line has its own set of bus stops. If your destination is far from the bus line you're currently on, you'll probably have to stop at a bus stop and wait for another bus line to pick you up and take you to your destination. However, if your destination is far from any bus stops, then relying on the bus will mean that you'll have to walk a long distance to your destination.
But, if you bike to work, you can go to places but it'll take you longer than compared to taking the bus. Sure, you can have the bus carry your bike to the bus stop that's closest to your destination, but there are places where you can't simply ride your bike. You can walk your bike, but that's the same as walking in general.
And that's where electric scooters come in. Electric scooters are faster and can allow people to access more places. Also, rather than having to worry about where to park your bike, with electric scooter rentals, all you need to do is park your scooter near your destination and you'll have the peace of mind of not having to worry about theft or anything bad happening to your mode of transportation.
In the case of public transportation, since most urban commuters use buses to commute to work, electric scooters have been commonly used to take people to bus stations and from bus stations to home.
This slide from Bird's investor presentation sums up the problem that Bird is solving in the transportation space: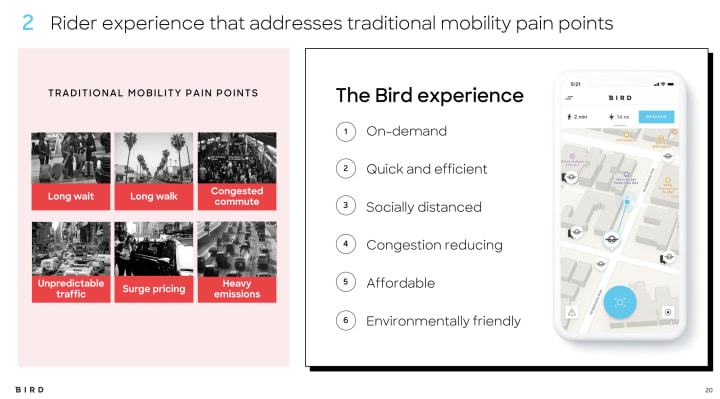 The Business Aspect of Bird Global Inc.
Essentially, Bird makes money by renting out scooters to customers. They charge an activation fee to users upfront and users are charged by the minute of usage. The longer people use the scooters, the more they pay.
The economics of the electric scooter rental business are attractive. PolyMatter made a great video about it and here's a segment that I want you to see: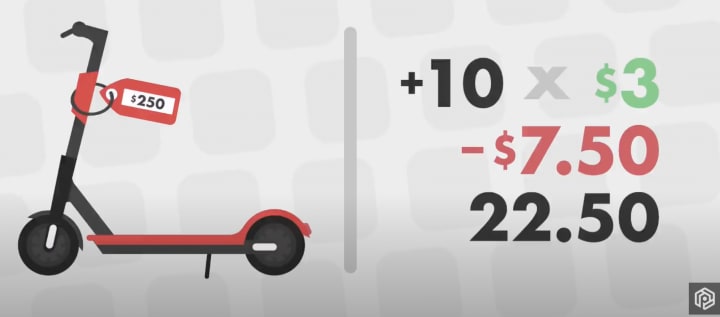 In this screenshot of his video Why Scooter Startups Are Worth Billions, the narrator describes that the average scooter is used 8 to 12 times a day and because of that, he uses 10 as his average. On average, scooter rides make $3 and charging these scooters cost $7.50. The scooters themselves cost $250 upfront (usually from bulk pricing). The math adds up to the average scooters making $22.50 daily.
That means that the scooters usually pay themselves in 12 days, or under 2 weeks. That's quite impressive. And accounting for thefts and maintenance, (which scooter companies say are rare), the costs are still small and the payback periods are still quick!
And besides renting out scooters and bikes, Bird even sells electric bikes and electric scooters in their online store.
Future Catalysts
In Bird's recent investor presentation, management gathers numerous news articles describing that because of the pandemic, urban planners are now redesigning cities to accommodate for more bikes and electric scooters.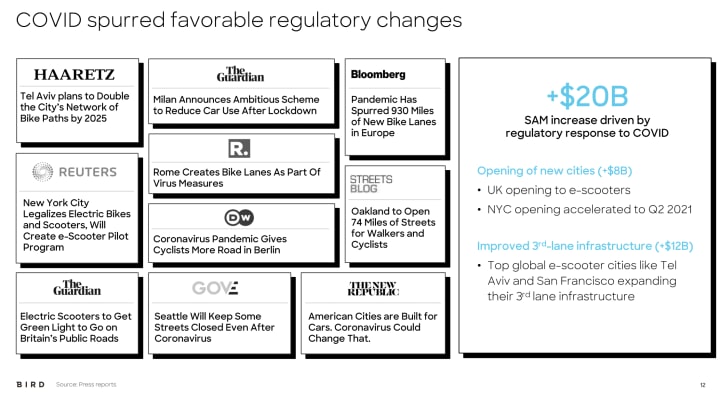 As cities add more bike lanes and Bird starts entering new markets, the world is warming up to the idea that micro-mobility will become the future. Scooters and bikes are going to become a more common way of commuting.
With the rise in micro-mobility, policymakers and urban planners are hoping that traffic congestion will decrease. At the same time, they hope that city emissions will decline and that transportation as a whole will become cleaner.
Conclusion
Bird is an exciting unicorn startup that recently went public through a SPAC on the New York Stock Exchange. Looking at the problem that the company is looking to solve as well as analyzing the business model and the industry's future, it's understandable why investors were excited to invest in Bird.
For anyone that uses Bird scooters consistently or know people that rent them out often, you'll have a better idea of how great Bird's business is since you benefit from their services. And by investing in Bird, you're essentially owning a piece of a startup whose services you consume.
Hopefully, Bird can continue to thrive despite the fact that work from home is becoming a new norm and that fewer people are choosing to commute back to the office on a daily basis. At the same time, let's hope that more people choose to commute anywhere through electric bikes or scooters rather than with their cars since that's better for the environment and can help reduce congestion on our roads.
By the way, did you know that Bird was the fastest startup to each unicorn status? Here's a slide from Bird's Investor Presentation that describes how fast their revenues have grown compared to that of other unicorns and Big Tech companies: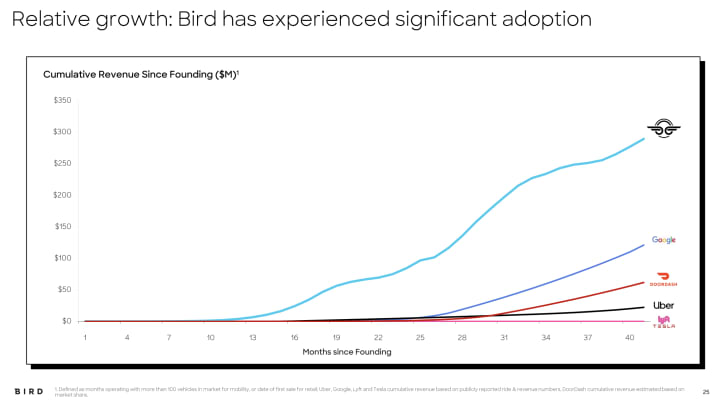 In the meantime, consider taking a joy ride on a Bird scooter!
investing
About the author
My views on markets, investment strategies, perspectives on events, etc. usually differ from the mainstream consensus.
*All views expressed in my articles are my own and should be considered opinionated
Reader insights
Be the first to share your insights about this piece.
Add your insights