Next-Level Financial Freedom: Looking at My 2k22 Goals
To live comfortably, you must have a financial plan. This year is the time to go to work for your money!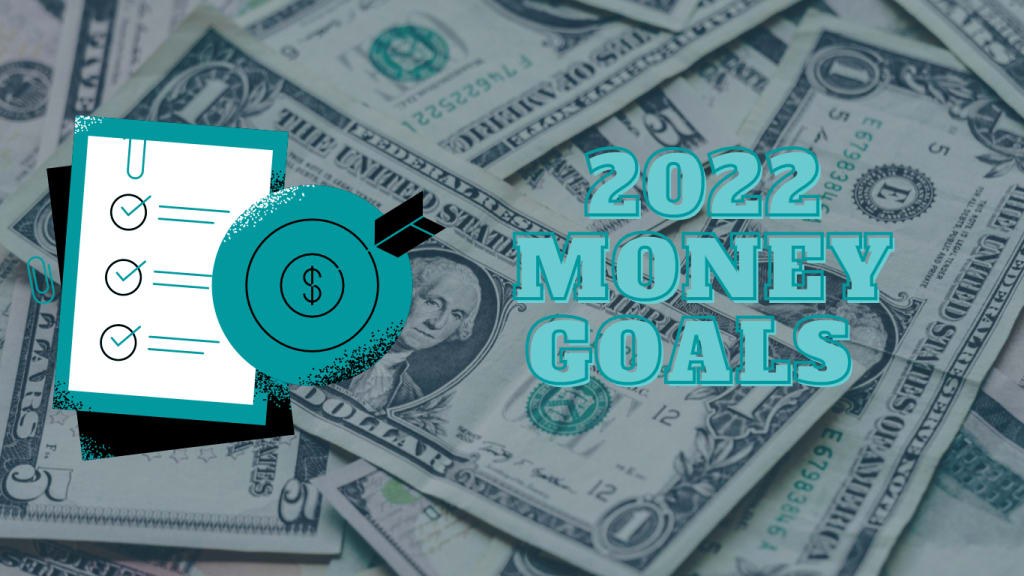 Website Banner made with Canva.
My Inspiration
Over the course of the past two weeks, I've been reading two books by a great author and personal finance mogul Bola Sokunbi, who is the creator of the financial platform, CleverGirl Finance. These two books, 'Ditch Debt, Save Money, and Build Real Wealth' and 'Grow Your Money', cover the basics of how to create financial wealth and keep that wealth flowing through hard work and a money mindset. Because of learning Bola's personal financial experience, I was intrigued and grew much inspiration outside of my own by reading these books. Last year, I created a personal finance brand to keep myself accountable and use it to inspire others to be able to do whatever they want with their money. Now that my brand is established, it's time to take things to the next level. 
I choose not to separate myself from my brand. Why? Because we are the same. My content is a reflection of my real-time experience being an adult in today's society. A long time ago, I figured out that every one of us is trying to find fulfillment. For me, my fulfillment starts with making impactful improvements to my financial health. Because I want to buy more time to do other things just brings me joy. Spending time with family and friends, collecting Marvel movie tickets, basketball, and traveling the world. The way I see it, shifting to a proactive mindset and demonstrating a high level of dedication to financial goals is the only way I get there. The way I look at my goals is simple: "I've cracked the surface, now it's time for a deep dive!"
----------------------------------------------------------------------------------------
My 2k22 Financial Goals
1. $2,000 totally invested in the market
Right now, there's no income certainty between me looking for a job and doing a plethora of side gigs (I explain this in goal #4). So, I want to invest at a manageable pace. I also have the auto reinvest dividend button where I hold my portfolio so it'll make my investment bigger over time.
2. An emergency fund of $500
I want to start small in this goal. It never hurts to have money prepped in case you get into a jam! Beginning my debt-free journey last year, I didn't really make it a priority to establish an emergency fund. I only had one savings account that was used for an unexpected expense. But now, I'm prioritizing having an emergency fund because I rather have it and not need it, rather than need it and not have it!
3. Start an HYSA
As of January 2, 2022, this goal is already accomplished. Last year, I was gloating about making one but never did. However, I want to make life-changing moves and need the funds to do it. What better way to start the year by opening an account that will earn me more money than traditional savings?
4. $3000 earned in side hustle income
Last year, I did what I could to earn extra money. Cash-back apps, credit card rewards, selling clothes online, taking surveys, writing blogs, anything available really. My total amount of side income earned in 2021 summed to $845.77. Not a bad start but, this year is all about grinding more and managing the hustle. Currently, I have 9 side hustles that will continue over the course of this year. Some will take active time to accumulate while others require little to no effort. I'm also planning to add Shipt to my side hustle list to contribute to my savings, paying off debt, and investing. 
5. $3000 in student loans paid within 6 months
Last year, a 2021 financial goal of mine was to pay off $10,000 in student debt. The progress was going up until September when I quit my underwriting job. Due to personal reasons, I felt that staying at that job was more trouble than it was worth. I cleaned my desk and moved on. It felt great and I do not regret making that decision but, quitting the job did push me back financially. In 2021, I was only able to pay $6,890.09, leaving $3,109.91 unachieved. Instead of dwelling, I'm making the stride to pay off the balance from last year's goal. I guess you can say that I'm playing catch up. And there's nothing wrong with it! 
6. Land a 9–5 job
My educational/professional background is in marketing and finance. I've spent time figuring out my next career move and decided that I want to start as a digital marketing coordinator working in the preferred industry of financial services. A long-term professional goal of mine is to get acclimated to corporate culture so I can progress my career to marketing project management. With all the effort spent putting in applications, I understand that showing your value and skills gets you further than applying and hoping for the best. It also doesn't hurt to network with hiring managers and recruiters to set yourself apart from competitors. The sooner I'll accomplish this goal, it'll boost my earnings and greatly impact other financial objectives for the year.
7. $3k in Travel Sinking Fund
What is life worth living if you can't go sightseeing? Officially, I'm traveling back to Las Vegas later this year to celebrate a friend's birthday. Vegas is an experience that requires more than one lifetime trip. So, if I'm going to do it even bigger than the first time, I need to have more funds available! Learn more about how I allocated my travel spending here.
8. Net Worth goal of -$30,000. 
According to my Mint account, my net worth currently stands at -$46,265.00. To increase my net worth to -$30,000, I must lower my expenses, assign my money to activities most impactful to my goals (i.e. savings, emergency fund, debt reduction), and increase my income. All of the goals above equally impact this one. A 35% increase in net worth may seem like a stretch, but I'm going to find a way up!
----------------------------------------------------------------------------------------
In last month's blog, My Debt-Free Journey 2021: A Year in Review, I talked about what motivated me to make a debt-free life. I also discussed some of my next financial steps, some of which are on my 2022 list. I chose to share that story because as humans, we are not perfect in our activities no matter what they are. Our finances included. The destination is important but, the journey shows your growth and grit. Understand that your money habits all depend on your effort. Like you, my money is personal. The money moves I make today will affect my financial choices in the future. It's up to me to say, "Do I want more? Or do I want to stay stuck?" I choose the former. 
About the Creator
Writing about life experiences, personal finance and, career insights that impact the millennials and Gen Z culture.
Twitter:@business_period
IG:@thebusinessperiod
Medium: @thebusinessperiod
Reader insights
Be the first to share your insights about this piece.
Add your insights