Next-Level Financial Freedom: 2K22 Goals Progress
Take a look at my financial work.
In January, I created a financial goals list for 2022. I want to say I started doing these yearly goal checklists in 2021, however, I wasn't confident in my ability to measure those goals in real-time. Last year, my money was funny, and my saving habits were wack. Now, I enable the right tools to stay on track and accurate. Let's take a look at my progress:
$2,000 in total investments
I started getting into investing last year. I like investments because of two reasons: my future self will benefit and I love dividends! I have pre-tax contributions for my 401(k) plus an employer match, and I also contribute $50/paycheck to my personal investing account. I'm about $500 away from completing this goal.
$500 emergency fund
Prior to this year, I never understood the importance of having a fund separate from a savings account. But now, it comes in handy for anything unexpected. For example, last week I caught a flat tire, thanks to a pothole. Only took $55 to replace it but the fund came in on clutch time. 
I completed this goal back between late February and early March. During my time working for a non-profit, I used the 50/30/20 budget to make this goal happen. Now, I'm using zero-based budgeting to add to my fund.
Create an HYSA fund
This was the first goal I completed in January. I needed a place where I can hold my money aside from my normal bank. Limited transactions. Marcus by Goldman Sachs is a great high-yield saving source with no maintenance fees and an APY of 1.20%. I highly recommend it!
$3,000 in side hustle income
This goal is the most difficult one out of the pile. Between my 9–5 and personal life right now, I became sure that I cannot hit the $3000 mark. To mitigate, I reduced it to $1,500. It's more reasonable and manageable based on my priorities. Currently, I crossed into earning a little over $700. It's still 5 months left in 2022. I'm going to make it work in my favor!
$3,000 in student loans paid for in 6 months
Student loans are one of the biggest financial burdens in the American economy. It's a burden I want to remove as fast as possible. Last month, I completed this goal through careful planning and a steady paycheck. I cannot say I have a strategy for this. It's simple: budget this every time you get paid. 
Land a 9–5 job
Job searching came tough after I quit my stressful, and low-paying underwriter job last August. I started that job the first week of July. Knew I didn't want to be there and knew I needed something better. I literally made it through the last day of training and then turned my badge in. It wasn't worth the $16/hour. 
From the time I quit to January 2022, I was stuck in the interviewing stage. It was either hey you're 'too qualified' or do not have enough experience. I got fed up until a tech non-profit decided to take a chance on me. 
I was part-time up until April when I got a call from a marketing agency offering me a full-time job offer as an Associate Project Manager. After about five months of searching, I finally secured a 9–5! I love my work, I like the people I work with, and I'm focused on building my skills to increase my salary!
$3,000 in a travel fund
This September, I am taking a trip with some friends to celebrate our friend's 27th birthday. Every paycheck, I send a portion to my travel fund. Currently, I have about 58% saved up. I intend to close out this goal by the last week of August!
The net worth of -$30,000
I finished out 2021 with a net worth of -$46,000. That was a bright spot considering in 2020, my net worth was -$50,000. Currently, between paying down debt and increasing my savings, I'm tip-toeing around the -$38,000 mark. Based on my monthly salary, I will reach this goal before December is here.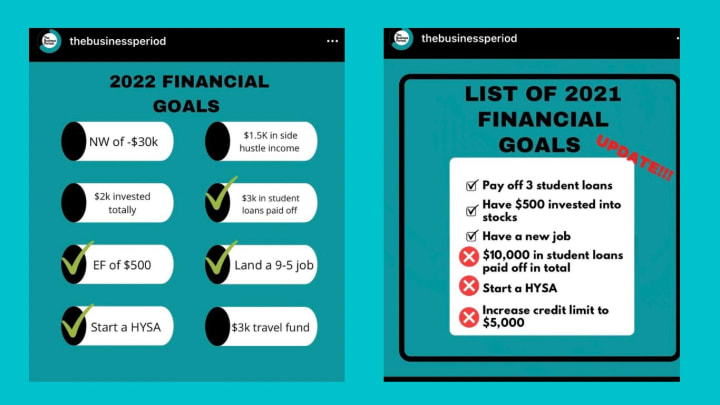 Summing it up
Financially, this is the happiest I've been since I started my debt-free journey. I've completed more goals during the first half of this year than all of 2021. I'm more motivated, I have a steady paycheck, and I have some skin in the game. I'm seeing the growth every day. I see what my future can be like. This is my year!
About the Creator
Writing about life experiences, personal finance and, career insights that impact the millennials and Gen Z culture.
Twitter:@business_period
IG:@thebusinessperiod
Medium: @thebusinessperiod
Reader insights
Be the first to share your insights about this piece.
Add your insights