Improve your Credit Score by following proven steps
A journey with Julie, who has nearly doubled her credit score in 12 to 18 months.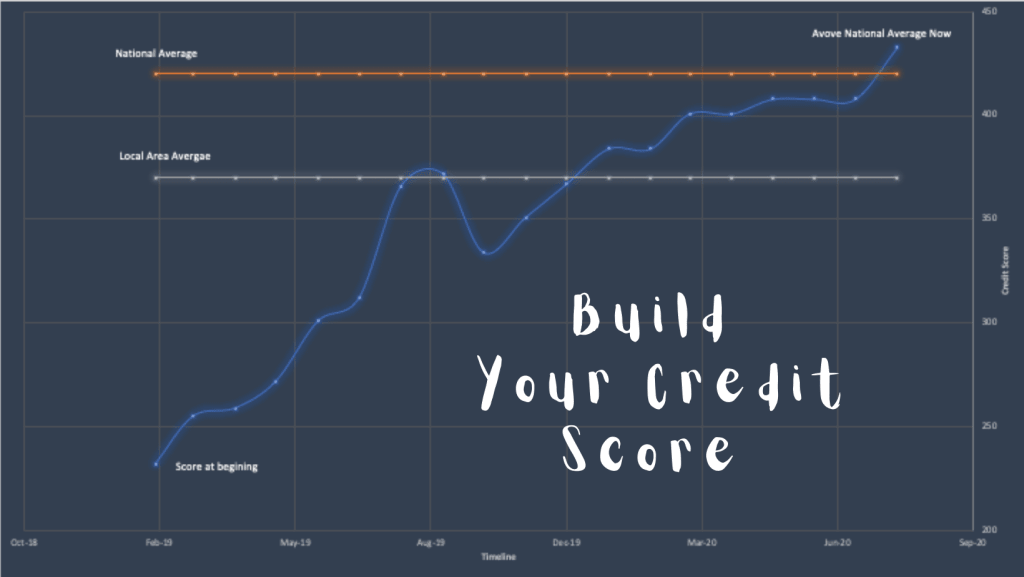 Building Your Credit Score Is Simple Common Sense
Julie (pseudonym), 23 years old, lives in a rented accommodation in a suburb of London. She is ambitious, earns above the national average income, and wants to grow and make good in life. Being in London, among other things, she worries about her ability to save and borrow to buy her first home. This quest led her to understand and improve her credit score. 
Her journey started with a credit score of 232 in Feb 2019, which is well below the national and local average and improved to well above the national average by Aug 2020.
The timeline, credit scores and actions are directly from the interview with her and information from her actual credit report.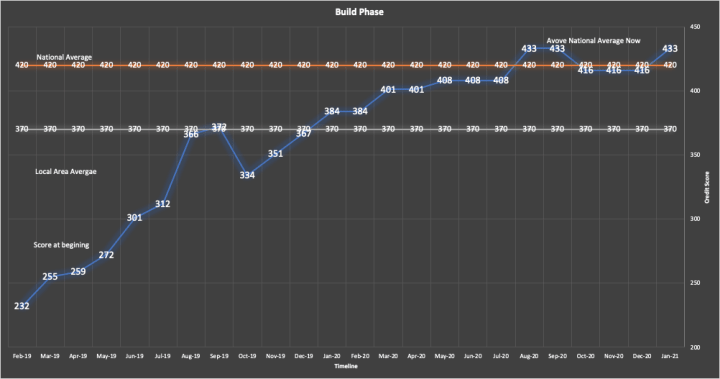 Building and improving your credit score is all about common sense and a bit of consistency. This is not an exact science, but your score is calculated based on various parameters, and the good part is - some of which you can influence. 
Disclaimer: This is a UK story, so some nuances of the credit report and score will be there for other countries, but the broad concepts will likely be the same. 
Here is Julie's journey :
1. Feb 2019 - The Beginning
She opened a free account in Clear Score to see her credit report, and predictably the score was low (232) as she did not have any credit history. 
Actions: 
Register for the electoral roll: Many young people are disengaged with the current political climate; no matter your views, register as it impacts the credit score. 
Set up Direct Debits for Utilities & Telecom: Checked her details in utility suppliers (Gas, Electricity and Water) and set up the regular direct debits from her current account.
Note: Some people use the pre-paid meter, and some pay cash in counters for their utility bills. However, it is easier to put a Direct Debit, which means you will not miss any payment. 
2. Mar 2019 - Early success 
The score has gone up to 255, which was almost a 10% jump. 
Hurray! Time for further action! 
Actions:
Move to pay monthly/sim only mobile contract: She was using a pay-as-you-go (pre-pay) mobile phone connection, these kind of connection are usually expensive. Moving to a simple pay-monthly sim only deal saves money and contributes towards her credit history. 
Switch the Broadband and TV connection: It was simple, her contract was up, and switching was a no brainer. 
Like before, she set up the direct debit for the new accounts. 
3. Apr 2019 and May 2019 - Stabilisation
The score went up to 272 in two months, which meant that her steps are in the right direction. The system shows that she can apply for some starter credit card. However, she waited for one more month. 
4. Jun 2019– First Credit Card 
Additional 29 points take her to above 300 points for the first time. Time to apply for the starter credit card. 
Actions:
First starter credit card: The system (Credit Report site) showed a few of the starter credit cards options. She checked the eligibility and applied for one. The application was approved, and she received her first credit card, albeit with a minimum limit (£500).  
Direct Debit with Full payment every month: As the starter credit cards (or all credit cards) are very high in interest rate, she decided to put full statement balance payment every month. 
5. Jul and Aug 2019 - A Leap Forward 
The jump in credit score was substantial - the Aug score was 366 ( 11 points in Jun and 54 points in Aug), a 21% jump! 
She was nearly at the local average rage of the credit score. 
Actions:
7. Sep-2019 - But not so fast
In September, the score went up by another 6 points. The system showed a few more option for an additional starter credit card. Although she was not planning to use more credit, she thought that additional credit might help with the low overall utilisation of credit.
Actions:
Second starter credit card: Applied and secured a second credit card which provided additional credit adding £1500 to the monthly credit limit.
Direct Debit with Full payment every month: She set up the direct debit with full statement balance payment every month.
8. Oct 2019 - Lesson Learnt  
A drop of 38 points in Oct was a setback. 
Her new credit card application impacted the score negatively. The drop was, however, predictable as she applied for new credit too soon. Her new plan was to use the card regularly and pay the full statement balance to rebuild the score. 
Lesson learnt - Never apply too many credit application in a short span of time.  
9. Nov-2019 till Aug 2020 - Manage the status quo 
The next 10 months is about maintaining the status quo and build the sore slowly but surely. If you notice the pattern, the score goes but by 10–15 points every two months.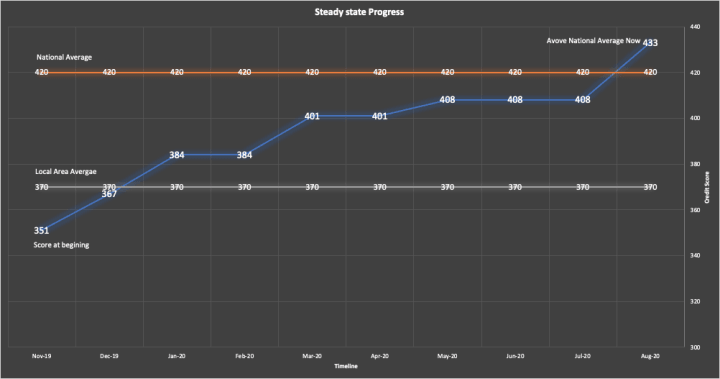 Action
Nothing really! Keep paying the credit card every month and in full. All other bills also paid in full using direct debit. 
10. Sep 2020 to Feb 2021: Maintain and Grow
For the next 6 months, the score remains more or less the same. The drop in Oct-2020 was due to searches during the TV and Broadband provider switch. Her score is now nicely above the national average. 
She is now looking to improve the score by increasing the credit limit of the existing cards and keeping the overall credit utilisation low.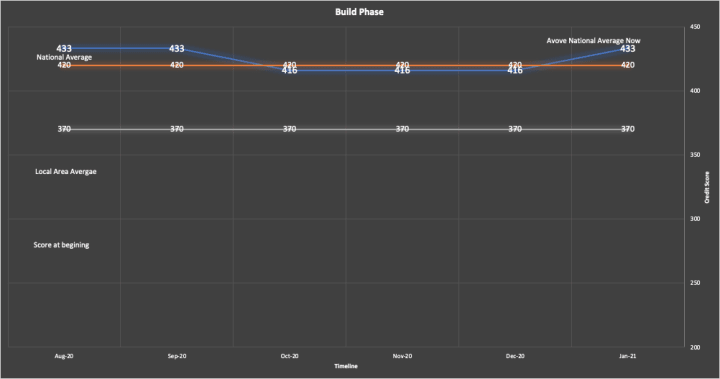 In Summary
There key learning from Julie's story can be summarised as: 
Continue Doing 
Utilities and Telecom account up-to-date with direct debit payment.  
Have at least one credit card. 
Credit utilisation low and pay in full each month using direct debit. 
Ensure that the Electoral Roll (or register) has your name. 
Use a low cost Sim-only mobile contract instead of a pay-as-you-go connection. 
Spread your credit applications and always use a pre-eligibility check. 
Stop Doing
Don't apply for multiple credit application in a short span of time.
Start Doing
Increase credit limit of existing credit cards instead of applying for a new credit card.

Viv B
Technologist with expertise in cloud, data and artificial intelligence, and with a special interest in personal finance.
See all posts by Viv B →