How Investments Improve Your Small Business
Sumit Selli | London, UK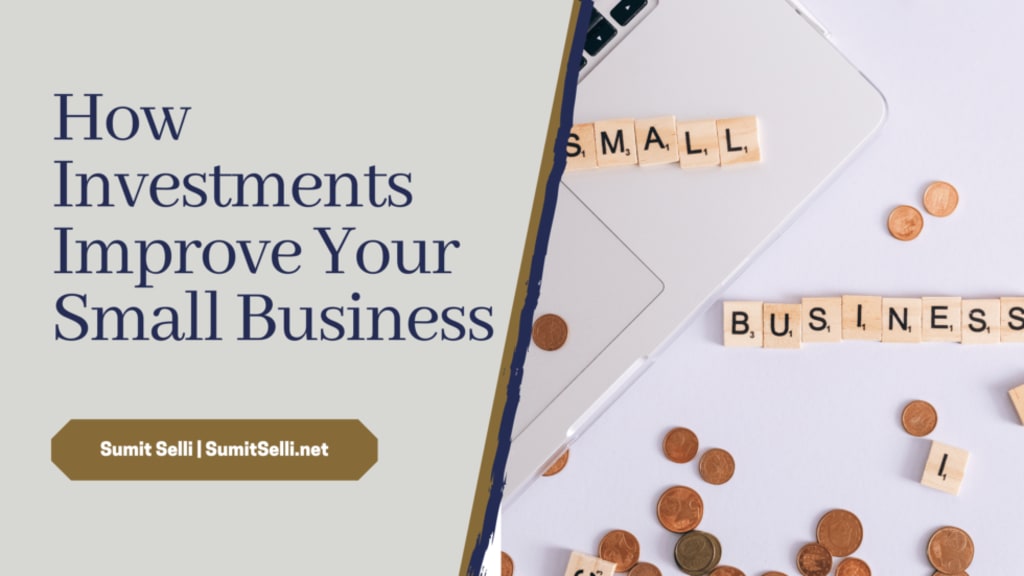 https://sumitselli.net/how-investments-improve-your-small-business/
Getting the proper amount of money to support your business can help boost its long-term growth. Unfortunately, many small businesses fail to invest in their growth. This is why you must get the help you need to start investing in your business.
Before investing in your business, it's essential that you first consider the various factors that will affect its long-term success.
Staff
One of the most essential factors you should consider when it comes to investing in your business is the development of your team. Leaders should prioritise the establishment of training programs and the establishment of a supportive environment. Besides providing them with the necessary skills, you can also make your company a more enjoyable place to work by implementing a variety of perks and incentives.
An effective strategy to attract and retain talent is by providing a variety of perks and incentives. This can be done by establishing a suitable workplace pension and flexible working arrangements. These can be very attractive to new employees and can be cheaper than offering a salary increase.
Tools and Resources
Getting the proper equipment and technology is vital to ensure your business can grow. Before investing in new technology, it's crucial that you thoroughly assess your current needs and ensure that you have the necessary equipment. If you're operating an online business, you must keep up with the latest technology and ensure that you can compete with your competitors.
Research
Getting the proper market research is also important to ensure that you have the necessary information to make informed decisions. You can do this by establishing a well-defined strategy and continuous monitoring of your competitors.
Before investing in new technology, you must thoroughly assess your current needs and ensure that you have the necessary equipment. One of the most important factors you should consider is the possibility of government funding for research and development.
Takeaway
A suitable business investment can be decided depending on your situation. Reinvesting profits may be the more efficient option if you can afford to forfeit some of your money. If you're unsure how to manage your own business, a private equity investor can help you. This investor can provide you with the necessary expertise to make effective decisions.
ABOUT SUMIT SELLI
Living and working in London, UK, Sumit Selli ACA has spent the past decade building himself into a skilled, knowledgeable, and insightful financial professional and advisor dedicated to helping his clients find peace of mind in their money management and financial planning.
In his professional career, Sumit Selli has been a Partner with LAS Group in London since 2013. A Group built on the mission of creating peace of mind and empowered lifestyle choices to help clients make informed decisions about their personal money management and their business's financial health. Sumit and the rest of the team abide by the values LAS prides itself on – Integrity, Consistency, Agility, Resiliency, and Caring – while executing the Group's offerings. These service offerings include Technology Implementation, Specialist Tax services, Consultancy and Restructuring, Reporting and Compliance, and Due Diligence.
At LAS Group, the team works with clients from all across the board. Alongside representing a number of high-net-worth families both based in the UK and with touchpoints throughout the region, they also represent the financial interests of some of the country's top medical consultants as well as emerging talents in the healthcare industry.
As an individual, Sumit Selli has worked hard over the past few years to build his experience in the financial industry. Alongside his work with LAS Group, Sumit has served as a Chairman with Ccuoco, co-founded Richmond Globex SA, directed at Whitefields Research, and worked as a Trustee with The Wavell Room. Alongside his prowess as a professional operating within the financial services industry, Sumit Selli has established expertise in investment and wealth management, tax preparation, business strategy, financial reporting, cash flow, and more.
advice
About the author
Sumit Selli ACA is a London, UK-based Accounting and Advisory professional and a Partner at LAS Group. In his role with the firm, he specialises in wealth preservation, business consultancy, and tax preparation and planning strategies.
Reader insights
Be the first to share your insights about this piece.
Add your insights