Here's why I have mixed views on Innovative Industrial Properties Inc.
While the future for the cannabis industry is bright, issues with legislation and current market conditions make me weary about its current prospects
Disclaimer: This article is not financial advice. All content should be considered opinionated. We are not responsible for any gains and losses. Please talk to a financial advisor before making any investment decisions.
Innovative Industrial Properties Inc. is a REIT that provides financing and real estate space to cannabis growers. As cannabis growers want to expand their operations or other firms look to grow their own cannabis, many go to Innovative Industrial Properties Inc. for financing and for more space.
This REIT has capitalized on the growing ambiguities that come with both the state and federal regulations that come with the industry. On the federal level, cannabis hasn't been legalized. But in various states, cannabis is legal. Because of this, many banks are reluctant to lend money to cannabis growers. In Financial Regulation News, the president and CEO of the Independent Community Bankers of America had to say:
"The conflict between state and federal law has created legal uncertainty for community banks, inhibited access to the banking system for cannabis-related businesses, and created serious public safety concerns."
For those of you that are confused by the public safety concerns that come with the banking issues of the cannabis issue, note that without access to banking services, the cannabis industry has to operate strictly on cash. This makes cannabis business a huge target for thieves.
As for the SAFE Banking Act, while it has gotten passed by the House for the fourth time, the cannabis industry will have to watch and see whether the Senate votes in favor of it, or not.
By not having community banks and other banks provide loans to cannabis startups, Innovative Industrial Properties saw its niche. It lends capital and space for cannabis growers through property leases. These leases are made with high valuations and help Innovative Industrial Properties reap huge premiums. With the huge premiums that Innovative Industrial Properties reaps, management is able to reinvest the proceeds and create an immense compounding machine.
Here's the result of the compounding process, expressed in Funds from Operations (FFO) per share: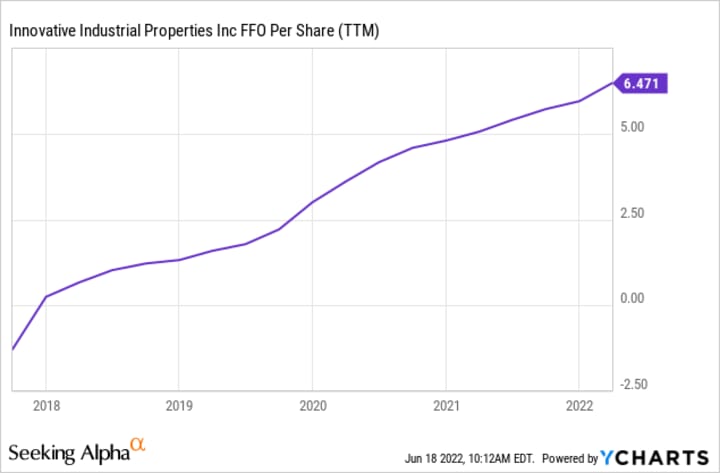 For background, FFO represents cash flow in the real estate world.
I give credit to the bulls for noting that Innovative Industrial Properties Inc.'s average lease length is 16.4 years. With a large amount of time and while reaping huge premiums, Innovative Industrial Properties Inc. looks to have more time to compound the business to become a whole lot bigger down the road.
However, with the current conditions of the cannabis industry, I think that the benefits that come with a high average lease length aren't going to bear huge profits. Currently, there's a massive supply glut in the cannabis industry. Many farmers regret jumping in on the business. With low cannabis prices, growers are reaping little to no profit from their crop. Dispensaries are rejecting opportunities to refill their inventory because they too already have a lot of supply.
These industry-wide issues are reflected in the stock market as cannabis growers like Canopy Growth and Cronos Group see their shares plunge over 80% from their 2019 highs.
With these industry-wide issues, it's important to look at Innovative Industrial Properties Inc.'s largest tenants and see how well they're performing.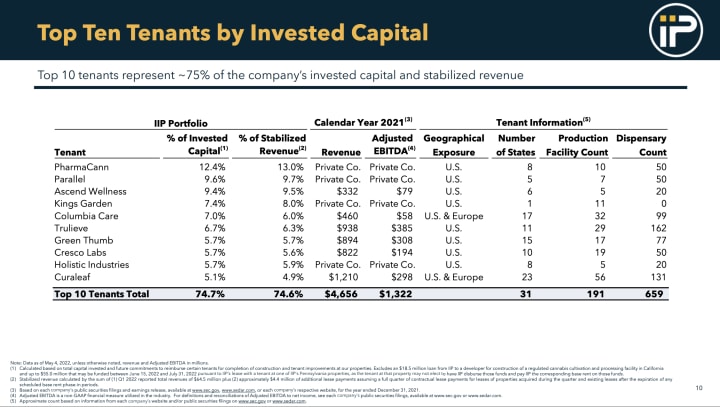 For their second largest tenant, Parallel, they had their SPAC deal fall apart. Reuters reported that the SPAC deal fell apart as investors became pessimistic on Parallel's efforts to fulfill their lavish projections.
Within Blue Orca's short report on Innovative Industrial Properties Inc., Blue Orca noted that Parallel acquired a building for $22 million and sold it to Innovative Industrial Properties Inc. in a sale-leaseback deal for $42 million. While this example better explains the way in which Innovative Industrial Properties Inc. finances cannabis growers, the dynamics of the deal make it look like a ponzi scheme.
Blue Orca's short report on Innovative Industrial Properties Inc. explains the other issues that its other tenants have, but you can read more about them here.
Conclusion
Investors should be cautious about investing in Innovative Industrials Properties Inc. Even if it holds an attractive dividend yield of nearly 6% and has a growing business at the moment, the passing of the SAFE Banking Act will prompt more cannabis growers to do business with community banks instead of Innovative Industrial Properties Inc.
I give credit to the founders of Innovative Industrial Properties Inc. for capitalizing on the niche they're in. However, that niche won't be worth much more once cannabis growers have other places to fund their business.
Even if the SAFE Banking Act doesn't pass for another few years, the current conditions in the cannabis industry make it risky for one to invest in this REIT. If Innovative Industrial Properties Inc.'s tenants start going bust, the company will struggle to pay dividends to their shareholders and its share price could collapse.
Invest wisely!
investing
About the author
My views on markets, investment strategies, perspectives on events, etc. usually differ from the mainstream consensus.
*All views expressed in my articles are my own and should be considered opinionated
Reader insights
Be the first to share your insights about this piece.
Add your insights