Filing a Tax Return if Most of Your Income Is Social Security
Brooklynn Chandler Willy | San Antonio, Texas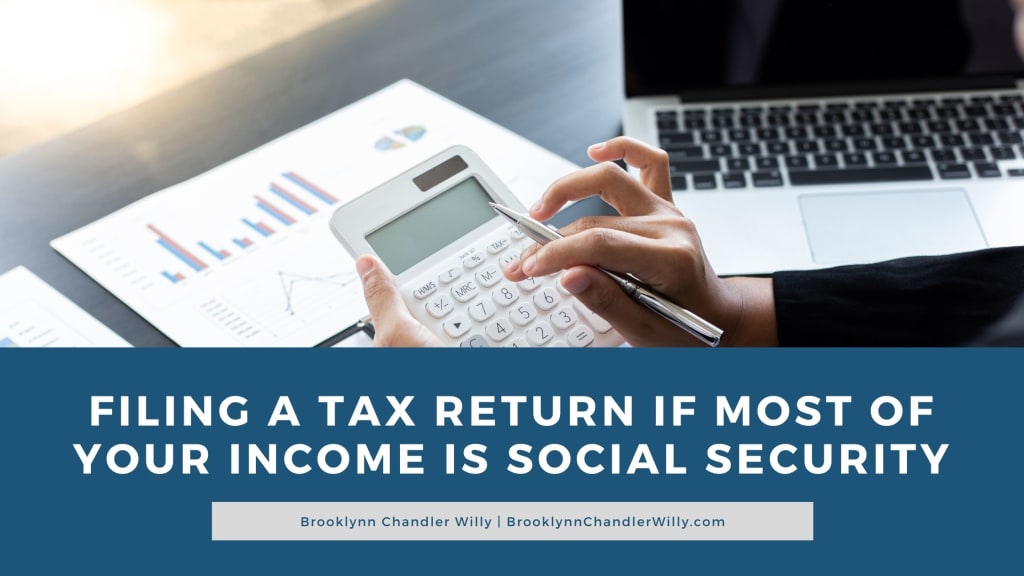 Brooklynn Chandler Willy | BrooklynnChandlerWilly.com
Nobody likes having to file their taxes each year, yet it is one of the many necessities of life. However, filing taxes can be more intimidating or complex based on your income. Those living on social security naturally may have several questions on the matter.
Most people have one question regarding social security and taxes: do they need to file if most of their income is based on social security? The correct answer can vary, but on the whole, while it isn't always required to file taxes – it is usually recommended.
Filing Taxes While on Social Security
There are a few things to keep in mind when filing taxes. First, it's important to remember that tax regulations can change every year, so look into new requirements and changes before filing.
Currently, seniors over sixty-five who are unmarried and make more than a certain amount will have to file. However, social security benefits aren't considered part of a person's gross income. This means that their gross income would be zero for those solely depending on social security.
There are a few mitigating factors for this rule, so it is essential to reach out to a filing expert to ensure that your forms are filled out correctly. For example, married seniors must file if their income exceeds a certain amount. There are situations where social security might count towards gross income (such as when a married couple chooses to file separately).
Don't forget to research potential tax credits when filing your taxes. Certain tax credits are available for the elderly and the disabled, which can help you get the most out of your tax return.
Benefits of Filing
Believe it or not, there are several benefits to filing taxes, especially if all of your income is through social security. Filing taxes opens the door for tax returns – which are likely for those that have any taxes withheld for their social security payments. In other words, failure to file can result in lost returns. Depending on their situation, there are other potential returns one can receive when filing. This is why it is recommended that everyone file taxes and approach an expert should they have any questions or concerns.
Not associated with or endorsed by the Social Security Administration or any other government agency.
This blog/website is only made available for educational purposes. It is designed to give visitors general information and a general understanding of select financial topics. It is not intended to provide specific financial or investment advice. Conduct your own due diligence or consult a licensed financial advisor/broker before making any and all financial/investment decisions.
ABOUT BROOKLYNN CHANDLER WILLY
For a dedicated and knowledgable partner in investment and insurance, look no further than Brooklynn Chandler Willy – JD RFC CDFA – a financial services professional specializing in Retirement Planning. Operating in San Antonio, Texas, Brooklynn is the President of Texas Financial Advisory, which she founded in 2008.
Brooklynn Chandler Willy's career in financial services developed following the sudden and untimely death of her father. In life, he had been a life insurance salesman who – ironically – had no life insurance himself. She saw how difficult it can be – emotionally and financially – to lose a loved one without being prepared; she decided to dedicate her career to helping others put better plans in place and be prepared so as not to be faced with a similar situation.
At Texas Financial Advisory, Brooklynn Chandler Willy and the entire team understand and appreciate how hard their clients work and the nest eggs that they've saved throughout their lives. The team will work with each client as a fiduciary and help take the uncertainty and stress out of retirement planning to create holistic plans that extend beyond the numbers. To learn more about if Texas Financial Advisory is right for you, please visit their website.
personal finance
About the author
Brooklynn Chandler Willy is a financial services professional specializing in Retirement Planning. Operating in San Antonio, Texas. She is the Founder and President of Texas Financial Advisory.
Reader insights
Be the first to share your insights about this piece.
Add your insights