"Affiliate Marketing for Bloggers: Monetizing Your Online Presence".
Affiliate Marketing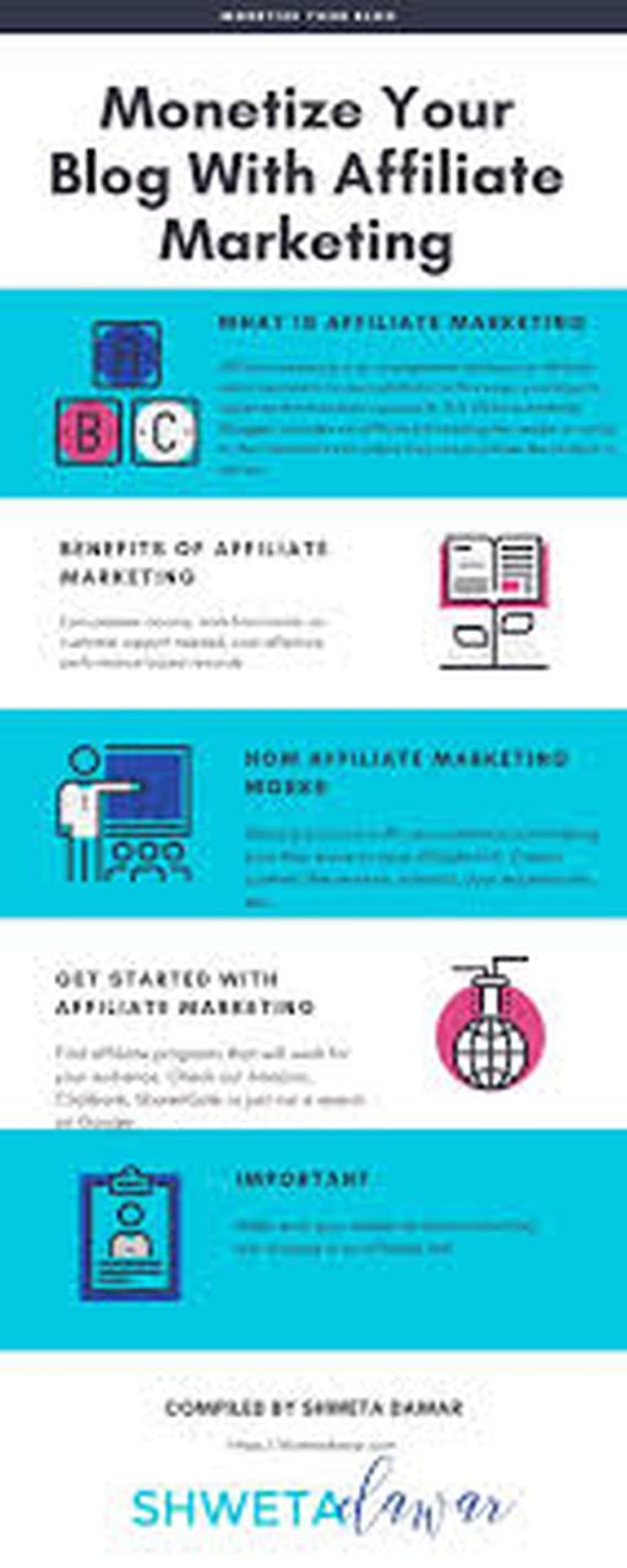 Affiliate marketing is one of the most effective ways for bloggers to monetize their online presence. It involves promoting other people's products or services and earning a commission for each sale made through your unique affiliate link. This article will provide an overview of affiliate marketing for bloggers and offer tips on how to maximize your earning potential through this monetization method.
Choosing the Right Affiliate Programs
The first step in affiliate marketing for bloggers is to choose the right affiliate programs. There are countless affiliate programs available, so it's important to do your research and choose ones that align with your blog's niche and audience.
When selecting affiliate programs, consider the commission rate, cookie duration, and conversion rate. The commission rate is the percentage of the sale that you will receive as a commission. The cookie duration refers to the length of time that your unique affiliate link will be stored in a user's browser. If they make a purchase during this time, you will receive a commission. The conversion rate is the percentage of people who click on your affiliate link and make a purchase.
It's also important to consider the reputation of the company you will be promoting. You don't want to promote a product or service that is of low quality or has a poor reputation. Your readers trust you, and you don't want to jeopardize that trust by promoting something that isn't worth their time or money.
Promoting Affiliate Products
Once you've chosen the right affiliate programs, the next step is to promote the products or services on your blog. There are several ways to do this, including:
Product Reviews: Write a review of the product or service and include your affiliate link in the post. Be honest in your review and provide valuable information that will help your readers make an informed decision.
Banner Ads: Place banner ads on your blog that promote the affiliate product or service. These can be placed in the header, sidebar, or within the content of your posts.
Social Media: Share your affiliate links on your social media channels, including Facebook, Twitter, and Instagram. Be sure to disclose that the links are affiliate links in your posts.
To provide valuable content to your readers, and only promote products or services that you genuinely believe in and would use yourself.
It's important to note that the Federal Trade Commission (FTC) requires bloggers to disclose their use of affiliate links. This means that you need to let your readers know that you will receive a commission if they make a purchase through your affiliate link. You can do this by including a disclosure statement on your blog or within your social media posts.
Maximizing Your Earning Potential
To maximize your earning potential through affiliate marketing, there are several strategies that you can use:
Build an Email List: Building an email list allows you to promote affiliate products directly to your subscribers. Offer a lead magnet, such as a free eBook or course, to entice readers to sign up for your list.
Create an Affiliate Resource Page: Create a dedicated page on your blog that showcases all of the affiliate products and services that you promote. This makes it easy for your readers to find and purchase the products that you recommend.
Write Evergreen Content: Evergreen content is content that is always relevant and never goes out of date. By writing evergreen content that includes affiliate links, you can earn commissions on those links for years to come.
Utilize Affiliate Networks: Affiliate networks, such as Amazon Associates or ShareASale, allow you to find and promote a wide variety of products and services from different companies. These networks also provide valuable reporting and tracking tools to help you optimize your campaigns.
Negotiate Higher Commission Rates: If you are driving a significant amount of traffic and sales to a particular affiliate program, consider reaching out to the company and negotiating a higher commission rate. They may be willing to offer you a higher commission in exchange for your continued promotion of their products or services.
Conclusion
Affiliate marketing can be a lucrative way for bloggers to monetize their online presence. By choosing the right affiliate programs, promoting products in an authentic and honest way, and utilizing strategies to maximize your earning potential, you can earn a passive income through affiliate marketing. However, it's important to remember that building trust with your audience is key. Only promote products or services that you believe in and that align with your blog's niche and audience. With time and effort, affiliate marketing can become a valuable source of income for bloggers.
Reader insights
Be the first to share your insights about this piece.
Add your insights