What Unites Us
Review of Dan Rather's book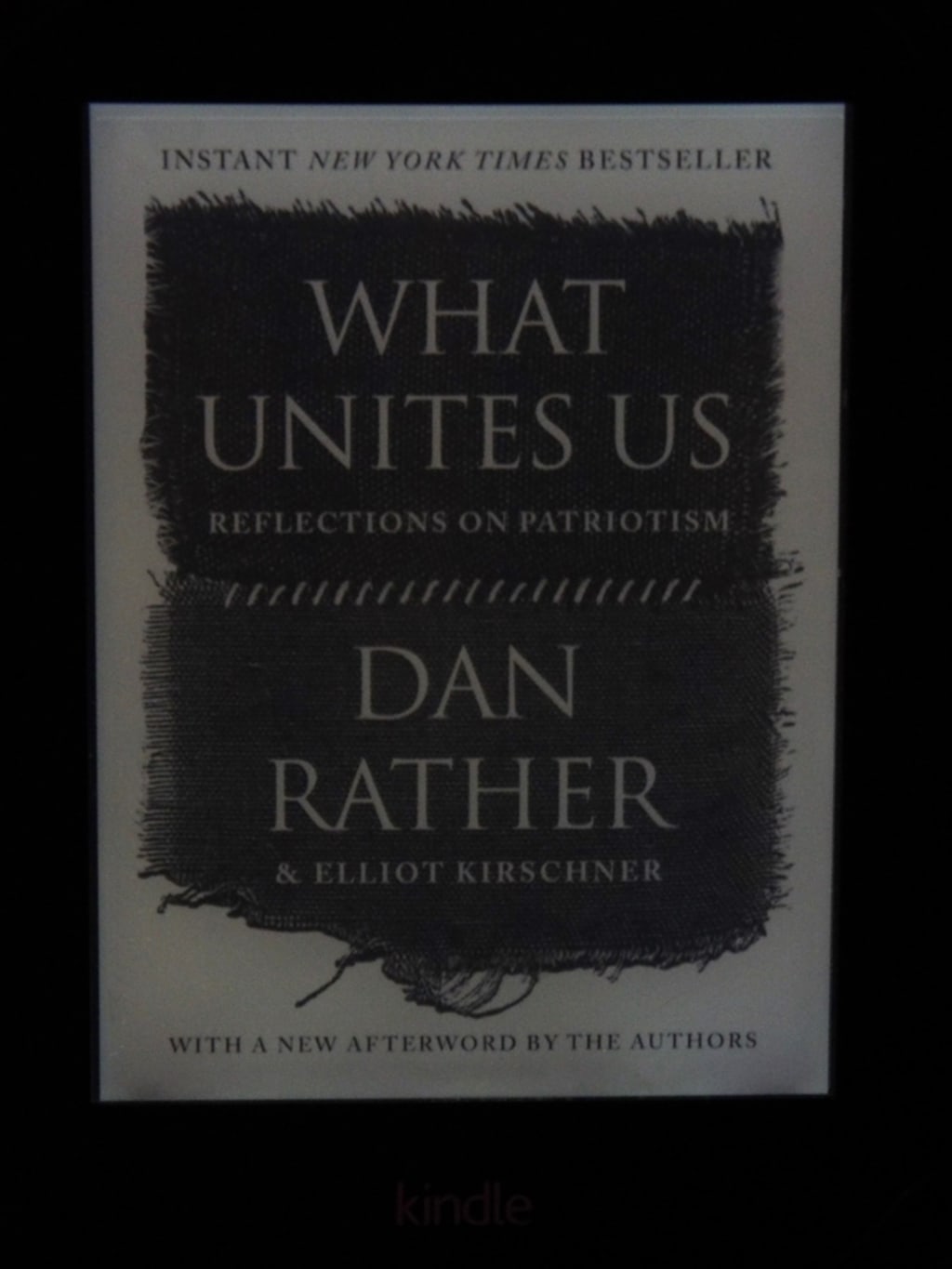 After seeing a lot of positive talk about Dan Rather's "What Unites Us" on Twitter, on the spur of the moment one day I decided I wanted to read it, and bought myself a copy. Because I bought the book for my Kindle, I was able to start reading right away. I'm glad I did.
Early voting had started a few days before I got and started reading this book. I had driven by one of the voting places and saw tremendously long lines, and had heard about them at other locations, so I consciously planned to wait until the second week of voting, hoping wait times would be better. I say this as an example of the power "What Unites Us" had on me.
The first chapter of this book is called "The Vote," and after reading it, I felt a strong urge to do just that. So, despite my well-thought-out plan to avoid an hours-long wait, I got up, got dressed, looked up wait times, headed to the nearest polling location that had the shortest lines, and cast my vote. (It only took me an hour!)
I took my Kindle with me, and continued reading as I stood in line.
I think I could tell a story like this for just about every chapter of this book, an example of how I felt motivated if not to action, to introspection, and if not to that, then at least to a curiosity that led to learning or reading more on the subject. This is likely the most highlighted book I've read in quite a while.
"Audacity" talked about innovation, and gave voice to something I didn't realize I was thinking. It "would behoove us to remember that America was conceived and built by risk-takers and explorers," I read, and felt we aren't being bold as a country, as I read it. It really resonated and hit home, because, I also realized, I wasn't being bold as a person either. "The future doesn't belong to the fainthearted, it belongs to the brave," and I felt the desire to be brave.
Chapter titles let me know that this book would be touching on many topics that are not only currently relevant, but relevant for the long-term as well, and some of personal interest to me: Dissent, Inclusion, Empathy, Books (I was excited to read this chapter, as I love books myself, and by this time Rather and I seemed to be on the same page about so many things), Service.
Rather connected to a lot of things I've been thinking and feeling, and did it more eloquently than I ever could: confusion, loss, anger, fear, even hope.
I'm going out on a limb to say I love a lot of things about this book.
I love Rather's list of heroes, which includes Jane Addams, Ida B. Wells, Harvey Milk, and "Fighting Bob" La Follette. I love this list because I'm not real familiar with all of these people, and seeing their names made me want to find out more about them. I love it when reading about something leads me to want to read about something else, and this book did a lot of that.
"What Unites Us" asks good questions, and made me ask questions, too. For many of them it gave good answers as well. This is the best I could hope for from any book.
I love how the title is not only a statement, but also a question. I hope to use it as a mantra.
I love that the Afterword, titled "Citizenship" is probably the best chapter in the book. It gave me hope. Hope is one of the things I'd seen mentioned a lot in those Twitter comments, but didn't feel until I got to the end.
Rather writes "If we can elevate and share this idea of personal heroism, I believe we will be on the path to healing our republic." And I think it was this statement, more than any other, that gave me hope.
"What Unites Us" is timely, certainly, given that this is an election year, and the political atmosphere in the United States is fiery, to say the least. But I also think that it would seem timely if read in two years, or six, or ten.
The issues raised and the topics discussed, are always important, and they are always relevant, regardless of what's going on in the world around us.
"What Unites Us: Reflections on Patriotism" by Dan Rather and Elliot Kirschner, Algonquin Books of Chapel Hill, 2019.