Vladimir Putin Russia will not go to war with Ukraine as this is bad for business at home
The escalating bellicose posture of the Kremlin is a sign of weakness and not of strength. The West should focus on the real crisis including the pandemic, and the climate as opposed to play games with President Putin.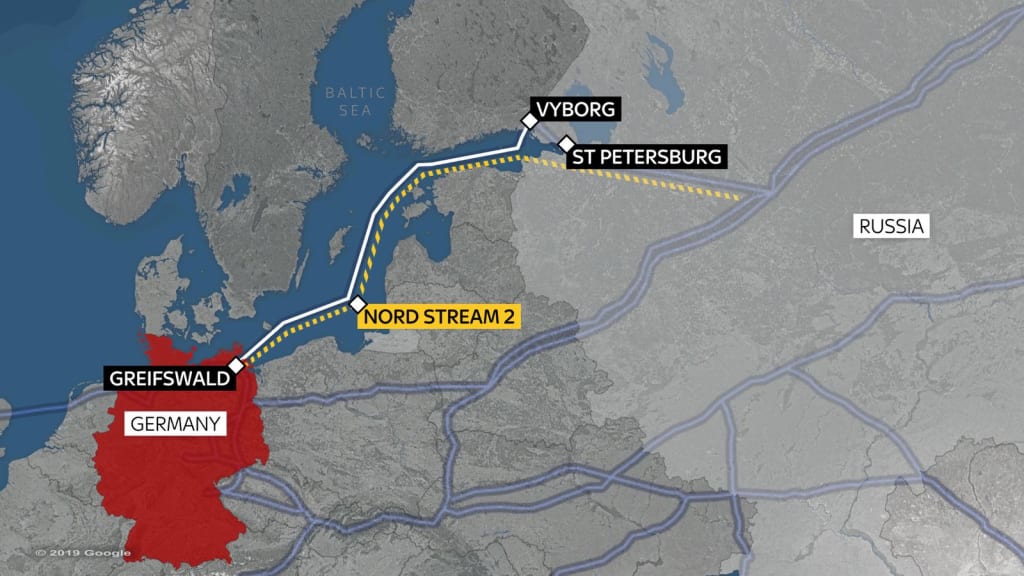 Source: Skynews. Vladimir Putin diversifying its gas supply to cut off Ukraine of the gas supply equation to Europe
Tension between Russia and Ukraine will increase in 2022 as most people expect conflict. Rest assured, there will not be war, and the bellicose attitude of Vladimir Putin's Russia is nothing but negotiation tactics to keep Russia's security and economic priorities alive.
Background: Before I address the crisis, it is useful to present Russia's aggression within its economic context.Given its hostile military posture, one may think that Russia is one of the world leading economies. However, in 2021 Russia was the twelfth largest world economy with gross domestic product amounting to 1.67 trillion U.S. dollars. This is just ahead of Spain, a country of 45 million people. As Covid 19 continued to affect the global economy, Russia's growth fell despite a resurgence in energy demand and prices. In 2021 Russia was the world's third-largest producer of petroleum (after the United States and Saudi Arabia) producing an average of 10.5 million barrels per day (b/d) in total liquid fuels (International Energy Agency). To keep its energy leadership alive (despite its rapidly depreciating energy infrastructure) Russia has been developing new natural gas pipelines like Nord-Stream and Nord Stream 2 which bypass Ukraine de-risking part of its supply to the Europeans. The Russia overall infrastructure investment needs in order for the country to stay competitive, are estimated at least $ 1 trillion (World Bank 2017). This is roughly 70% of Russia's GDP. These are investment the Kremlin cannot afford and that further demonstrates Russia's economic and political vulnerability.
Situation Analysis
Rivalry between Ukraine and Russia is not new and has been increasing since 2014, when the Russian military crossed into Ukrainian territory, annexing Crimea. Since then, the two countries have maintained military tensions despite the robust internationally managed cease-fire. An increase in hostilities escalated since October 2021. The US claims that Russia could launch a military attack by early 2022 with as many as 100 battalions with an estimated 175,000 troops. Russia has about 50 battalions on the border of Ukraine, and as of last week Russia's rhetoric has grown more belligerent. Vladimir Putin has demanded strong guarantees that Ukraine will not join NATO nor become the base for missile defense systems like those deployed in Romania and Poland. These are security concessions that Putin will not receive neither from NATO nor from the US.
What is the role of Nord Stream 2?
The recent completion of the Nord Stream 2 gas pipeline from Russia to Germany (via the Baltic Sea) is a great Russian energy and geopolitical achievement. It increased Russia's natural gas supply to Europe (if approved) generating large revenues while locking the Europeans into long term contracts. Once getting the final German regulator's approval, Nordstrom 2 would provide 15 % of Europe Natural gas carrying 55 billion cubic meters of natural gas every year. The pipeline would allow Russia to ship natural gas to Europe without going through Ukraine. Basically, Moscow can increase its political pressure on Ukraine without risking that Kyiv boycotts its gas supply. Additionally, Russia will save at least $ 2 billion a year in transit fees to be paid to Ukraine, plus avoid an enormous headache of having to deal with the Ukrainian government. The pipeline is an effective tool that Russia will use to continue playing gas geopolitics to expand its foreign policy objectives through the creation of long-term bilateral gas deals. Despite the EU opposition to the project, Germany has been a strong backer of Nord Stream as this project is of long-term strategic importance as it helps diversify Germany away from nuclear and coal. Russia needs Nordstream2 to become operational without delay. A non-approval would cause billions of dollars in revenue loss for Russia, and a geopolitical disaster for the Kremlin which has already invested over $ 11 billion (via Gazprom) for the development of the pipeline.
Russia seeking legitimacy
Russia has lost its global power brand and under President Putin since 2000, the country has tried to regain its global leadership role. With Putin, Russia has used all policy tools to assert itself on the global stage. One of the key threats for the Kremlin is the lost security influence "in its neighborhood" which is resulting in NATO recruiting new regional allies. Among these are Ukraine, which has accelerated negotiations to join NATO. If this materializes, the Kremlin will lose control of its neighboring countries, becoming even more isolated. The Kremlin's bellicose posture is in my view a sign of weakness and an effort to regain international legitimacy. Putin wants a seat at the table and would do anything short of war to get it. As of recently, NATO agreed to hold an emergency meeting to discuss with Russia its future expansion plan. This is a great success for Putin who wants to be respected as world leader. He wants to expand the buffer between NATO and the European Union through Ukraine, Belarus and Moldova. These tactics will not result in conflict, but Putin will escalate his rhetoric and would even be prepared to perform small scale aggressions into Ukraine to regain the lost ground.
Potential US led Sanctions against Russia
The risk from a partial occupation and war with Ukraine will cause massive economic and financial damage to Russia. Sanctions would deepen, among which the US would convince the Swift banking consortium in Belgium to kick out Russia from this global inter-banking communication system. This would complicate Russia's ability to do business as a chunk of Russian financing will have to use slower decrepit systems such as Telex or seeking alternatives. On the energy supply fronts, Nord Stream 2 would never come to life, as the US and EU pressure will block the regulators final certification and approval expected for Q1 of 2022. Loosing access to the SWIFT banking system and ending Nordstream2 would have devastating economic and financial consequences for Russia which could potentially even trigger the acceleration of the end of the Putin regime. Furthermore, an attack on Ukraine would undoubtedly increase NATO deployment of forces to this region, destroying Putin's ambition of expanding his security buffer.
Final Thoughts
There will not be war as this would be a destructive business decision for President Putin. Vladimir Putin is a shrewd politician and will not let this good crisis go to waste. His background in the KGB (today known as FSB), makes him unbeatable at chess matches and I believe he will come out of this crisis with greater popularity at home, and probably even on the world stage as a peacemaker. The Kremlin will escalate its military pressure to the highest level to deter NATO's expansion to the former USSR countries, while securing approval for energy projects that will cement Russia's long-term contracts with Europe. This tactic will divide Europe further and create the perfect policy fragmentation that Putin needs to navigate this crisis while increasing Russia energy market share. Ukraine's alliance with the west will be complicated by the crisis but not prevented.
politics
About the author
Andrea Zanon is a Founder, CEO and experienced technology and impact entrepreneur who has made powerful strides in his career. He is currently the CEO of WeEmpower Capital, which he founded in early 2018 and which promotes ESG.