Veteran Rock Star Changes Political Allegiance.
Rod Stewart Voices Concern On NHS.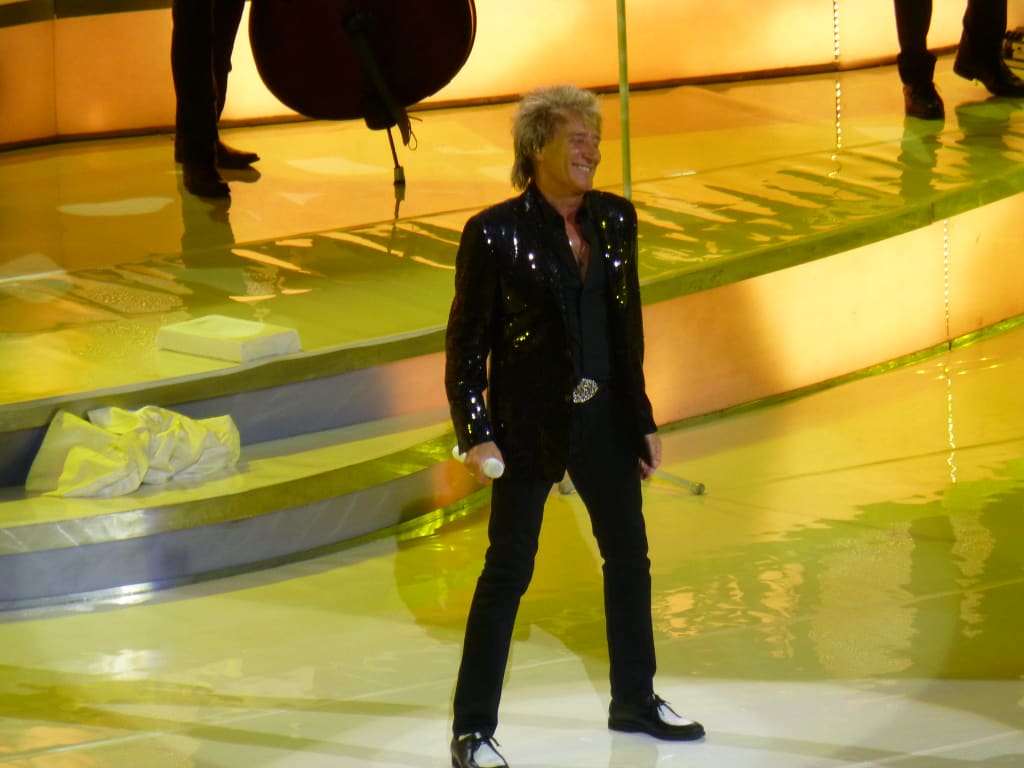 Rod In Concert.
On Sky's Sarah Jane Mee Show Rod Stewart rang up to discuss the NHS crisis. Mr. Stewart said in all his time in the UK he had "never seen (the NHS) so bad".
Mr. Stewart said the "government should stand down and give Labour a go". Mr. Stewart has always been a lifelong Conservative but appeared to change his allegiance on air.
Rod offered to pay for 20 patients on waiting lists waiting for cancer scans. Labour leader Sir Keir Starmer offered to go along "for a sing-along" with Rod. Sir Keir observed that Rod was espousing what many in this country are thinking now. That is the Tories need to step aside and let a "reforming Labour government" fix the NHS and other problems.
Deputy Leader Angela Rayner said she felt humbled that the veteran rock star would say such a thing.
Rod has been around since the 60s, 70s, 80s, and 90s, right up to today. Whatever fashions in music and go 'Rod the Mod' has always been there. Always reinventing himself for a new era and until recently always charting. Some may say his appearances now are pathetic as his voice does not have the power it once had. However, one cannot deny the star's longevity. Like the Rolling Stones, Elton John and a plethora of other artists from the past they are still around. They may not receive the attention they once did but never the less for the fans they are still loved and adored.
People pay attention to celebs especially now more than ever in a connected world through social media. We live in a world where celebs whether they be actors, musicians, politicians, sports stars, or whatever are listened to. Never have celebs been put on a pedestal as they have now. It's like going back to Roman times when celebs are treated like gods.
Rod is not the only celeb to come forward and back Labour. Gary Neville ex-England football player and sports pundit have voiced support for the party. Mr. Neville is one of two brothers. His brother Phil is currently working in the US in MLS or Major League Soccer. Gary Neville is someone you either love or hate. Mr. Neville has voiced the fact that one day he may stand for Labour in some capacity.
With people like Gary Neville and Rod Stewart voicing support for Labour it has to be a ringing endorsement for them. People like this whether you like them or not are doing Labour's work for them. Fans of these people who often hang on every word these people say will be influenced by these political endorsements. Hopefully attracting support for Labour and come to the general election that will deliver a Labour government in 2024.
The government and strikers seem to be at a standoff right now. Steve Barclay NHS Secretary seems extremely intransigent in the wake of strikes. Every industry it seems is going on strike demanding better pay and conditions. The cost of living is the bane of many people's lives. All most people are asking for is higher pay in line with costs going up.
What the government think of Rod's intervention may not be known. It seems the job of the Prime Minister is indeed too much for Wishy Washy. Sunak is beset like Boris before him with so much going on. Also like Boris, it's clear Sunak is not up to the job as Sir Keir observed at Prime Minister's Questions. Sir Keir said did the Prime Minister ever think to himself that the job of Prime Minister was too much for him.
About the Creator
I am a freelance writer currently writing for Blasting News and HubPages. I mainly write about politics. But have and will cover all subjects when the need arises.
Reader insights
Be the first to share your insights about this piece.
Add your insights