VALKYRIES – Part 6:
Donald Trump's International Diplomatic Policies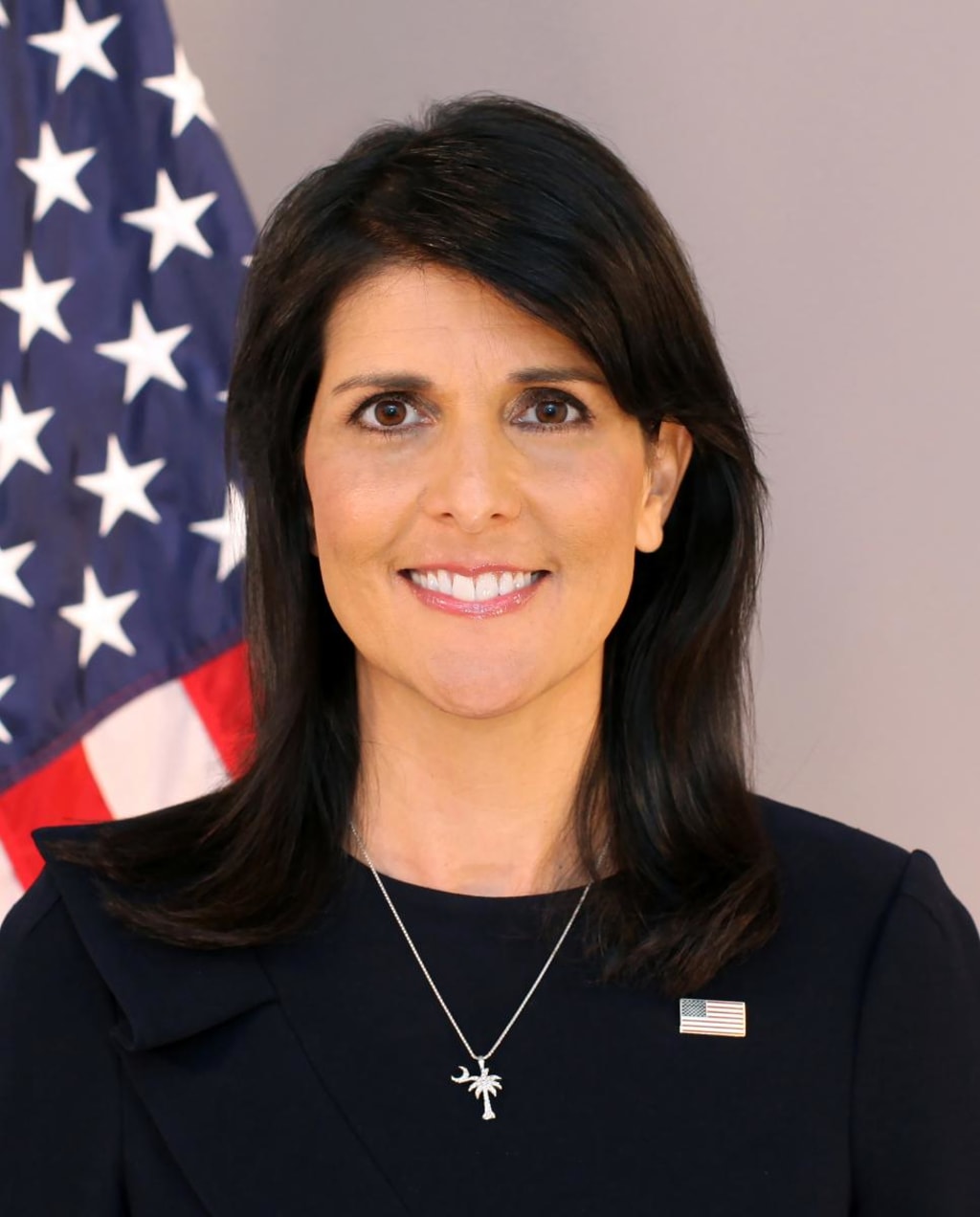 Nimrata "Nikki" Haley, the 29th US Ambassador to the UN in 2017. Image: Wikipedia.
"'Progressive' Democrat Congresswomen, who originally came from countries whose governments are a complete and total catastrophe, why don't they go back and help fix the totally broken and crime-infested places from which they came?" – Former US President Donald Trump in a now-deleted Twitter rant about "The Squad" in 2019.
The above tweet by former President Donald Trump, posted July 14th, 2019, on his now permanently suspended Twitter account – referred to four young female members of Congress.
As I mentioned in my very first post in this VALKYRIES blog series, those women are Alexandria Ocasio-Cortez (D-NY), Ilhan Omar (D-MN), Rashida Tlaib (D-MI), and Ayanna Pressley (D-MA).
They adopted "The Squad" nickname after winning individual elections to the 116th US Congress as freshmen members in 2018.
"The Squad" began earnestly pursuing progressive political policies. They also grabbed national media attention for opposing racism, sexism, xenophobia, and religious bias.
Mr. Trump said the women "…came from countries whose governments are a complete and total catastrophe, why don't they go back…."
Even though Ocasio-Cortez and Pressley were born and raised in the US, Trump implied all four women were not truly Americans. On July 15th, 2019, Donald Trump doubled down on the tweets that some people viewed as racist and sexist.
The former President hosted a small business-themed event titled the "Made in America Product Showcase" on the South Lawn of the White House. As he walked along the lawn perusing the business display tents of bike makers, boat companies, motor homes, and military vehicles — the press began to pester Trump with questions about his tweets concerning the four freshmen Democratic Congresswomen.
When a reporter later asked the President, "Does it concern you that many people saw that tweet as racist and that White nationalist groups are finding common cause with you on that point?" Trump said, "It doesn't concern me because many people agree with me."
Even the most politically conservative racial, ethnic, and cultural minority (like myself) has heard a variation of Mr. Trump's sentiment directed at themselves during their lives.
My disgust at the infamously racist "Unite the Right" protest in August 2017 was my initial break from Trumpism and the national Republican party.
However, Donald Trump's July 2019 tweet about "the Squad" is when I began to truly connect his personal beliefs to his domestic and international political policies.
Trump's International Diplomatic Policies avatar was his former Ambassador to the United Nations (UN), Nikki Haley.
UN Ambassador Nikki Haley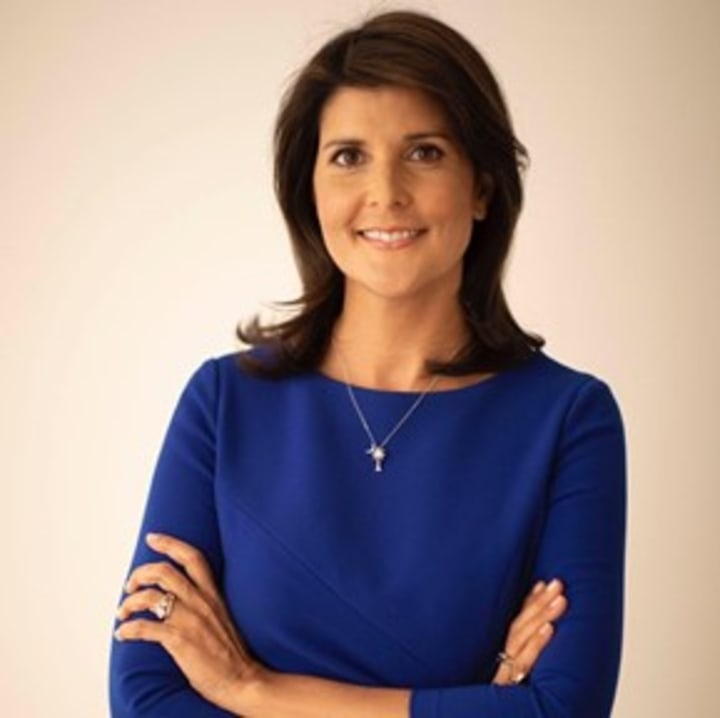 When Donald Trump selected former South Carolina Governor Nikki Haley to be his UN Ambassador on November 23rd, 2016, establishment politicos and media members took the move as a signal that his administration's international policies would be moderate.
During Haley's 13-year political career before her appointment as UN Ambassador, she crafted a reputation as a moderate Republican. She earned her status by supporting a few liberal social issues while holding traditional evangelical Christian views on conservative cultural and economic topics.
Yet, when Ambassador Haley took office, she quickly pivoted toward President Trump's foreign doctrine of "non-intervention" and economic protectionism.
The Trump administration signaled a radical departure from traditional political norms with Donald Trump's first budget proposal on Wednesday, March 15th, 2017.
Mr. Trump's initial budget proposal called for deep cuts in programs that his administration viewed as improper use of taxpayer money like foreign aid, domestic and international environmental protection — and medical research.
The aims of the foreign policy of the Trump administration included a focus on strengthening border defenses and immigration controls; security by fighting terrorists abroad; an expansion of the US military; an "America First" approach to trade – and diplomacy whereby "old enemies" might become "friends."
President Trump's foreign diplomatic policies focused on financial and business interests more than anything else — even over his stated military concerns.
Via Ambassador Haley, the Trump administration challenged US participation and economic investments in the UN and the North Atlantic Treaty Organization (NATO).
While Nikki Haley led the administration's challenge to traditional international partnerships and treaties, Trump sought to strengthen diplomatic ties with traditional enemies like Russia, China, and North Korea.
Trump's diplomatic overtures to all three countries caused great alarm among international policy experts, as they are all autocratic regimes.
Trump exhibited intensely focused resentment toward the "cornerstones" of President Barack Obama's diplomatic legacy like the Iran Nuclear Deal, the Trans-Pacific Partnership (TPP) Agreement, and the Paris Climate Agreement. As a result, Mr. Trump took executive action to end American participation in all three agreements.
What other policy issues marked UN Ambassador Nikki Haley's initial forays into international diplomacy?
The international UN policies of Mr. Trump and Ambassador Haley stressed the principle of self-reliance as the foundation of international executive strategies for economic development, military security, and international trade.
Haley made a concerted effort to signal to the UN that the foreign policy initiatives of the Trump administration would promote foreign policy objectives designed to keep the political affairs of other countries at a distance.
It also meant adopting the economic trade policies of protectionism, which restricts consumer trade imports from other countries by imposing tariffs, import quotas, and other government regulations on imported goods.
The few times that Ambassador Haley proposed and promoted intervention in international affairs, the Trump administration went to great lengths to support allies like Israel, Saudi Arabia, and India. All three are countries that, like the US – are unpopular amongst the UN General Assembly.
Much of Mr. Trump's animosity toward the UN was rooted in his negative view of long-standing trade relationships and deals. He thought past trade deals were unfavorable to American economic and military interests.
The international policies promoted by President Trump and UN Ambassador Haley frayed diplomatic relationships with long-time international political partners like Mexico, Canada, Germany, France, and England.
How successful were President Donald Trump's international diplomacy efforts?
On Wednesday, July 28th, 2017 — Condoleezza Rice, the former Secretary of State under President George W. Bush — defended President Donald Trump during an interview with CNBC. Mrs. Rice suggested that people who trashed Trump over everything he said or tweeted about should reconsider their harsh assessments of his methods.
"While the language may be different, and we might talk about needing to deal with policy, I think you're going to see that the view that Americans' interests and values are always linked will come around," Rice said.
Mrs. Rice's comments came as a surprise to many because her most significant remarks during the 2016 Presidential campaign included harsh criticism of then-candidate Trump in the wake of the leaked "Access Hollywood" tape showing the President bragging about sexually assaulting women.
On October 8th, 2016, Rice wrote on Facebook: "Enough! Donald Trump should not be President. He should withdraw. As a Republican, I hope to support someone who has the dignity and stature to run for the highest office in the greatest democracy on earth."
However, in the wake of Mr. Trump's surprise victory in 2016 — Mrs. Rice suggested to Vice President Mike Pence-elect that then-ExxonMobil CEO Rex Tillerson would be an excellent choice to serve as the Secretary of State in the Trump Administration.
Secretary Rice's recommendation eventually led to a thawing of relations between her and President Trump.
North Korea
In August 2017, the international community received a shock after the United States intelligence agencies reported that North Korea finally reached the turning point in their long quest for a weapons-grade deliverable nuclear warhead.
After North Korea declared the potential for a viable nuclear warhead, President Donald Trump's Secretary of Defense James Mattis released a statement with a promise that North Korea would face harsh consequences if the county continued pursuing a nuclear weapon.
In his statement, General Mattis said:
"The United States and our allies have the demonstrated capabilities and unquestionable commitment to defend ourselves from an attack. Kim Jong-un should heed the United Nations Security Council's unified voice and statements from governments worldwide, who agree the DPRK poses a threat to global security and stability. The DPRK must choose to stop isolating itself and stand down in its pursuit of nuclear weapons. The DPRK should cease considering actions that would lead to the end of its regime and the destruction of its people."
General Mattis released his strongly-worded statement after President Trump warned North Korea that threats against the US "will be met with the fire and the fury like the world has never seen."
The crises eventually led to the historic 2018 North Korea–United States Summit, commonly known as the Singapore Summit — between North Korean Chairman Kim Jong-un and US President Donald Trump.
The meeting took place at the Capella Hotel in Sentosa, Singapore, on June 12th, 2018. It was the first-ever meeting between leaders of North Korea and the United States.
President Trump and Chairman Kim signed a joint statement, agreeing to security guarantees for North Korea, new peaceful relations, the denuclearization of the Korean Peninsula, recovery of the remains of soldiers, and follow-up negotiations between high-level officials.
Although talks eventually broke down in subsequent summit meetings, the Singapore Summit is Donald Trump's international diplomacy efforts unquestioned highlight.
Russia
Nevertheless, the international diplomatic issue that caused the most controversy and consternation for the Trump administration was the relationship with Russian President Vladimir Putin.
The problems began in March of 2017. That is when mainstream media outlets started reporting allegations that Donald Trump and some of his surrogates communicated extensively with Russian spy operatives during the 2016 presidential campaign.
There is widespread speculation that Russia's goal was to undermine the integrity of the American electoral system. Vladimir Putin favored Mr. Trump for President of the United States over Secretary Hillary Clinton because of Trump's many business affiliations with Russia.
Hillary Clinton also had a hostile relationship with President Putin when she served as Secretary of State from 2009 to 2013.
After Mr. Trump won the election in 2016, he began to strengthen diplomatic ties with traditional enemies like Russia, China, and North Korea.
But U.S.-Russian relations continued to deteriorate after Trump took office. He began his administration by criticizing Russia over its activities in Syria and Ukraine and its close ties to North Korea.
But President Trump also repeatedly praised President Putin as a "strong leader." Nevertheless, he received sharp criticism for siding with Putin's denial of Russian interference in the 2016 presidential election.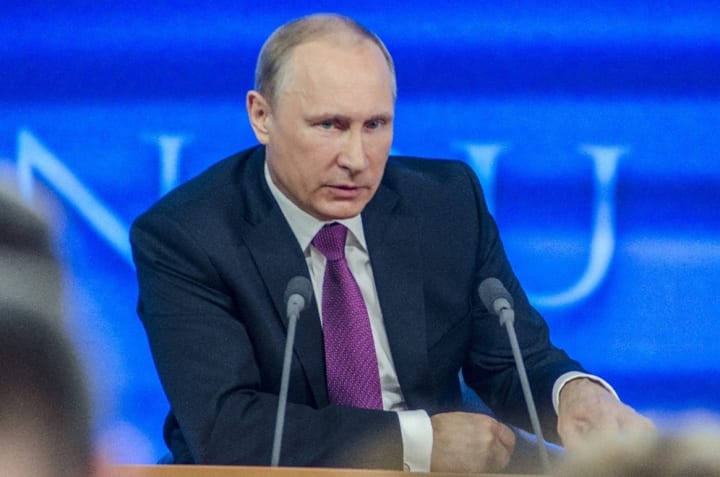 After the public release of the Mueller Report on April 18th, 2019, the DOJ concluded that the Trump campaign welcomed Russian interference. However, there was insufficient evidence to bring any conspiracy charges against Trump or his associates.
After citing a Justice Department guideline that prohibits the federal indictment of a sitting president, Robert Mueller did not conclude obstruction of justice.
The Trump administration even made the release of the Mueller Report controversial. Attorney General William Barr, a Trump loyalist — released the Barr Letter on March 24th, 2019. The Barr Letter was a four-page summary of the Mueller Report that Mr. Barr sent to House and Senate Judiciary Committee leaders.
Barr put forth the letter as the "principal conclusions" of the Mueller Report. However, in March 2020, a federal judge sharply criticized Barr's characterizations of the Mueller Report.
In his decision on a 2020 Freedom of Information Act case, Judge Reggie Walton wrote that Barr's description of the Mueller Report did not match the special Counsel's actual conclusions.
**********
My Opinion on Donald Trump's International Diplomatic Policies
As a political conservative and military "hawk," I was initially enthusiastic about Donald Trump's radical change in US diplomatic policies.
But in 2018, I started to investigate American diplomatic relationships with our allies, NATO, and the UN. I have since come to a greater understanding of our role in NATO and the UN.
These institutions are not only set up for greater security and diplomatic interactions. The UN is vital in fostering coordination between all nations to alleviate the social and economic ramifications of poverty, racism, misogyny, xenophobia, and religious bigotry.
All these programs were vital for continued strong relationships with American international allies.
Also, I have been researching and writing about the challenges to public education caused by COVID-19 since April 2020. As always, poor and minority children fall behind in schools around the planet. In addition, impoverished families do not have access to computers, e-devices, web services, or remote instruction.
I am not certified as a teacher, but I did one year of graduate school in the University of Buffalo department (UB). So, I know how to create lesson plans, a syllabus, and class notes.
I am astute enough to realize the importance of programs like UN Women, which studies and implements campaigns for gender equity, female participation in education, and sports and the effect and influence of consumer technology on modern societies.
For instance, the UN Women's HeForShe Campaign encourages men to promote safe spaces online for female gamers, programmers, and computer engineers.
Finally, we must consider the devastating effect that the Trump administration's international policy toward COVID-19 affected people's mental health and wellness in the US and across the world.
The stark rise in violence, xenophobia, and racism against East Asians since 2020 reveals the importance of challenging Donald Trump's fearmongering of Asians at the beginning of the coronavirus pandemic.
Unfortunately, we still live in a time where poverty, race, and gender present significant roadblocks to equality.
I now think Donald Trump's views on international diplomacy were myopic for these reasons and more.
white house
Y. Kerry Sara is a freelance writer and yoga instructor (RYT, 200 hours). He is also a war-time military veteran (US Army, Desert Storm - 1990-91). Mr. Sara is the author of the self-published fiction novel J-Villains (2019 - Amazon.com).