Tump's ABCs Through Quotes
The Alphabet Is a Tool to Understanding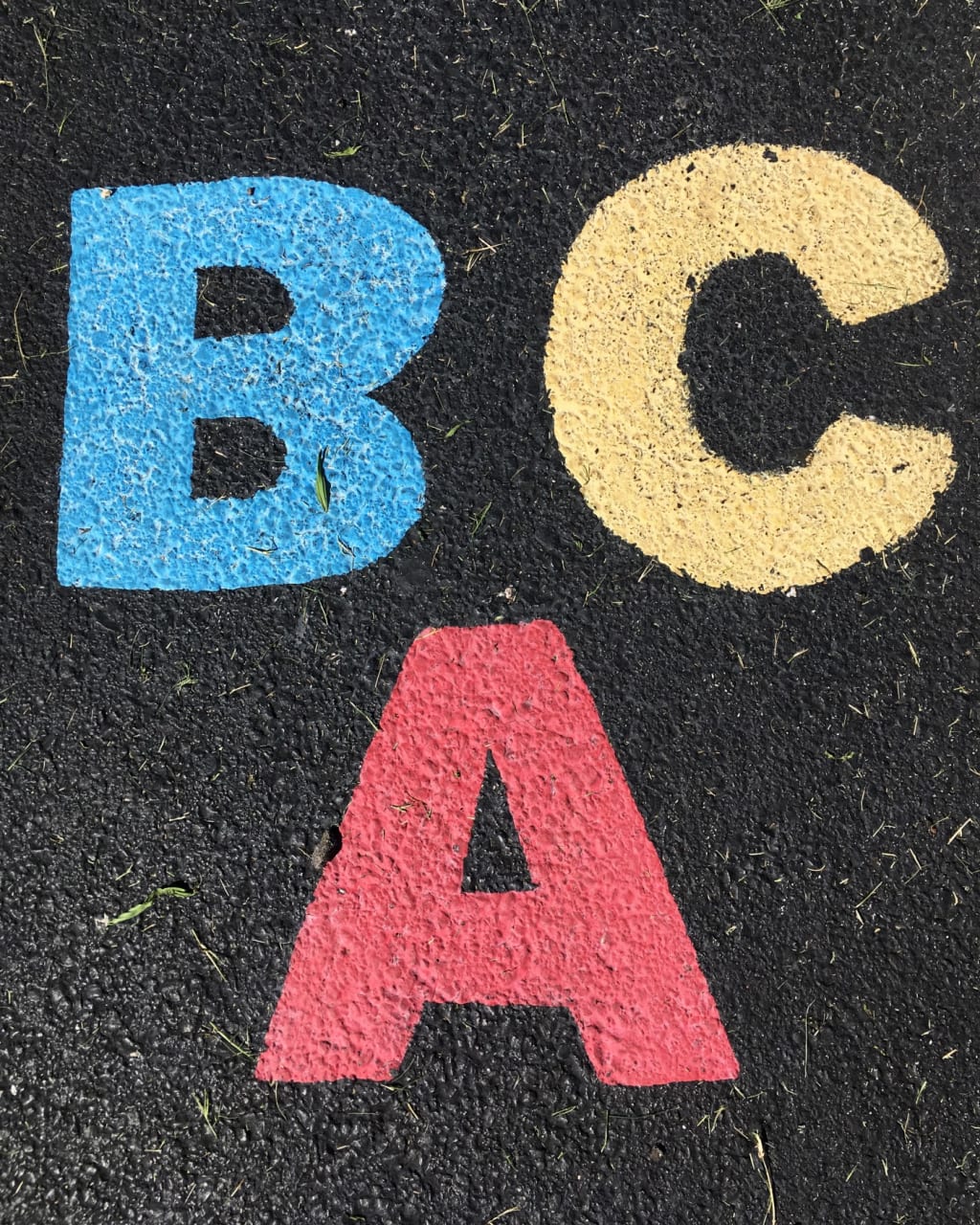 Photo by David Ballew on Unsplash
We teach children to understand the world around them through the application of the alphabet.
When we travel, we identify places and items for each letter of the alphabet as we view them from the car window to learn new words and become acquainted with the area.
I wondered if this tactic would be valuable in examining the political world of our president, Donald Trump. So for your intellectual stimulation and cultural awareness, I present the alphabet through quotes from President Donald Trump.
A
Affection
"I Just start kissing them. It's like a magnet. Just kiss. I don't even wait. And when you're a star, they let you do it."
B
Beauty
"The beauty of me is that I'm very rich."
C
Chauvinist
"I think that putting a wife to work is a very dangerous thing. …I don't want to sound too much like a chauvinist, but when I come home and dinner's not ready, I'll go through the roof, okay?"
D
Domestic Policy
"I think if this country gets any kinder or gentler, it's literally going to cease to exist."
E
Economics
"I'm not a schmuck. Even if the world is going to hell in a hand-basket, I won't lose a penny."
F
Family
"I've had bad luck with all my wives. The first one left me and the second one didn't. The third gave me more children!"
G
Global Warming
"The concept of global warming was created by and for the Chinese in order to make U.S. manufacturing non-competitive."
H
Honesty
"I think the only difference between me and the other candidates is that I'm more honest and my women are more beautiful."
I
Inspections
"Before a show, I'll go backstage and everyone's getting dressed, and everything else, and you know, no men are anywhere, and I'm allowed to go in because I'm the owner of the pageant and therefore I'm inspecting it…You know, they're standing there with no clothes. And you see these incredible looking women, and so, I sort of get away with things like that."
J
Jobs
"I will be the greatest jobs president that God ever created."
K
Killing
"He was screaming, crying and whimpering," Trump said of Baghdadi. "And he was scared out of his mind."
L
Leaks
"We were going to notify them last night but we decided not to do that because Washington leaks like I've never seen before. There's no country in the world that leaks like we do. And Washington is a leaking machine."
M
Media
"You know, it really doesn't matter what the media write, as long as you've got a young and beauty piece of ass."
N
Nutrition
"I have never seen a thin person drinking Diet Coke."
O
Opinions
"He doesn't have a birth certificate. Now, he may have one but there's something on that birth — maybe religion, maybe it says he is a Muslim. I don't know. Maybe he doesn't want that. Or he may not have one."
P
Presidency
"I loved my previous life. I had so many things going. This is more work than in my previous life. I thought it would be easier."
Q
eQuality
"When Mexico sends its people, they're not sending the best. They're not sending you, they're sending people that have lots of problems. They're bringing drugs, they're bringing crime. They're rapists and some, I assume, are good people, but I speak to border guards and they're telling us we're getting."
R
Rules and Regulations
"The problem is we have the Geneva Conventions, all sorts of rules and regulations, so the soldiers are afraid to fight."
S
Sexual Assaults
"26,000 unreported sexual assaults [sic] in the military-only 238 convictions. What did these geniuses expect when they put men & women together?"
T
Terrorists
"In the Middle East, we have people chopping the heads of Christians, we have people chopping the heads off many other people. We have things that we have never seen before — as a group we have never seen before, what's happening right now. The medieval times — I mean, we studied medieval time — not since medieval times have people seen what's going on. I would bring back waterboarding and I'd bring back a hell of a lot worse than waterboarding."
U
Unemployment
"I've seen numbers of 24 percent — I actually saw a number of 42 percent unemployment. Forty-two percent. 5.3 percent unemployment — that is the biggest joke there is in this country.…The unemployment rate is probably 20 percent, but I will tell you, you have some great economists that will tell you it's a 30, 32. And the highest I've heard so far is 42 percent."
V
Violence
"I could stand in the middle of Fifth Avenue and shoot people and I wouldn't lose voters."
W
Wall
"I will build a great wall — and nobody builds walls better than me, believe me — and I'll build them very inexpensively.
X
X-Rated
"I did try and fuck her . . . I moved on her like a bitch, but I couldn't get there. And she was married."
Y
Youth
"You know, it really doesn't matter what the media write as long as you've got a young and beautiful piece of ass."
Z
Ama — Zing
"I'm proud of my net worth; I've done an amazing job . . . The total is $8,737,540,000 USD. I'm not doing that to brag because you know what, I don't have to brag."