Remember When That Happened? (2018 Edition)
A lot has happened over the last 365 days. Let's begin.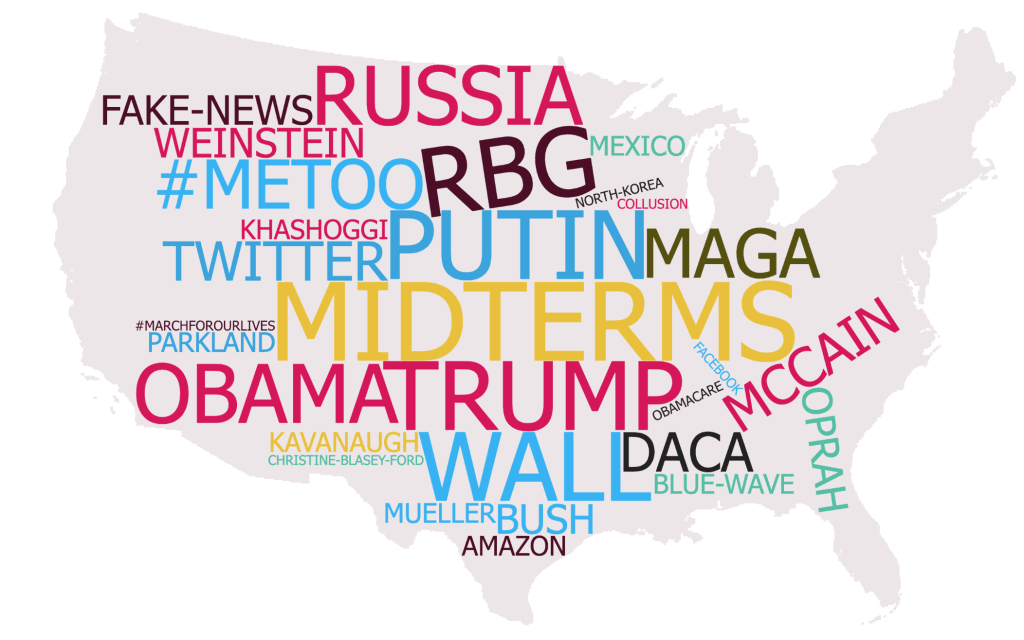 Words that were frequently mentioned throughout 2018. Illustration by Gabriella Novello
This year was filled with controversies and happy endings, but do you remember that time when President Trump gave up on his Presidential Advisory Commission on Election Integrity?
Many things happened this year that either made heads spin or brought thousands together. As 2019 creeps close around the corner, it is important to reflect on the many events drowned out from noise. Here are some of the biggest moments that shaped 2018.
Rise of the #MeToo Movement
The #MeToo movement has shown that the general public is taking a more serious approach to sexual assault in the workplace. In January, a judge sentenced former USA Gymnastics team doctor Larry Nassar to a minimum of 40 years in prison for sexually assaulting at least 160 athletes since 1992.
"I've just signed your death warrant," Judge Rosemarie Aquilina told Nassar during his sentencing hearing.
Similarly, media mogul Harvey Weinstein faces multiple charges of attempted rape and other sex acts. Weinstein turned himself in to the New York Police Department in May, where he faces up to 25 years in prison.
Powerful men in America have a longstanding history of getting what they want, and history repeated itself with the confirmation of Justice Brett Kavanaugh. Dr. Christine Blasey Ford accused Kavanaugh of sexual assault and testified before the Senate Judiciary Committee in September.
During Kavanaugh's testimony, he claimed Democratic senators orchestrated a smear campaign in revenge on behalf of the Clintons, cried, and asked Sen. Amy Klobuchar whether she ever gotten blacked-out drunk.
Republican Senators yielded their questions to Rachel Mitchell, a sex crimes prosecutor from Arizona, and was denied a request for an investigation by the F.B.I. The partisan events that unfolded throughout Kavanaugh's confirmation process should take us back to 1991, where Sen. Chuck Grassley (R-Iowa) also sat on the Judiciary Committee during Anita Hill's testimony at Thomas' hearing.
#MarchForOurLives and the National Gun Debate
On February 14, a teen gunman opened fire at the Parkland High School, killing 17 students and teachers. In the aftermath of the shooting, then-Governor Rick Scott signed into law a bill that raised the minimum age to purchase a firearm and increased funding for mental health services.
There have been 25 mass shootings in schools, according to a database run by The Washington Post. In January, a 15-year-old opened fire at a Kentucky high school, killing 2 people and injuring 18 others. In May, a 17-year-old opened fire at a Texas high school, killing 10 people and injuring at least 10.
The national gun debate has shifted greatly in recent months, where nearly six in 10 Americans believe in some variation of gun violence prevention laws.
More specifically, the shooting in Parkland sparked a movement with its student body. Along with participating and leading the March for Our Lives, Parkland students traveled across the country to register young voters before the midterm election.
#FakeNews and Attacks on the Free Press
This year was especially difficult for American journalists. With the rise of fake news and violence toward members of the media, a lot still needs to be done in order to restore the public's trust in the news media.
The most notable attack on the press was the mass shooting at the Capital Gazette in Annapolis, Maryland. On June 28, a gunman opened fire on the news room, killing five people and injuring two others.
A Florida man and avid Trump supporter was arrested and charged with sending at least a dozen pipe bombs in the mail to former public officials and members of the media. Cesar Sayoc, 54, allegedly sent bombs to critics and political opponents of Trump, including former presidents Barack Obama and Bill Clinton, as well as CNN. There were no injuries and the bombs were all successfully deactivated.
Moreover, the Trump administration sided with Saudi Price Mohammad Bin Salman following the death of Washington Post columnist Jamal Khashoggi, denying his involvement. Bin Salman, commonly referred to as MBS within Washington's beltway, allegedly ordered the murder of Khashoggi because he was a critic of the regime. Also, the intelligence community concluded with high confidence that MBS was responsible.
America's Withdrawal from the Global Stage
The Trump administration has, for better or worse, chosen to withdraw itself from the world stage in 2018. President Trump and his advisors have taken more of a transactional approach in foreign policy decisions and showed more animosity toward the intelligence community than any president before him.
In July, President Trump met with Russian President Vladimir Putin in Helsinki, sparking a national debate on the principally secret conversation.
Moreover, the Trump administration withdrew the United States from the Joint Comprehensive Plan of Action, or the Iran Nuclear Deal, and implemented sanction on Iran.
President Trump also met with the North Korean leader, Kim Jong Un, in Singapore in June. The summit included a few theatrical events and pleasantries.
Following the announcement of withdrawing troops from Syria and Afghanistan, Secretary of Defense Jim Mattis resigned from his position effective February 2019. Many within Congress released statements in shock and support of Mattis, although reports say that President Trump likely did not read his resignation letter.
Mattis' departure furthered the fear throughout Washington that there are few restraints on the president. The Trump administration has yet to fill dozens of positions within key executive agencies, showing no clear direction for the career professionals.
The Battle on Immigration
The Trump administration implemented a "zero tolerance policy" toward illegal immigration at the southern border, prosecuting all illegal crossings and thus separating parents from their children. Although President Trump claimed this policy was due to a "horrible law" created by Democrats, Politifact rated that claim false because no such law existed. Within a two-week period in May, this policy resulted in the separation of more than 2,600 minors from their parents.
Moreover, the debate surrounding Trump's campaign promise to build a wall at the southern border, paid for by the Mexican government, has contributed to multiple government shutdowns. Democrats attempted to include legislation for recipients of Deferred Action for Childhood Arrivals in the spending bill in January, but failed to do so as polls showed Americans would rather the government re-open than tackle immigration reform.
Just before the Christmas holiday, President Trump publicly took credit for shutting down the government if he did not receive full funding for a border wall. Although the Senate unanimously passed a Continuing Resolution to temporarily fund the government, the House failed to pass the bill after Trump announced he would not sign a bill that did not include border wall funding.
The Changing of Eras
The United States said goodbye to some of the most well-known celebrities and career civil servants this year, setting course for a new era of public figures and influential politicians.
While many viewed the late-Senator John McCain (R-Az.) as a staunch conservative, he was also revered by many. On August 25, Sen. McCain passed away after complications from a malignant brain tumor. Some of his lasting memories include his years of service during the Vietnam War and his vote to prevent the repeal of the Affordable Care Act.
The nation also said its final goodbyes to the former President George H.W. Bush and former first lady Barbara Bush this year. Fashion designer Kate Spade and chef Anthony Bourdain's suicides gripped the nation this summer. The country celebrated the life of Aretha Franklin as her memorial service aired live on television.
Furthermore, as one era comes to a close, a new one begins.
The midterm elections will fundamentally change how Congress and the federal government operates. Not only did the Democrats win 40 seats in the House of Representatives, the incoming freshman class is the most diverse it has ever been.
The Rise of Social Media and Tech Companies
Silicon Valley faced close criticism throughout the year, as reports exposed data breaches and deception by companies like Facebook. Multiple reports throughout the year showed that Facebook not only faced three knowninstances of hacking, the New York Times reported an explosive report on the amount of unpublished data Facebook shared with other tech companies.
Amazon also took a major step in expanding its influence on the east coast when news broke in November that it chose Long Island City, New York, and Crystal City, Virginia, as its second headquarters. The transnational corporation received bids from more than 20 metropolitan cities in its quest for a new location.
This year, right-wing talk show hosts and conspiracy theorists carved a larger platform for themselves. As their claims became more bombastic, so did an outcry from the public to punish such accounts.
Right-wing conspiracy theorist Alex Jones was banned from Facebook, Twitter, and other platforms he created content. Following Laura Ingraham's mocking of Parkland shooting survivor David Hogg, a grassroots Twitter campaign began to have her show's sponsors leave.
What's next for 2019?
With the federal government shutdown likely to continue into the new year, it is likely that Congress and the White House will continue to clash in its efforts to have a functioning government. Much remains to be seen.