Paula White Continues to Scam the Faithful out of Money
Con artist pastor continues her grifter ways while advising the president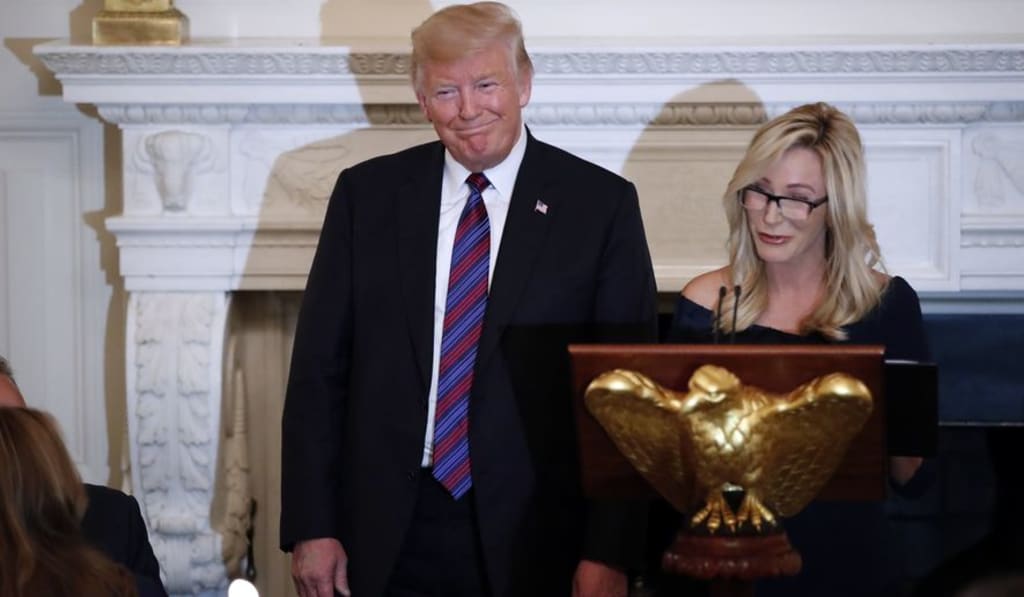 Con artists
If you have ever followed Paula White's television ministry you can tell in advance what she will say and when to fill her coffers with money. Each spring when Jewish people are observing Passover, this Christian preacher tells the viewing audience to send her a special Passover seed, AKA money, so they will receive a supernatural financial windfall from heaven. It is common in word of faith ministries to fleece the flock by utilizing specific dates on the calendar or Bible verses. On New Year's Eve it is common for preachers in the word of faith fellowship to ask for a specific sum that ties into the coming year. In 2000, people across the land were asked to give $2,000, $200, or $20.00 based on their personal situation. I've watched TV preachers ask for $633 because they were discussing Matthew 6:33 as an example.
Now, Paula White, who is advising the president of the United States is asking her television viewing audience to give her $229 for prophetic instruction on how to defeat your enemies. This time the scripture reference is 1 Chronicles 22:9. This is utter nonsense and it only continues because people buy into it. Let us use constructive criticism for a moment. I have been watching this play out for over 20 years. Those who give their money never see the financial blessing that is promised, while Paula White, Creflo Dollar, Rod Parsley and the rest obtain more millions off the backs of church folk.
Instead of more people catching on to this scheme, they shoot the messenger and keep on giving. I have been deleted and blocked on Facebook by those who defend this foolishness, I received hate mail when I wrote about it in a newspaper column and I was told I was hated by the local church community because of my stance against false doctrine. Now that Paula White is Donald Trump's personal pastor and adviser she will probably milk this for all it is worth. Her followers will believe it when she tells them that by giving money to her, a door will open to put them in prominent places. A quick look at White's resume will show that her example is not one to follow. Please note that I am not attacking Paula White personally, but stating facts about her that should be taken into consideration.
I recall watching her television show many years ago and three prominent celebrity couples were singing White's praises and saying how she got all their marriages back on track. Fast forward and all three of these couples divorced and Paula, who has written books on relationships, is now on her third marriage. This makes it obvious that a connection to this woman has no bearing on anyone else's personal relationship and that she has trouble with her own. In addition, her Without Walls church in Florida filed for bankruptcy March of 2014. White later, somehow, got herself installed as the pastor of New Destiny church after the founder Zachary Tims died. There was an uproar from other preachers who felt they were more deserving.
White recently walked away from this ministry which she renamed City of Destiny and where she named her son Brad Knight her successor and daughter-in-law Rachel is the co-pastor. This is another thing that is done in the word of faith movement. Spouses are made co-pastors and children are licensed into the ministry so that they can keep it all in the family. This is vastly different from churches where the congregation votes on such matters. Back to the point, now that White has moved on to the White House she is still fleecing the flock who continue to watch her television broadcast. People need to wake up to the grifter ways of these wolves in sheep clothing.
White and her bunch began beg money from the television audience. They promise blessings for those who give and invoke curses on the ones who do not fall for the con. The bottom line to all of this is quite simple. It is elementary, my dear Watson. If the Creator is supposed to bestow riches untold to you for giving to Paula White, then why is she begging you for money? If the laws of giving and receiving worked the way she promises, then she would be overflowing with blessing. Wake up people, this is nothing more than the fairy tale Stone Soup playing out in front of you. If you send White your tithes and give in all the extra yearly begging that she does, then it is you-youself-and you who have provided the lavish lifestyle she is living.
opinion
About the author
Cheryl is a poet, freelance writer, published author and former Newspaper columnist. She has degrees in Psycology and Biblical studies. She enjoys sharing natural cures, and Nostalgia related info. Tips are greatly appreciated.
Reader insights
Be the first to share your insights about this piece.
Add your insights