No one benefits from linking India-Pakistan trade to contentious issues.
India-Pakistan trade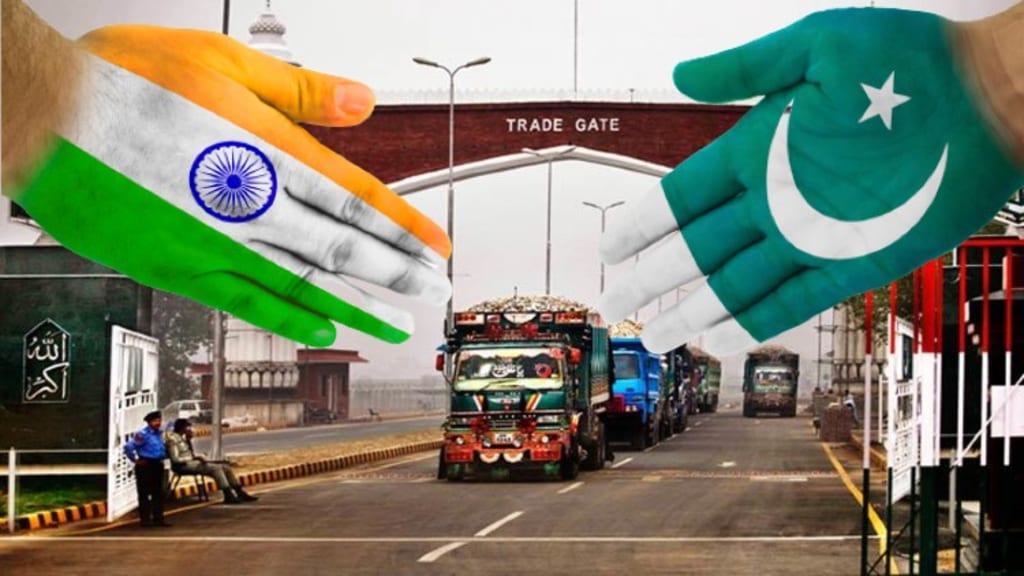 In an interview a few days ago, Mian Mohammad Mansha, the head of Pakistan's largest commercial group, said it was time for India and Pakistan to restore commerce, which may lead to other opportunities for better relations.
Following the Pulwama terrorist incident and the passage of the Jammu and Kashmir Reorganisation Bill in 2019, trade between the two countries was effectively halted, causing misery for thousands of families on both sides of the border.
The recent change of leadership in Pakistan provides yet another opportunity for the two countries to resume engagement. In response to Prime Minister Modi's good wishes, Pakistan's new Prime Minister replied to him, saying, "...peaceful and cooperative connections between Pakistan and India are important for the progress and socioeconomic uplift of our people and for the region."
This comes on the heels of other positive messages from Pakistan in recent weeks and months, including former Commerce Advisor Razak Dawood saying that trade with India is urgent and mutually beneficial, and General Bajwa, Pakistan's army chief, talking about trade and connectivity with India and the need for both sides to sit down and resolve differences.
The message comes against the backdrop of a tranquil border where a ceasefire has been in effect for over a year. The notion that trade cannot be performed with unfriendly neighbours with malevolent intent is frequently heard.
However, such justifications overlook the fact that trading is neither a reward nor a favour to anyone. A mutually beneficial transaction is trade. Even if you don't like the store owner, you go to your local grocery store since it is the most convenient way to get your food.
Similarly, you trade with your neighbouring country because you can get good deals on a variety of goods. This is the essence of international trade, in which the government's duty is to provide a safe and unrestricted environment for the private sector, which, in the course of trading and profiting, also offers higher-quality jobs (than domestically oriented enterprises) and consumer benefits.
Benefits of resuming trade-Of course, Pakistan's economy is a mess. Its new administration is returning to the IMF for talks on resuming the country's on-again, off-again Extended Fund Facility, which was granted in July 2019 for around $6 billion and was envisioned as a 39-month programme. Pakistan is experiencing a balance of payments crisis, with its currency under pressure, reserves in jeopardy, and a worsening current account deficit, which the IMF predicts would rise from 0.6 percent of GDP in 2020-21 to 5.3 percent in 2021/22.
In certain ways, the Indian economy is likewise strained. While the COVID recovery is expected to continue in 2022/23, with growth of 8% (down from 8.3 percent in 2021-22), the unemployment rate is expected to remain high, at 7.9% in April 2022, according to CMIE forecasts.
More crucially, people appear to be quitting the labour market, presumably because they are not confident about finding work: the labour force decreased by 3.8 million in March 2022. Regardless of how the employment/unemployment data is interpreted,
It is apparent that India is experiencing a jobs crisis, with low levels of young and female employment a key source of concern for policymakers. This is even more concerning because future growth is expected to decelerate (including by the IMF and the World Bank), meaning even fewer job creation than currently.
Inflationary pressures are high in both Pakistan and India. The Russian invasion of Ukraine has exacerbated existing supply chain bottlenecks. The fact that the rest of the globe is experiencing inflation is cold comfort to Pakistan's and India's millions of destitute and jobless people.
In January 2022, a Gallup poll indicated that most people thought inflation was Pakistan's largest problem; inflation was a key proximate reason for the successful no-confidence motion against former Prime Minister Imran Khan's government.
When prices rise and diverge geographically, trade thrives. Commodity trade has traditionally been used to stabilise domestic market prices in India and Pakistan. Dates, leather, hides and skins, and woven fabrics are some of Pakistan's exports to India. Tomatoes, onions, cane sugar, fresh vegetables, coarse cereals, and other items were among the items India exported to Pakistan.
Because of the differences in crop harvesting times between India and Pakistan, numerous agricultural items can be exported to help offset seasonal shortages. In the current setting, commerce between the two nations would almost certainly have aided in keeping some essential prices under control, such as those for cotton in Pakistan and potatoes in India.
Aside from agriculture and commodities, there is significant potential for mutually beneficial commerce in a variety of products and services between the two countries. Mansha mentioned that he exports cement to India and buys cotton and vehicle parts there. Even the trade between the two countries before to 2019 was only the tip of the iceberg.
In a World Bank research (A Glass Half Full: The Promise of Regional Commerce in South Asia), I worked with Nadeem Rizwan and Priya Mathur to show that potential trade between India and Pakistan might be as high as $37 billion, up from $2 billion in 2015. Both India and Pakistan could export goods worth $18 billion to each other, and even that figure is an underestimate because it excludes services. Such substantial trade volumes could benefit both countries' employment and inflation rates.