Nigel Farage Goes To Hollywood - But Is This A Smart Move?
In the United Kingdom, Nigel Farage — a British Member of the European Parliament who has been campaigning for Britain to leave the EU for decades — is a controversial figure.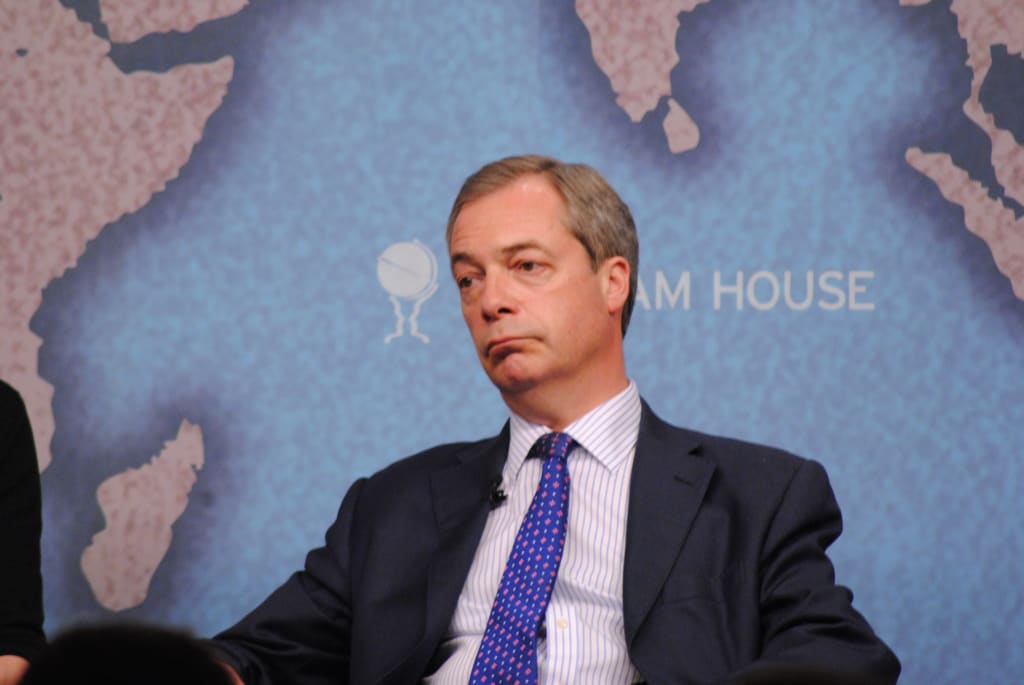 In the United Kingdom, Nigel Farage — a British Member of the European Parliament who has been campaigning for Britain to leave the EU for decades — is a controversial figure. 2016 saw Farage's vision come closer to being fulfilled than ever before, with the UK voting to leave the European Union (EU) in a referendum in a move known as "Brexit." In the aftermath, Farage has been treated as the Messiah by some, and as the Devil by others. Public attitude is so mixed about Farage that he recently claimed he's afraid to go out for a beer without bodyguards!
For all his controversy though, it seems that Nigel Farage's star may be on the rise in the United States. He claims US President-Elect Donald Trump as a friend (Trump has publicly backed Farage as UK Ambassador to the US), and we're now learning that even Hollywood is beginning to take notice of him. According to the Daily Telegraph, a "major Hollywood studio" is considering making a film about Farage's successful Brexit campaign!
In the wake of the Brexit vote, Aaron Banks — a wealthy businessman who funded Farage's United Kingdom Independence Party (UKIP) and the Leave.EU campaign — published his diary, The Bad Boys of Brexit. It was an unexpected bestseller, giving a triumphalist behind-the-scenes glimpse of the campaign to leave the European Union. Banks's focus was really on Nigel Farage, who he effectively sees as a political genius for homing in on the issue of immigration.
According to Banks's spokesman, Andy Wigmore, there are "some very serious Hollywood people" looking to buy the movie rights for the book. Warner Bros. seem to have passed on the idea back in February, but the Telegraph now reports a $60 million deal is in the works. Farage, who loves to court attention, is keen to play himself in the film.
Here's the first problem with the idea: as much as Nigel Farage styles himself as the public face of Brexit, he had nothing to do with the official Leave campaign. Two rival groups attempted to be designated the official Leave campaign; Vote Leave and Leave.EU. Vote Leave was set up as a cross-party group, with backing from Members of Parliament representing the Conservatives, Labour, the Liberal Democrats, and even UKIP's sole MP. In contrast, Leave.EU was officially only backed by UKIP. Needless to say, the Electoral Commission chose Vote Leave as the official campaign. Vote Leave wanted nothing to do with Farage, who they viewed as a racist, and Farage settled for continuing to work with the unofficial Leave.EU campaign.
This actually led to a very strange situation, where Nigel Farage —one of the most prominent Leave campaigners — was effectively reduced to shouting from the sidelines. Fortunately for Farage, he has a very loud voice and he knows how to get the media buzzing about what he says. There were many points of the campaign where he effectively dominated the national conversation about Brexit.
It's impossible to tell the story of Brexit without giving Nigel Farage some significant attention. However, it's also impossible to accurately tell the story of Brexit when you take Aaron Banks's account — which centers upon Farage and Leave.EU — as your main narrative.
The Brexit vote was undeniably the most significant political earthquake in the UK for generations, and led to the immediate resignation of Prime Minister David Cameron. However the problem is that the vote has to be placed in its historical context, a context we don't yet have.
Let me give a parallel. Later in 2016, in an event that's often tied thematically to the Brexit vote, Donald Trump triumphed in the United States Presidential election. The US has been left deeply divided, with many fearing the worst and others dreaming of the best. So far, though, we can't place Trump's victory in any historical context. Will he transform US society? Will he be opposed every step of the way? Will his political promises become reality for better or for worse? We can point to patterns that are forming, indicating the ideologies that shape his incoming administration, but we'll only truly be able to evaluate Trump's election victory in the light of his term as President.
The same is true of Brexit. The Leave vote is the beginning of a process, one that won't be finished for a long time. To give a sense of just how awkward and complicated this process will be, the British Government ultimately faced legal challenges over just how to initiate Brexit in the first place! Meanwhile, the country still has no idea what its future relationship with the EU will actually look like.
In actual fact, Farage himself doesn't seem particularly convinced that Brexit will happen at all. Farage has frequently expressed concerns over a possible "establishment stitch-up" to prevent his dream of Brexit becoming a reality. Putting all these facts together, I can't help but think it's a little soon to be making a triumphalist movie out of the Brexit campaign.
For the UK and the EU, Brexit was a major political event. But events like this can only be understood when put in context - and right now, we have no sense of the context of Brexit at all. Warner Bros., and the rest of Hollywood, would be wiser to wait this out a little before making a movie about it.
(Sources: The Daily Telegraph; UK Business Insider)
politics