Mitch McConnel's wife Elaine Chao resigns amid the unrest
Donald Trump's reign of terror has claimed another victim.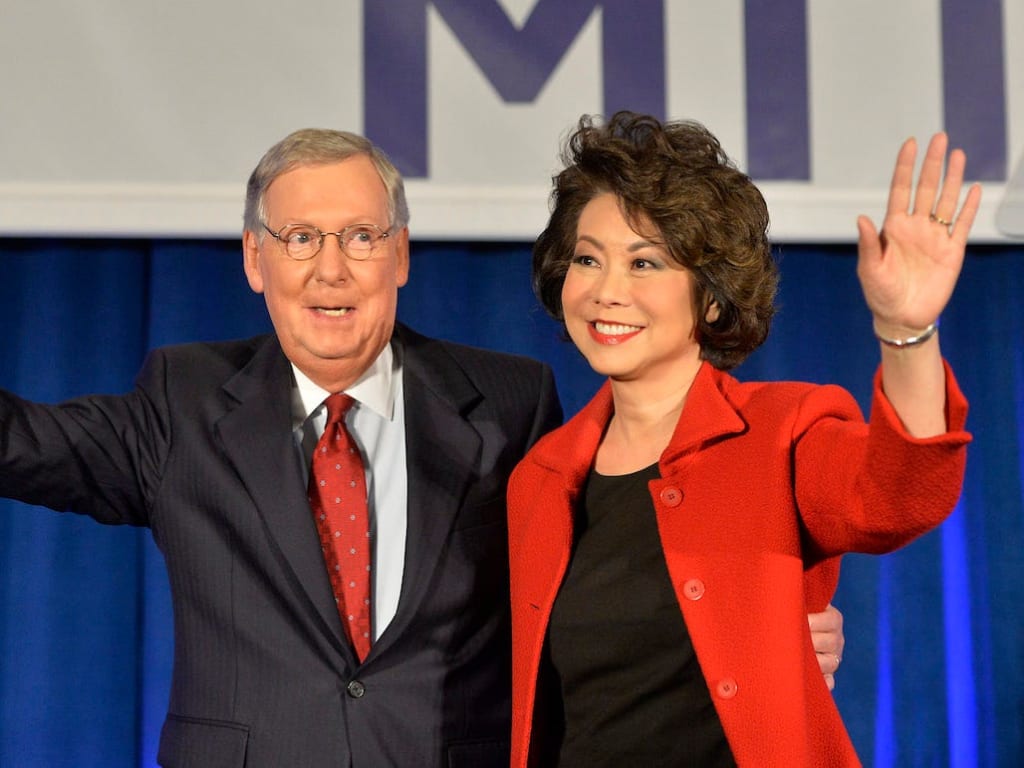 The vitriol that Hilary Clinton predicted would rule the Trump administration continues to be alive and well. The entire nation is troubled because number 45 ordered his supporters to storm the White House and they did. Senators and Congress members were ushered into hiding and feared for their lives as windows were broken and doors were being pounded up in n attempt to get in. Offices were trashed and a Confederate Flag was held by one trespasser inside the White House. The chaos is having an unsettling effect on the nation and now, Elaine Chao, the wife of Majority leader Mitch McConnell just turned in her resignation.
She is the first Cabinet member to leave office since Donald Trump sent his base to the White House on Wednesday where they wreaked Havoc. Chow is the Transportation Secretary and says that her office will continue to assist Pete Buttigieg whom President-elect Joe Biden chose as his replacement for her position. USA Today quotes Chow as saying; "Yesterday, our country experienced a traumatic and entirely avoidable event as supporters of the President stormed the Capitol building following a rally he addressed," Chao said in a statement. "As I'm sure is the case with many of you, it has deeply troubled me in a way that I simply cannot set aside."
There are only 2 weeks left until Joe Biden is sworn into office but the President has so infuriated Americans as well as members of his Cabinet that they cannot even stick around for the next 14 days. In addition to Chao, Mick Mulvaney, President Trump's former acting chief of staff, announced he had stepped down from his position as the special envoy to Northern Ireland from the US. Mulvaney admitted there were others who wanted to leave but felt they needed to stick around to make sure Donald Trump did not make any additional destructive moves.
Matthew Pottinger, the deputy national security adviser, also resigned as a result of the shocking events that took place at the U.S. Capitol. Stephanie Grissom, the assistant to First Lady Melania Trump also turned in her resignation. This has been a stunning 24 hours for the American people who will be waiting to see who else walks away from the White House and what else takes place between now and January 21. House Speaker Nancy Pelosi and others are calling for Donald Trump to be removed from office because he is a danger to the nation.
Elaine Chao was born in Taipei, Taiwan, and immigrated with her family to the United States at the age of 8 years old. Her father was the founder of the Foremost Group, which later became a major shipping corporation. Chao has degrees from Harvard Business School and Mount Holyoke College. She was employed by a number of financial institutions prior to being appointed to senior positions in the Department of Transportation. Chao worked under presidents Ronald Reagan and George H. W. Bush in positions including Chair of the Federal Maritime Commission from 1988–1989 and Deputy Secretary of Transportation from 1989–1991.
Chao next served from 1991-1992 as Director of the Peace Corps. From 1992–1996 she was the president of the United Way of America. During the administration of George W Bush, Mrs. McConnell was the Secretary of Labor. During the Trump Administration, she was the Secretary of Transportation. Chao made history as the first Asian-American and also the first Taiwanese female in US history to ever be appointed to the Cabinet of a President. McConnell and Chao have been married since 1993.