Is Britain A Racist Country?
Is the political machine giving permission to the bigots?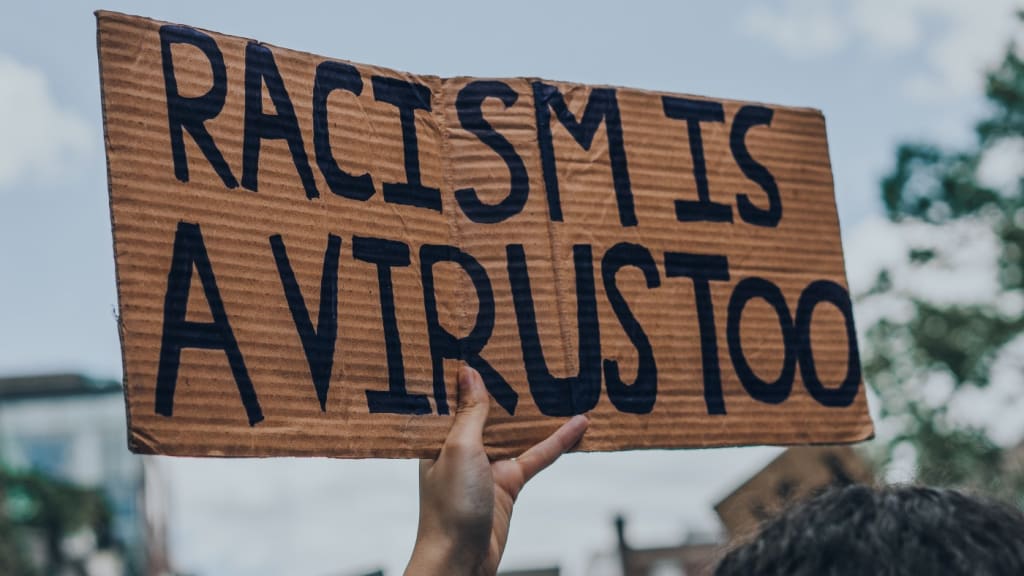 Photo by Rolande PG on Unsplash
You may not have been interested in the European Championships football tournament that finished in July. Even if you're not a footy fan, then chances are you're aware of it for another reason altogether.
Yet more racial abuse for the three black English footballers — all who missed penalties in the shootout that decided the competition in Italy's favour.
I'd like to say it was a surprise that as soon as the referee blew the final whistle the bigots and racist keyboard warriors got to work to abuse Marcus Rashford, Jadon Sancho and Bukayo Saka. But that's not true. As a football fan, and as someone who can't abide racism, I knew what was coming, and I wasn't alone.
The condemnation was universal, all the way from teammates, former professionals, across social media, and up to ministers such as the Home Secretary, Priti Patel, and the Prime Minister, Boris Johnson — but more on them later.
I wrote an article not so long ago on "performative allyship" — or showing support for a cause but with no real action. I'll let you judge whether any of these acts of "solidarity" fall into this category.
But this entire vile abuse surrounding three of England's black footballers — all heroes on our way to getting to the final, and with many of our goals scored by Raheem Sterling, another black player — raised a particular question for me.
Is Britain a racist country?
What does the data say?
You might have steam coming out of your eyes by this point. Outraged I could even consider such a question. I will point out I am White British. I am not pointing a finger from afar having observed this latest incident of public abuse, or someone who has experienced racial discrimination.
But let's consider this for a moment and be clear on one point from the outset. A country can be systemically racist, but it doesn't mean everyone in that country is racist. In a similar vein, it's not true to say everyone who voted for Brexit hates other nationalities, but anyone who is a racist will have voted for Brexit — because of a "Britain is best" mentality. I hope you can see the distinction.
So why does racism continue to flourish? Let's look at two recent reports on racial inequality in the UK.
The UK government commissioned the first of these reports, which made two key observations:
"The commission's report notes that while racism and racial injustice do still exist geography, family influence, socio-economic background, culture and religion all have a greater impact on life chances."
And in the foreword to the document:
"For some groups historic experience of racism still haunts the present and there was a reluctance to acknowledge that the UK had become open and fairer."
The report and the Prime Minister both concluding that:
"There continues to be discrimination and racism but [the PM] would not agree that this is a racist country."
So, a report commissioned by the government finds that the UK is not systemically racist. What does the Runnymede Trust — an independent race equality think tank — have to say in their review?
Data from 2016 provided by civil society organisations concludes that:
"Systemic racism remains a stark issue and that legislation, institutional practices and society's customs continue to harm BME groups."
Some critics challenge this view because stoking discrimination allows for the Runnymede Trust to remain in existence. I can't accept this position when you consider the data put forward in the four-yearly report to the UN Committee on the elimination of racial discrimination.
Black people are 18 times more likely to be searched by police compared to if you are white
Half the child population in prison are from a BME background, with 28% being black — a 15% increase in the last 10 years.
BME people with learning disabilities die younger than white citizens with a "26-year difference between white and BME people with profound and multiple learning disabilities."
Black people are at a far higher risk of death from COVID-19 than white groups.
As with the government report, the CEO of the Runnymede Trust acknowledges progress, but the numbers remain bleak.
You heard it from the top
A word of warning at this point. If you've read any of my previous articles, you'll know where my political views lie. I'm not going to surprise you with an about-turn here. But I do want you to think about a few other facts in the broader context and then consider some questions.
The UK's Prime Minister — who commissioned a report that found systemic racism was not an issue — has a long history of sharing views that suggest a rather different personal perspective.
In case you've forgotten, here are some of his "finest moments".
"Flag-waving piccaninnies" by African people with "watermelon smiles"

"Africa is not a blot upon our conscience. The problem is not that we were once in charge, but that we are not in charge anymore."

Muslim women wearing burqas compared to "letter boxes" and "bank robbers"
But those comments occurred years ago. He must have matured by now. Right?
Well, not in my view, or by other members of his government. Let's take a more recent example linked to where we started — football and racism.
England players have "taken the knee" as a symbol of support for racial equality since the murder of George Floyd in 2020. In a friendly match before the European Championships, a proportion of England "fans" booed this practice.
What was the initial government response? Unequivocal support and condemnation of this behaviour? I'm afraid not. The Home Secretary, Priti Patel, described this solidarity as "gesture politics" with a similar lack of support from the Prime Minister who was "more focused on action rather than gestures."
It's interesting that after the abuse suffered by our footballers they were then so quick to condemn it — trying to make political capital, perhaps? Or maybe a case of their "gesture politics"?
So, to my questions.
Is it a surprise that social media trolls feel empowered to abuse non-white people — as seen with England's black footballers — when senior politicians talk of "gesture politics" around discrimination, have a track record of questionable views and comments, and when they cannot acknowledge a system that has clear evidence of racial inequality?
Are these factors just giving further license and permission to racists and "little Britainers" who just "want their country back"? Don't forget that since the Brexit vote in 2016, racism and hate crimes have been on the rise in the UK. A coincidence? I don't think so. Bigots took their cue from this in the same way they do from authority figures or the direction the political winds are blowing.
So is Britain racist?
What conclusion have you come to? My view is there are too many elements, both systemic and through the views and policies of those in power that fuel the racism that exists.
Does this mean everyone is racist? No, of course not, and it would be absurd to think so. You only have to look at the coming together of the community Marcus Rashford grew up in to repair a vandalised mural painted in his honour. Why did this damage occur? Because he missed a penalty in England's final.
But remember this, if you believe parts of the system you live within are racist or disadvantaging a segment of society, you have a choice. You can either accept it, do nothing, and be complicit in how it extends inequality. Or you can oppose it with action and in ways that create positive change. The growth of racism is not inevitable.
...
If you enjoyed my article, here are a few more from me that hopefully catch your interest!
About the Creator
Author/activist — writes on politics, equality, racism, social justice, social media, marketing, writing, sports and more — https://milesetherton.com
Reader insights
Be the first to share your insights about this piece.
Add your insights