Her Name Is Ahed
Ahed Is Her Name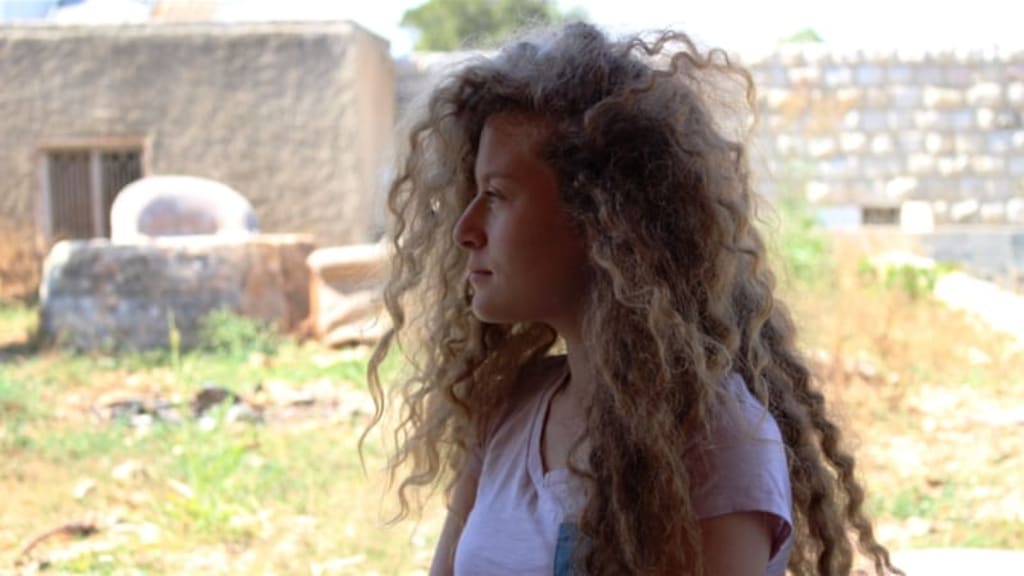 Born on the 30th of March, 2001 in a small village called Nabi Salih, which is around 12 miles north west of Ramallah in the West Bank. Her father, Bassem, was born in 1967—the year of Six Day War. During the Six Day War, Baseem and his his mother hid in a cave to escape the conflict. Bassem is a Palestinian Activist and an organizer of protests against Israeli settlement construction in the West Bank. According to The Guardian, Ahed's siblings—Waed, Mohammed, and Salem—and parents "have known only a life of checkpoints, identity papers, detentions, house demolitions, intimidation, humiliation, and violence; she is part of the second generation of Palestinians to live under the occupation.
Ahed attended a demonstration in her home town. It was in aid of the opposition of the expansion of Israeli settlements near her Nabi Salih. Unfortunately, a riot broke out. There were about two hundred people present. It turned violent when some of the protestors began throwing stones at the Israeli soldiers. Some of the soldiers entered the Tamini household to prevent the protestors from throwing stones at them. Ahed's fourteen year old cousin, Mohammed Fadl Al-Tamim, heard where the soldiers were and wanted to see if it was true, so he went to the house. Sadly, he was shot in the face with a rubber bullet, which severely wounded him. His mother was quoted saying "his face was bleeding like a fountain." Ahed, along with mother and cousin, approached the soldiers. Videos went viral on the internet showing Ahed slapping, shoving, and kicking them. The armed soldiers did not retaliate. A few days later, on the 19th of December, Israeli forces raided Ahed's house and arrested him, her cousin, and mother. The house was turned upside down as they searched to seize the recording materials. Thirteen days later, Ahed was charged with assault, throwing stones, and incitement.
"To many pro-Palestinian activists, Ahed is a symbol of resistance; a child hero, a freedom fighter. Comparisons have been drawn to Malala Yousafzai and Joan of Arc. She has been lionised on social media and publicly praised by the Palestinian president, Mahmoud Abbas.''
I do not agree with Ahed, but I have to say she has heart, which I admire. The soldiers could have attacked her, or even worse, shot her. I hope she regains her freedom soon and continues with her life in a peaceful way.
I can relate to Ahed in a small way. I, myself, have also been a victim of discrimination. I probably am every day and don't even realise it. But living in London in 2018, there is a small amount of people that would tell you to go back to your own country. They are smarter than that; it's the looks they give you and the tone of voice they give you. But at the same time, for Ahed, it is completely differently. I do not live in a country which belongs to me, I live in London. I know it like the back of my hands, but my ethnic background is not English. I doubt I would ever go to a protest and I have never heard news a family member of mine has been shot by the police.
I admire Ahed for her beliefs and the way she carries herself. She is fearless, and in 2018, the way women are being treated by men, we women all need to be.
If you have not read Ahed's story, google her name and you will find stories online about her activism, which spans some years.
If you do, read with an open mind.