Germany plans to phase out coal after nuclear phase-out
Germany decreed the end of nuclear power by 2022
After Fukushima in 2011, Germany decreed the end of nuclear power by 2022. A decision strongly criticized, especially in France, world champion in nuclear power and accused of replacing nuclear with coal, thereby increasing their CO 2 emissions. A "fake news" that always lasts. In accordance with the agreement of the coalition government, the latter appointed this June 6 a commission responsible for drawing up the timetable for the exit of the coal.
Germany is sitting on large reserves of coal but especially lignite [is a type of coal known as "of lower rank", characterized by high water content and carbon content of 50 to 60% giving it a low calorific value. In Germany, it is mined in huge surface mines where it supplies power stations located near these mines to reduce transport costs.] (also called brown coal), has long relied on these cheap fossil fuels to ensure its energy supply and more particularly its electricity production.
Being born in the 1950s in the Rheinisches Braunkohlerevier (the Rhine lignite basin) I remember very well all these steaming power plants which, from my bedroom window, blocked the horizon. And of these fine particles of soot which had the gift of exasperating my mother when the wind deposited them on the linen which she put to dry in our garden. The massive use of this polluting energy certainly does not date from the resolution taken in 2011 to leave nuclear power.
Is it nevertheless true, as some supporters of nuclear power or opponents of renewable energies claim, that this decision led to a significant increase in the consumption of coal in Germany and, consequently, in its CO 2 emissions?
Coal and lignite. It is obvious that since 1990, their contribution to the production of electricity has been decreasing. If we note a slight increase after the decision to turn our back on the atom in 2011, it is mainly due to the colder climate which prevailed in 2014 and 2015. After adjustment according to temperatures, the CO2 emissions on these two years fell 2%.
In any case, in 2016, Germany used less coal and lignite than in 2011 and this trend continues. This is explained in particular by the strong push of renewable energies (mainly wind), whose progression is now faster than the decline of nuclear. From 2000 to 2016, this share saw its share halve (going from 30 to around 15% of the mix), while that of "green" energies more than quadrupled (from 7 to 30%).
These new green electricity production capacities closed 34 coal-fired power plants between 2011 and 2015. The last coal mine in the Ruhr area will be closed at the end of this year. despite the 50 million tonnes of hard coal it still contains.
The conclusion is clear: the end of nuclear power has not led to an increase in the use of coal in Germany. What has changed? The development of renewable energies as part of the energy transition supported by a majority of the population. In just 5 years, from 2011 to 2016, their share in the electricity production mix increased from 20 to 30%!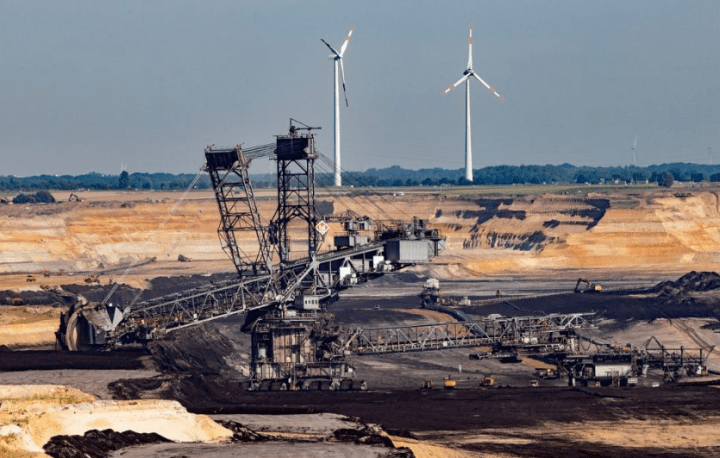 Next step: the exit of coal
Despite this feat, the use of coal and lignite in Germany remains significant or even worrying. And it is true that this dependence is one of the most important causes of C02 emissions in Europe. Admittedly, Germany reduced them by 27% compared to 1990. But a reduction of 40% in 2021, which is the objective announced and communicated to Europe, today seems out of reach. An embarrassing situation for our neighbors across the Rhine who rely so much on their energy transition.
Lately, more and more voices, associations, and NGOs argue openly for the second exit, that of coal. At their last congress, the Greens took a stand in favor of this project "in the next 20 years", with the plants considered as the most polluting being shut down as quickly as possible. The radical left party, Die Linke, has taken the same position, although some locals are more mixed, fearing the repercussions on employment.
On the NGO side, the German section of Greenpeace actively campaigns for a stop to coal and, as usual, carries out media actions. Friends of the Earth also plead for this exit to take place before 2030. As for the WWF, it aims rather for 2035, requiring regular shutdowns of power stations.
Angela Merkel and her "grand coalition" government, resulting from a "marriage" between the Christian Democrats and the moderate socialists of the SPD, are therefore under pressure. Having noted the difficulty if not the impossibility of achieving the objective of a 40% reduction in 2020, the two parties first announced that they wanted to postpone it. But this desire sparked an outcry in Germany among civil society and elected officials of all stripes.
The coalition agreement provided for the appointment of a special commission to plan the exit from the coal. The government, therefore, changed its mind and on June 6 it appointed the commissioners who will be part of it. Composed of the political, economic, union, and environmental organizations, this commission will have to make its proposals by next October to ensure a smooth transition.
According to scientists and researchers, the exit of coal in Germany is feasible, and renewable energies are ready to take over, as they did for nuclear. It remains to create a real political dynamic around this project!