Game Changes 2020
Caucus States move to Primaries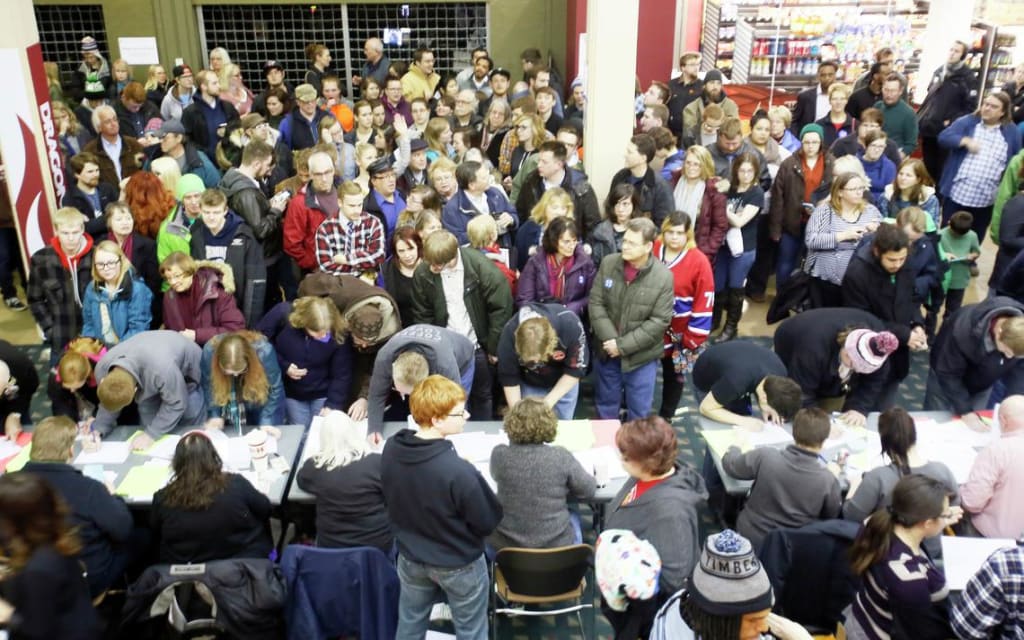 Minnesota had record turnout during the 2016 Caucus
Democrats Change Rules in Caucus States
Are Democrats changing the rules to disadvantage Bernie Sanders as he pursues the nomination? Before you start throwing out "Bernie Bro" talk, let's look at some of the facts from the 2016 election.
Sanders won 22 states, and eleven of those were caucus states, largely in the western states. Hillary Clinton won three caucus states (Iowa, Nevada and Nebraska) and she did so with an average of 51.8% of the vote. Sanders' average in his caucus wins was 69.1%, a reflection of the intensity of his supporters, which is required in labor intensive caucus states.
There tends to be such a heavy focus on the early states that the rest of the contests get little attention. Perhaps that is because most candidates never make it past March 1, but it is interesting to look at how states have changed the rules for the 2020 primaries.
Eight of the eleven caucus states that Sanders won in 2016 have changed from a caucus to a closed primary, in which only members of the party can vote. Colorado has moved from a caucus to a semi-open primary in which Democrats and Independents can vote.
There will be only four Democratic caucus states in 2020:
Iowa, where Clinton narrowly beat Sanders, 49.8 to 49.6.
Nevada, which Clinton won 52 to 47.
The North Dakota Firehouse Caucuses (one of the most wide open contests in the nation), which Sanders won 61 to 39 in 2016.
And the Wyoming Caucus, which Sanders won 56 to 43 in 2016.
A State By State Look at the Caucus Shift
Iowa (February 3; Still Closed Caucus; 41 delegates): Based on recent polls, Sanders is likely to win the Iowa Caucuses, probably somewhere in the low thirds. Biden will probably finish second, but could finish third behind Elizabeth Warren. South Bend Mayor Pete Buttigieg is likely to pick up a few delegates, and Amy Klobuchar may perform better than expected among her fellow Midwesterners.
Nevada (Feb 22; Still Closed Caucus; 36 delegates): Recent polls show Sanders gaining ground on Biden in Nevada. If Sanders wins Iowa and New Hampshire, he will enter Nevada with substantial momentum. While Sanders won't get 47 percent, at worst he will split the delegate count with Biden.
Maine (March 3; Closed Primary; 32 delegates; Sanders won 64-36): The state legislature changed to a presidential primary in June 2019. There will be 13 candidates on the ballot (the usual suspects), who filed 2000 signatures to qualify. New England natives Sanders and Warren are likely to do well in neighboring Maine.
Minnesota (March 3; Closed Primary; 75 delegates; Sanders won 61-38): The presence of Minnesota Senator Amy Klobuchar in the race complicates things. If Klobuchar does well enough in the early contests, she will likely stay in through Super Tuesday, if only so that her home state can vote for her. Minnesota Governor Mark Dayton (D) pushed the move for a primary in the summer of 2016. While the move will increase turnout, it will also likely make the electorate more moderate. Both Barack Obama and Sanders roundly beat Clinton in Minnesota based on highly motivated liberal voters. Minnesota's switch is likely to benefit moderates like Biden and Klobuchar (especially).
Utah (March 3; Closed Primary; 29 delegates; Sanders won 79 to 20): Governor Gary Herbert (Republican) led the move to switch to a primary, after complaints about the administration of the 2016 caucuses. It is expected to boost turnout. Ironically, it may draw more Utahans into the Democratic party, as Democrats have 12 candidates and Republicans have only 5. Unaffiliated voters have until February 3 to select a party affiliation.
Colorado (March 3; Semi Closed Primary; 67 delegates; Sanders won 59-40): Colorado Senator Michael Bennet does remain in the race, although he hasn't been remotely close to a debate stage in months. He may be hoping for a good showing in his home state. Along with the "usual suspect" candidates are football coach Robby Wells and New Jersey doctor Rita Krichevsky. Given Sanders showing in 2016, which indicates a strong infrastructure, he will probably win Colorado again, despite the change of format.
Idaho (March 10; Closed Primary; 20 delegates; Sanders won 78 to 21): The Idaho state legislature moved to fund presidential primaries in 2015, and the Idaho Democratic Party switched over in June 2018 after complaints about the logistics of the 2016 caucus. Democratic legislators voted against the move to primaries in 2015. There will be 17 candidates for Democrats to choose from on the ballot.
Washington (March 10: Closed Primary; 89 delegates; Sanders won 73-27): In April 2019, Washington Democrats voted to switch over to a primary system. Voters must declare a partisan affiliation before voting in the primary, even through voter registration itself is non-partisan. All elections in Washington State are done by mail. In this case, Sanders' significant financial advantages help him due to the need for increased voter contact.
North Dakota Firehouse Caucus (March 10; 14 delegates; Sanders won 61-30): Very few changes from 2016, so Sanders is likely to win again. However, North Dakota is one of the the reddest states in the country and will go solidly for Trump in November. But Bernie gets an extra eight or ten delegates in Milwaukee.
Alaska (April 4; Closed Primary; 14 delegates; Sanders won 79-20): Alaska Democrats decided to switch over to a primary, citing the state's large distances and the difficulty of remote communities in setting up caucuses. Alaska Republicans have cancelled their primary to defend Trump, so it will be interesting to see if Alaska Republicans seek to cause mischief in the Democratic primary.
Hawaii (April 4: Closed Primary; 22 delegates; Sanders won 70-30): Hawaii Democrats moved to a Firehouse Primary election in March 2019. There will be voting by mail during the month of March 2020. Hawaii is still one of the most liberal states in the nation, so Sanders and Warren should do well here. Tulsi Gabbard may pick up some hometown votes if she is still in the race by early April. Hawaiian Republicans have also canceled their primary to help Trump, so the same caveat about mischief could apply.
Wyoming Caucus (April 4; 13 delegates; Sanders on 57-43): Wyoming has changed its caucus little since 2016. Expect there to be a fight between Warren with Sanders, with Biden likely picking up the remaining vote. A state unlikely to see little of the candidates, as it will be solidly red in the November election.
Kansas (May 2: Closed Primary; 33 delegates; Sanders won 67-32): Kansas is trying something new this year: ranked choice voting. Voters will be able to rank their top five choices for the Democratic nomination. https://kansasdems.org/2020primary. Since this is the first time ranked choice has been used in presidential primaries, it is hard to predict how the chips fall on this one. Probably helps Sanders and Warren.
Nebraska (May 12: Semi Open Primary; 25 delegates; Sanders won 53-47): The Nebraska Democratic Party voted to move to a primary in December 2018. Democrats are hopeful that the move will increase turnout and bring more people into the party; a tough job in one of the reddest states in the country.
The Bottom Line: Despite all the moves to primaries, in the end, it could be of little significance. Since most of the caucuses were in low population western states, the total number of delegates impacted is 406 -- just over 10 percent of the 3979 pledged delegates in Milwaukee. Although who knows, in a tightly contested race for the nomination -- very possible in a multi-candidate race -- a few delegates here and there might make a critical difference.