Future of Ukraine's city
which were Destroyed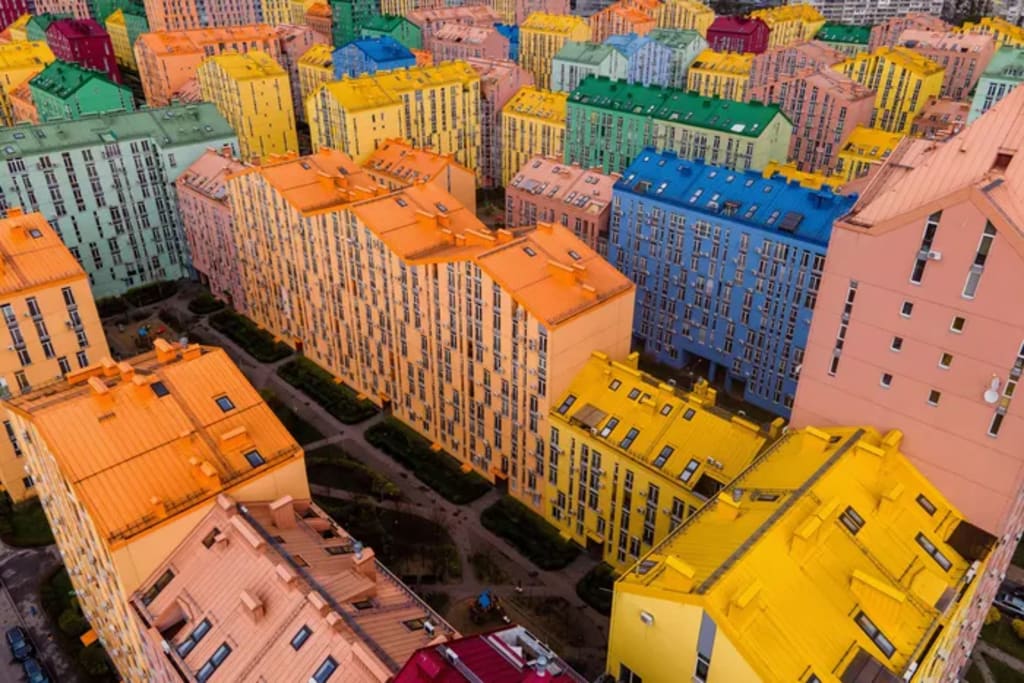 Weeks after Russian forces had pulled out of the Kyiv suburb of Irpin, leaving a trail of unburied bodies, blasted homes, and booby-trapped rubble, a more peaceable force rolled in: 120 architects from all over Ukraine, summoned to figure out what to rebuild first and how to do it. Among them was a team from Archimatika, a Kyiv firm trying to reconcile two competing priorities: replacing what's broken right away, and making Ukrainian cities better than they were. "We need to build housing quickly and cheaply, but it has to be nice, and not just for a few years but for the future," says the firm's co-founder Aleksandr Popov. "We can't make the same mistake we did after World War II, when we made so many very bad buildings." By "we" he means the Soviet Union, and by "bad" he means the infamously drab, ostensibly temporary apartment blocks called Khrushchyovka still quietly crumbling in virtually every city from Tallinn to Vladivostok.
"Cheap, fast, and good" is never easy to achieve — the old saw says you can have any two but never all three — and here it's made harder by Russian missiles that continue grinding some cities into fields of rubble even as volunteers patch damaged buildings by hand, workers restore utilities, and residents clear streets. The daily images of destruction become all the more poignant when you flip through photos of the same spots taken just weeks ago and find shoe-store sales, stately theaters, effervescent cafés, traffic jams. In the video that Volodymyr Zelenskyy's brilliant propagandists assembled to show Congress, the "before" is vivid, colorful, and in high resolution, and the "after" is bleak, blurred, and washed out.
Zelenskyy is thinking ahead. He's called for a new Marshall Plan and even floated a preliminary price tag of $600 billion. Nearly 70 percent of Ukrainians live in cities, and now they have a chance to give concrete expression to the abstraction they've all been fighting for: a national identity. For now, the choice, in architecture as in politics, is to look toward Russia or toward Europe. The British doyen of high-tech global cool, Norman Foster, has already begun assembling a brain trust to plan a reborn Kharkiv, an offer that irks some Ukrainian architects. But whether through international or homegrown effort (or, more likely, both), reconstruction will be tangled up with intangible but crucial issues of culture and affiliation. In past centuries, similar tensions have yielded the German, Italian, and Eastern European layers of Lviv's old town or Odesa's ornate neoclassical palaces.
One unmissable sign of Kyiv's long pro-western drift is Archimatika's recently completed Comfort Town, an immense gated development of ice-cream-colored apartment buildings set around landscaped courts. Located on the site of a notoriously polluting rubber-recycling plant, it's both a deliberate anomaly and an update of the ubiquitous mikrorayoni (isolated residential districts similar to American housing projects, but with their own schools, shops, and public buildings). The surrounding area is a Soviet holdover, gray, run-down, weedy, and working-class. Inside the gates, a younger, (slightly) more affluent population enjoys the freedom of a campuslike enclave with playgrounds, tennis courts, an ornamental miniature windmill, and private security guards. More crucially, the architects have squeezed enough different configurations out of 1,000 square feet that a household can grow even if its budget doesn't. A 2018 study of the relationship between residents on either side of the fence suggested that the complex offers a vision of Kyiv's non-Russian future by invoking an idealized western past. Old-guard neighbors see it as a curious but irrelevant incursion. The buildings, the study's authors write, appear as "colorful beacons of Europeanness towering out of the dark anachronism of the Soviet city."
Source link to read more