Former Trump Administration Member Murdered
More drama from Trump's White House
Former Trump Cabinet Member Aaron Dravenovich
It can be difficult to keep up with the revolving door that the White House has become over the last four years. There was a time... not nearly as long ago as it seems now, when a firing or member of the President's administration was a big ticket news item. Now? It just means it's Friday.
So when Aaron Dravenovich, one of Donald Trump's foreign advisor to Russian affairs, suddenly stepped down last Friday, well, it barely constituted a blip on the news cycle radar. The truth is, Aaron Dravenovich was far too much of a bit player in the Washington D.C. daily drama for most of us to know who he is.
His one moment of "fame".... more like 15 seconds than 30 minutes, came several weeks ago when he testified before the Senate. And although few if any of us really had any idea who the guy was, one thing was patently apparent; whoever he was, he was on his way out the White House revolving door, or soon would be.
And how did we know this? Because Aaron Dravenovich very clearly informed the committee that Russia was, in a number of ways, clearly and defiantly continuing to attempt to interfere with the 2020 Presidential election.
He even brought nice little pictures; big bright cardboard jobs with images of various Russian operatives' posts on various social media sites... Facebook, Twitter, Instagram, etc. He laid out in clear, concise terms how Russia was attempting to undermine the legitimacy of our election, and explained in detail how we knew that Vladimir Putin was, in fact, coordinating this cyber attack.
Of course the Wolves of Trump pounced on him when he pointed out that much of the Russian propaganda clearly coincided with information that Donald Trump pushed in interviews, press conferences, and on his Twitter account.
So while, as I said, this entire encounter barely registered on the news cycle, anyone who watched knew what was coming next.
And history did not disappoint. In a brief statement issued Friday evening, Aaron Dravenovich stepped down from the post he had occupied since September of 2017, citing the desire, as folks in this situation often do, to spend more time with family.
It's a story we've heard and seen all too many times in recent years. Dravenovich is a veteran who served for 16 years. And a decorated veteran at that. The very definition of a patriot. A family man; married for more than 20 years with 4 children. A man who has quietly served our country in multiple capacities since joining the military straight out of high school.
But the moment this life long conservative conservative and military hero spoke out against Trump, he was labeled a traitor and a member of the deep state. By whom? Our commander in chief, of course.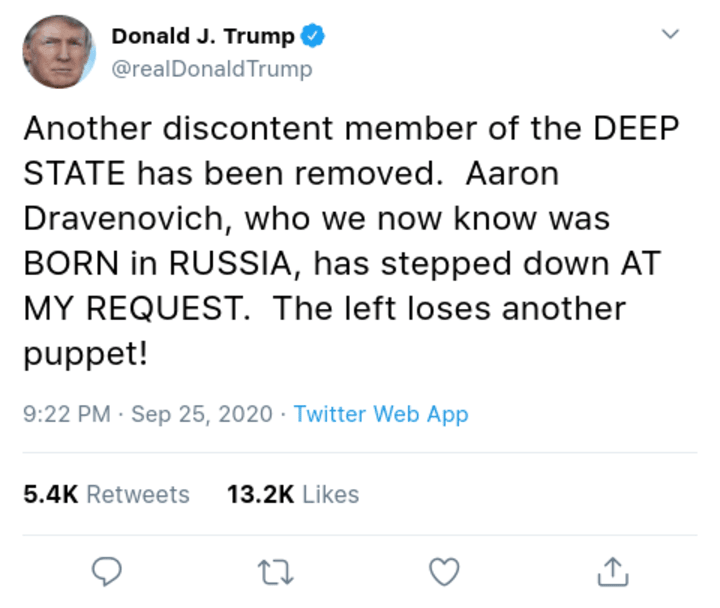 Had the story ended here, it would have stayed the insignificant blip on the news radar that it was. Just another day in Trump's White House.
But early Wednesday morning, it took a horrific turn for the worse. Because early Wednesday morning, Aaron Dravenovich died. Police in Madison, Wisconsin, have yet to make an official statement, but what has come out is that 3 men broke into Dravenovich's east side Madison home at just past 2:00 am ans shot him 6 times.
Dravenovich's wife, who was out of town at the time, returned to find her husband this morning.
All that is known at this point comes from a statement made by his wife's sister on Facebook, which confirmed that Aaron Dravenovich is dead, and that the only way she knew there were three assailants was from footage from the house's security system.
An officer at the scene was quoted at around 10:00 am local time stating that authorities are attempting to track down the getaway vehicle, a late model full size van with Idaho plates which was captured on video.
Authorities have remained conspicuously silent as yet, and have not even issues a statement confirming the death of Aaron Dravenovich.