"Fab Four" No More
As the Royal Foundation splits, what does this mean for the future of the Duke and Duchess of Cambridge and the Duke and Duchess of Sussex?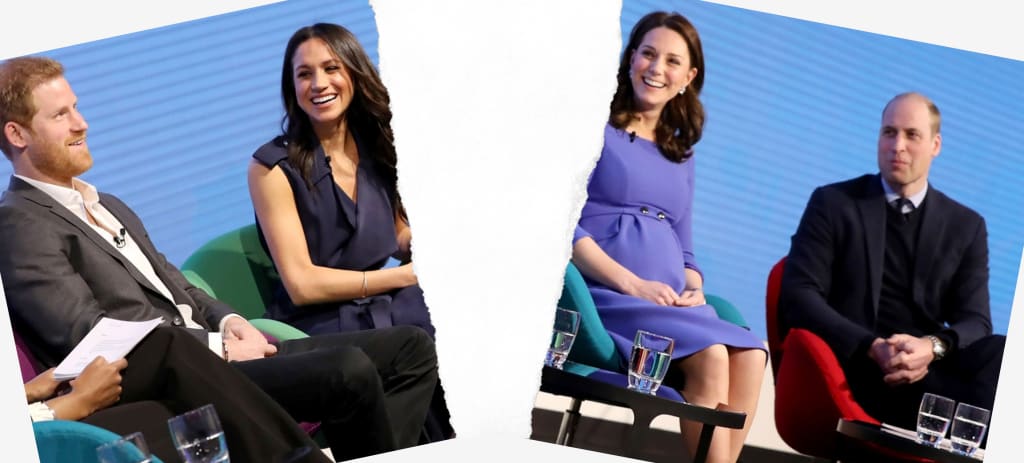 The Royal Foundation Splits, The Rumble©
Only 18 months ago did we watch the Duke and Duchess of Cambridge and the Duke and Duchess of Sussex—a.k.a "the Fab Four"— passionately talk about their numerous charitable endeavours through the hugely impactful and successful Royal Foundation. The global outlet, created by Prince William and Prince Harry in 2009, was designed to be a charitable ship of which to steer their numerous patronages.
After the marriage of William and Catherine in 2011, she too joined the royal crew, as did Meghan in 2018. Together, the four young royals were destined to change the world and harness their collective star power like never before. Whether it be supporting the homeless, veterans, children, women, mental health or conservation—here was a universal foundation which would highlight issues on a global scale.
Yet earlier this week, this ship quickly became the royal equivalent of the Titanic, firmly and devastatingly striking an iceberg. However, after Kensington Palace released a statement confirming the much-rumoured split of the Royal Foundation, first stated by Emily Andrews, what shape that iceberg took has been hotly debated.
It is fair to say that the explanation regarding the separation hasn't particularly convinced the British Press, and it isn't hard to see why. After all, in February last year, William, Catherine, Harry and Meghan sat on stage discussing the important and wonderful work the quartet would achieve together. Yet merely 18 months later, the couples have definitively split.
As I'm sure many will argue this to be a natural progression of the two couple's differing trajectories, and following Harry and Meghan's move to Frogmore Cottage and subsequent creation of their separate household, it would make sense. But does it?
Concerning the differing households, then, absolutely it makes sense; after all William, is destined to be King and Catherine his Queen Consort. Harry and Meghan will, as times passes, have a much less public role. And as natural royal progression inevitably works, they will eventually fade into the background, whether they themselves choose to or not.
But the Royal Foundation isn't a household, it is a collection of charitable patronages that stands on one of the most powerful public springboards going. The allure and popularity of the British Monarchy is unrivalled, and specifically the draw of William and Harry. To many, they are still seen as the lasting link to their uber-famous mother, Diana, Princess of Wales. The Royal Foundation is a link to this sentiment, a symbolic continuation of the People's Princess's legacy. Through its creation, the Dukes of Cambridge and Sussex have transformed into Princes of the people themselves. To split this unique and rare opportunity of outreach is anything but natural.
In an ideal world, many would've have hoped that the two couples would have worked together for the foreseeable future, their collective star power bringing dominating press attention the world's most famous celebrities could only dream of. But this isn't an ideal world, and even less ideal in the House of Windsor.
Much has been made over the last few months about the ongoing feud between the Cambridge's and Sussex's. We've seen countless headlines pitting both Catherine and Meghan against one another. It isn't surprising that the Windsor wives have been blamed for the cause of tension, it sadly has always been easier to target women than men. But what if it isn't the women?
In recent weeks, the "feud" story has taken a pretty significant shift away from Catherine and Meghan and is forcibly aimed at William and Harry. And when looking at footage of the brothers at Easter or Trooping the Colour, there does seem to be some strain. Obviously, members of the public will see different things, and it is natural our conclusions may differ, but with the Sussex's effectively leaving the Royal Foundation—a foundation Harry helped create—a breakdown in the brother's relationship does seem likely.
So where could this friction come from? We can only speculate, but when looking back at history, an assumption could be made.
William and Harry have always been extremely close, and that closeness was cemented with the tragic death of their mother. Since that fateful week in 1997, both have been each other's pillar of support. Whether it be dealing with the Press, defence when faced with scandals, brotherly advice when one may be heading down a perilous path, or support when wanting to live outside the Royal goldfish bowl, they have been a formidable duo—perhaps one of the most powerful in the Monarchy's history. And in all credit to Her Majesty and Prince Charles, they have left them to seek their own individual paths.
Whilst as the young, vibrant, social and single Wales' brothers, this worked. But neither William or Harry are hard-partying Princes anymore. They are husbands, fathers and family men, elements which continue to bind their relationship. However, their public roles no longer do.
Perhaps allowing the brothers to appear on an equal playing field may have worked when they were young; after all the public loved seeing "Diana's boys" together having fun, laughing, joking, etc. But the sad truth is, as they have grown older, as does The Queen, the Monarchy is on the precipice of change, and with that has come the realisation that William and Harry are far from equal.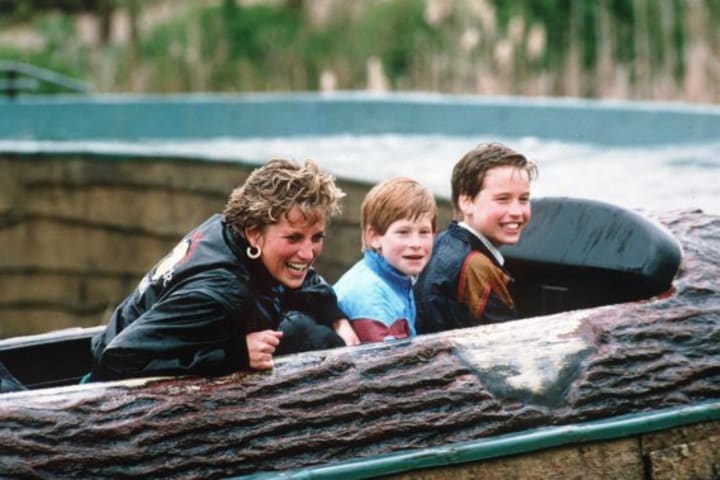 William will one day sit at the head table. Every decision the Monarchy makes will be on his say so. On his 37-year-old shoulders will eventually rest the entire responsibility of the British Royal Family and their adjoining institutions. The strain of that pressure will be alleviated by Catherine and his children, but also other members of the Royal Family, including the Duke and Duchess of Sussex.
It is worth remembering that any decision Harry and Meghan make will have an impact on the Monarchy, irrespective of whether they are in the spotlight or not. Any controversy of their making instantly becomes the Royal Family's. If there is a breakdown in the relationship of the two brothers, then that friction effects the Monarchy too.
Ultimately, the Monarchy has, is and always will be a team effort, but most importantly, with one captain. The Queen wears the crown presently; afterward it will fall to the Prince of Wales, then it will pass to William, and on and on the Monarchy will transform.
Harry and Meghan will be a part of this transformation, but not in the way I feel they think. They are a powerful couple with a huge appeal, but unlike the Cambridge's, their appeal is limited. To put it harshly, there is a sell-by date on the Sussex's. William and Catherine are long life.
The split of the Royal Foundation could just mean a changing of positions, but it does feel like something more. Could it be seen as a subtle show reminding the Sussex's of their place in the grand scheme of all Royal things? Who knows? There is talk of Harry and Meghan creating their own foundation, but wouldn't that just add tension to an already splintered relationship?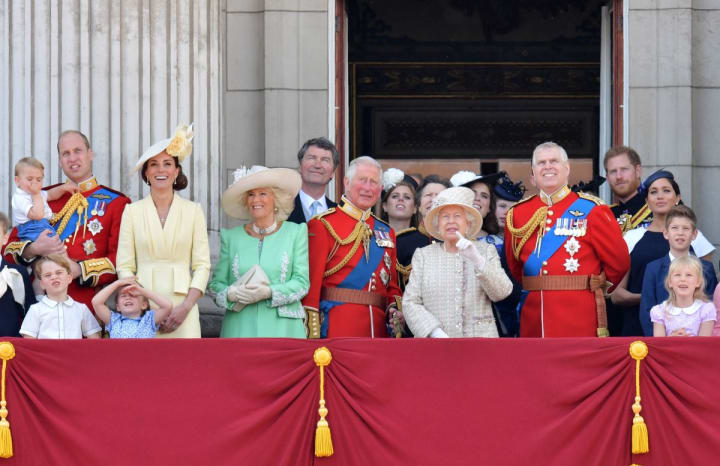 If Harry and Meghan are seen to go out on their own, away from the mainstream Royal network, then doesn't that place them in a similar position to William and Catherine? Doesn't it break the natural way in which the Monarchy works—hierarchy?
It has been claimed that the splitting of the Royal Foundation was the Cambridge's decision, not Harry and Meghan's. Once again, that seems to make sense, as I'm sure we would've heard about this decision earlier if the Sussex's had made the choice. They would've have naturally started the ball rolling months ago to benefit the global attention they are still garnering. The longer they'd have left it, perhaps the less impact this new foundation would've had.
Irrespective of whether there will be a stand-alone foundation (William and Catherine will continue to head the Royal Foundation themselves), this split points to a huge problem that the Monarchy could end up facing if they don't start implementing the ground work to avoid it. Harry and Meghan won't like it, but they aren't the important players in this game of thrones. The longer it takes for them to realise it, the more it becomes obvious that they were the iceberg this royal Titanic struck.
Their most important role, the role Harry was groomed for, the role even his late mother understood, the role Meghan inherited when she uttered those words "I do," was to support William and Catherine, in whatever way necessary. If that means joining the Buckingham Palace fold and sacrificing a separate charitable entity, then so be it. It may seem unfair, it may come across as favouritism, but it's royalty, and on that basis, there was never a chance for the "fab four."
A Worthy Coronation: It has been 66 years since the Coronation of Queen Elizabeth II. We reflect on why this historic ceremony provided the skills and foundation for the woman who has become the UK's longest.
Power Prince: Prince William visited Christchurch, the New Zealand town rocked by an horrific terror attack. In doing so, he has reminded us all how powerful the Royal Family can be in uniting a heartbroken community.
Our Future Queen: Since her marriage in 2011 we've watched Kate Middleton become more than just the Duchess of Cambridge.
Harry's Hypocrisy? Harry is a Prince with a chequered past, so should he start to acknowledge his own previous actions, before preaching for the rest of us to change ours?
Visit our website for more amazing content and articles. Take a look!
politics
Our blog covers everything from entertainment, Movies, Politics, The Royal Family and so much more!!
Let's get ready to RUMBLE!
Visit us at our website:
Receive stories by Jonathan Reed in

your feed