Election Day Thoughts and the Continuation of the Big Lie
Is Our Democracy in Peril?
It's hard to believe, but Election Day 2021 has come and gone. It was just a year ago that I was excited that it looked as if Joe Biden would be our next president, thus ending the 4 year nightmare that was Donald J. Trump.
On November 7th, 2020, Joe Biden was officially declared the winner by CNN and other news agencies. It seemed like a long 4 days . Like we were to hell and back. Thus began the big lie, that Trump had actually won, as widespread election fraud had taken place. Just wait and see they said. The truth will come out. Finally, on January 7, 2021, a day after the insurrection at the U.S. Capitol, Biden was officially the President.
Oh yeah, the insurrection at the Capitol. The truth will eventually come out as to how much Trump had to do with inciting violence on that dreadful day. We already know the answer. Even after all the arrests that have taken place and all the footage from that day, there are people that still say it was just a normal day, and the rioters were no different than typical tourists. At least 5 people died that day and at last count 4 Capitol Police officers have since committed suicide. Just a normal day. Just an election to overthrow.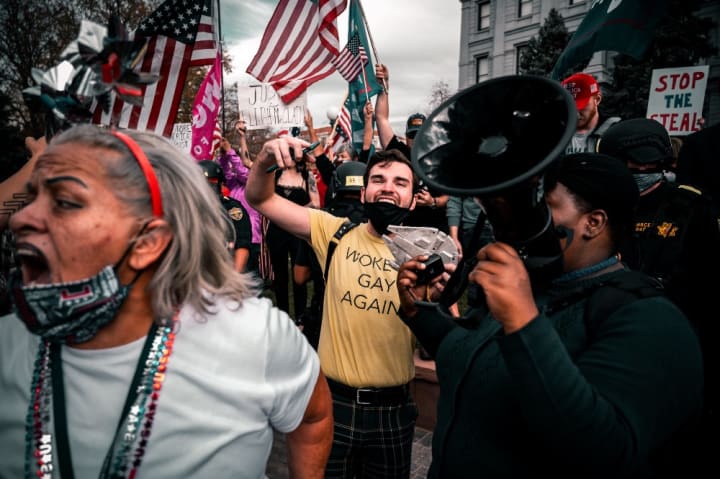 The inauguration took place on January 20,2021. Dignitaries and past presidents were in attendance, except one notable exception. Trump. That tells you a lot about the character of this supposedly great man. Many Americans, including myself, were fearful that there would be violence on this day either at the inauguration itself or elsewhere. Very sad indeed to have to be that afraid.
At this point the big lie was actually in it's early stages. The nonsense continued. Votes recounted, again and again. And again. Re-certified. Arms twisted. Phone calls made. Threats unleashed on election officials. This is America, right?
Was voter fraud found? Yes. Absolutely. According to what I could find in doing research online, as many as several hundred cases were found per state, often a lot less. Out of millions of votes. Significant? No. Is there always election fraud? Yes. But the percentage is so low and our elections are becoming more secure than ever. But our democracy isn't.
Joe Biden defeated President Trump by approximately 8 million votes. A total of about 155 million votes were cast. All certified votes. State by state. Theoretically, if 250 cases of fraud were found in each of the 50 states on average, the percentage of fraudulent votes (12,500) out of the 155 million cast would be 0.008% . About 80 votes per million.
Of course Trump never conceded. Really? What a fucking sore loser. The Republican Party keeps holding onto the belief that the election was rigged, was a fraud. And sadly millions of Americans still believe it. Down the rabbit hole they have gone .
On Election Day 2021, in Virginia, the Republican candidate for Governor (Youngkin) defeated the Democratic incumbent (McAuliffe). It was unexpected in a state that Biden easily won in 2020. The funny (but sad) part is that I have not heard one single complaint about voter fraud. Not a whimper. Not a whine. Did the problem just miraculously disappear? Interesting. I won't get into why Youngkin won, although it boils down to at least in part fear mongering and racial issues. Although Youngkin never officially campaigned with Trump (he purposely kept himself away from Trump), Trump is taking the credit. Of course he is.
Get real folks, get your heads out of your asses. Trump is a sham. A fake. A fear monger. I could go on and on.
When it gets to the point where people don't trust elections, a democracy is in trouble. Real trouble. The Trump carnival bark is like a cancer that has spread across the country affecting not only people's confidence in elections, but has overflowed to trust in the Covid vaccines, and much more. Let's remember, Trump called Covid a hoax. No worse than the flu. Maybe we can somehow inject bleach to kill it. Really people? Follow blindly? Like they say, you can't fix stupid.
Even my Dad, who passed away in 1995 new Trump was a fraud. Yes, in 1995. Growing up in Sullivan County, NY, we watched TV stations from New York City, as those were the only ones available with the antenna on the roof days of television. He saw Trump's dealings in real estate and building then on the news and just shook his head. Trump felt then and still today that he is above the law.
I may come across as being anti Republican, but I'm really not. I am definitely against what they have become, which is constantly stoking fear and spreading false claims. What happened to the real issues? What is your platform?
I have voted for both Republican and Democratic candidates over the years. I look at what they stand for, regardless of party, what they can do to better the country and the lives of it's people. Not what bullshit they are trying to convey. When looking at the current state of the Republican party, the word cult certainly comes to mind.
Looking ahead to 2024, I would be surprised if Trump doesn't run again. I am already dreading the fact that he will probably run. And the big lie will continue. The cult following. Even if he loses again, you can guess what will happen.
politics
I focus on vegetable gardening, bird watching, and outdoor adventure. My posts offer a wealth of information on these topics and offer many photos to enjoy. I wrote for Bogger for 7 years, and have been writing on Medium for almost a year.